Georgian Politics Without the 'Strong Man': Has Ivanishvili Really Relinquished Power?
Publication: Eurasia Daily Monitor Volume: 18 Issue: 18
By: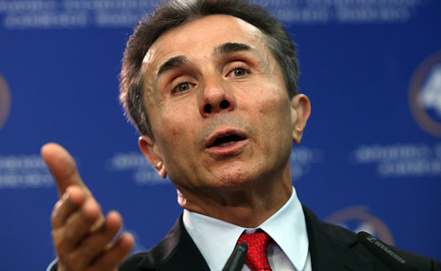 The founder and leader of the ruling Georgian Dream (GD) party, billionaire Bidzina Ivanishvili, announced he is leaving politics forever. In his last interview with Georgian public television (January 11, 2021), Ivanishvili underlined that he would no longer support GD, either as head of the party or even as a member. By this, he, of course, meant that GD would no longer have access to his vast financial resources. "I made the decision to finally quit politics. I believe that my mission has been fulfilled. I am leaving the post of party chairman, and I will return to my pre-2011 private lifestyle," he claimed. Ivanishvili assured that, "The GD ruling team is really the best, and there is no alternative to it among all political actors today." He further argued, "[I]f you like me, vote for the leaders of this party [GD]. They are the same as me. […] I leave politics proud, victorious and grateful to the people. People were able to see the efforts I made only in the interests of the country and the state. I am sure that the Georgian people will also appreciate my current move, which is dictated by the same interests for which I came into politics" (Civil.ge, January 13).
According to the former ruling party head, he is leaving politics because "nothing threatens GD over the next 4–5 years." In other words, Ivanishvili implied, he does not consider the opposition—including the main opposition party, United National Movement (UNM) of former President Mikheil Saakashvili—capable of challenging or creating any serious problems for the government of Giorgi Gakharia. That said, it is worth underscoring that the "departure" of Georgia's most influential and powerful politician coincided with all the opposition parties boycotting the newly elected parliament in protest against, what they say, was large-scale falsification of the October 31 elections as well as their threats to launch massive protests in the near future (see EDM, January 4).
In addition to returning to private life, Ivanishvili announced he would be donating 90 percent of his fortune to the Cartu Charitable Foundation, which he founded in 2001, after returning from Russia to Georgia—the homeland of his ancestors. According to Forbes, his net worth is valued at $4.8 billion. But in a recent interview with Entrepreneur magazine, Ivanishvili asserted that Forbes' information was inaccurate, and after he transfers 90 percent of his movable and immovable property to the Cartu Foundation, as he pledged, his family will be left with only $200 million (Entrepreneur, January 11; Civil.ge, January 13).
Regardless of how sincere Ivanishvili is in saying he will no longer interfere in politics or plan to "give advice" to GD party leaders, his statement dramatically shook Georgia's political landscape. According to Ghia Nodia, a professor of politics and the director of the International School of Caucasus Studies at the Ilia Chavchavadze State University in Tbilisi, the decisive factor for the future will come down to whether party members as well as lawmakers and other state officials actually believe in Ivanishvili's real "departure" from politics. "If the GD leaders are convinced that Ivanishvili is no longer in control of the situation, a struggle for real power will begin in the party, and this will greatly weaken the ruling party in its fight against the opposition," Nodia stipulated (Author's interview, January 25).
Ivanishvili's resignation also has significance for the country in the foreign policy realm. "After Ivanishvili left GD, institutional order was restored and Western critics will no longer be able to talk about 'informal governance in Georgia,' " political scientist Giorgi Khukhashvili noted. He further argued that Western sanctions against Ivanishvili himself are no longer possible; but if GD does not compromise with the opposition, the Georgian parliament will become a one-party institution and an undemocratic regime will be established in the country. At that point, the West might "impose sanctions against the government and the state." Khukhashvili suggested that Ivanishvili, before the announcement of his retirement from politics, may have obtained certain guarantees from the French authorities: "Bidzina Ivanishvili is a French citizen. Shortly before he left office, French President Macron awarded him the highest order in France—the Legion of Honor. This could not have been a simple coincidence" (Author's interview, January 25; Agenda.ge, January 6).
UNM's leader, former president Saakashvili, who emigrated from the country in 2013, urged Georgians not to believe the GD founder's statements about leaving politics. "I know for sure that he [Ivanishvili] promised the Americans and everyone that if you want, I will temporarily leave for France or come to America and be temporarily there." Saakashvili further posited, "Everyone knows that he [Ivanishvili] financed [former United States President Donald] Trump's campaign through various lobbying groups and now, because of this fact, he is very scared. He is also scared by those very heavy numbers they [Georgian Dream] receive in weekly [public opinion] polls. He knows that, in Georgia, the earth is burning under his feet" (Ekho Kavkaza, January 12). A US lobbyist who worked for Ivanishvili was arrested for his admitted role in illegally channeling foreign money to the Trump Inauguration in 2016; reportedly, he previously also worked in Georgia for Saakashvili and opposition party leader Irakli Alasania (Ifact.ge, September 1, 2018)
Today (February 2), the parliament held hearings on the termination of the mandates of the opposition legislators who refused to take up their seats in the chamber. For now, the GD-majority legislature decided against revoking the opposition's won seats (Civil.ge, February 2). The leaders of the "united opposition" have nonetheless already warned that, in the spring, they will call on hundreds of thousands of supporters to take to the streets of Georgian cities to prevent Georgian Dream from, as they claim, "turning the country into a North Korea."