Kazakhstan Experiments With Surveillance Technology to Battle Coronavirus Pandemic
Publication: Eurasia Daily Monitor Volume: 17 Issue: 47
By: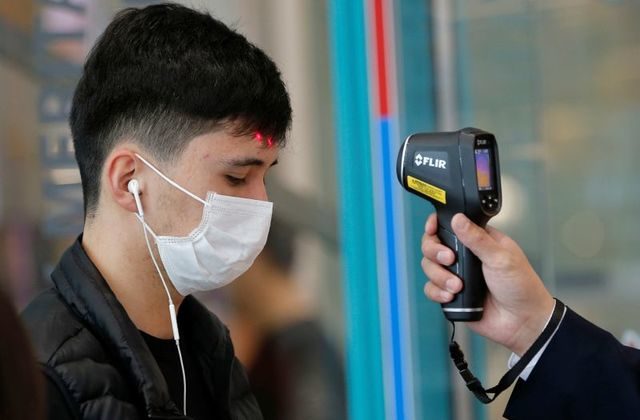 Kazakhstan's government has been fighting the novel coronavirus since mid-March, having declared a one-month state of emergency as the number of confirmed COVID-19 cases in the country began to approach 20 (Informburo.kz, March 15). Two weeks after that, the authorities imposed stricter measures in two major cities—Almaty and Nur-Sultan (formerly Astana)— including quarantine, the closing down of non-essential businesses, forced self-isolation and the criminalization of violations (Inbusiness.kz, April 3).
The Kazakhstani Ministries of Health and Internal Affairs have partially turned to technological solutions to confront the coronavirus outbreak. The health ministry has required the 8,000 or so Kazakhstani citizens currently under quarantine to use the SmartAstana tracking app, which allows officials to guarantee these individuals remain in isolation (Steppe, April 3). Whereas, the interior ministry is relying on "Sergek" video surveillance technology, produced by the local telecommunications firm Korkem Telecom, to find violators of the quarantine regime in Almaty (Kazinform.kz, March 30). So far, these two cases are the only examples of the government employing new surveillance technologies as anti-pandemic tools.
Several points should be made to understand the logic behind these decisions. First and foremost, in Kazakhstan—as in neighboring China and Russia—use of surveillance technology to deal with COVID-19 is primarily about physical, psychological and emotional control of the population, which, naturally, behaves differently when it knows it is being watched by the government. Second, Kazakhstan's state agencies did not set out to invent a new solution to the health crisis; they are utilizing existing technical capacities to deal with the problem after more conventional approaches fell short. Third, these technology-centric actions are still not seen by most officials as essential, particularly when compared with "analog" efforts such as expanding police powers. Moreover, technologically focused solutions are proving ambiguous when it comes to implementation, monitoring and measuring success. And fourth, a trial of such technology-aided responses during the coronavirus outbreak will help shape and calibrate Kazakhstan's broader, long-term digitalization agenda.
Kazakhstani efforts at tackling the spread of the coronavirus have, overall, relied largely on Soviet-legacy administrative tools of voluntary as well as forcible control over all spheres of public life—though the effectiveness and implications of such measures have been raising domestic concern and criticism. To date, the main steps undertaken by the government with regard to national security have included policing the population and penalizing those violating quarantine rules, mobilizing the National Guard, and boosting the ranks of the territorial forces by commandeering reservists for special duties for up to three months (Forbes.kz, April 2). As for non-security measures, the authorities have adopted financial and insurance support to the unemployed and healthcare-sector employees in the short term, while seeking to enhance the country's medical capacity and response with US and Chinese assistance.
As an element of this multi-part response, technological solutions to fight against COVID-19 might seem to be of secondary importance; yet, the related topics of digital surveillance, data protection and privacy concerns in Kazakhstani society have been on the domestic agenda long before the coronavirus outbreak. The public debate was fueled, in particular, by human rights activists, in response to increased cooperation with China since 2018, when the Kazakhstani government launched its national strategy "Digital Kazakhstan" and Smart City projects to re-shape urban areas with the help of advanced information communication technology (ICT). Additionally, in October 2019, following his first official visit to China, President Kassym-Jomart Tokayev specifically instructed his Cabinet to adopt the Chinese experience of mass digitalization (Kursiv.kz, October 8, 2019). One of the agreements signed between the two parties during Tokayev's time in Beijing was cooperation on the Tianhe-2 Supercomputer, which Kazakhstan would reportedly use to oversee all of its government cyber systems, provide computing power for its "Government for Citizens" State Corporation, as well as power Kazakhstan's facial-recognition technologies (Regnum, September 12, 2019; Gazette of Central Asia, February 2, 2018).
In recent years, facial recognition, biometric-identification, artificial intelligence (AI) and video surveillance technologies have been rapidly emerging domestically, including in close cooperation with several Chinese companies, such as Hikvision and Dahua Technology. The latter, in particular, is a key partner of the Nur-Sultan-based Korkem Telecom (see above), which is building up Kazakhstan's video surveillance capacity. The network of "Sergek" cameras will reportedly be installed to help decrease traffic accidents and criminal activities in five major Kazakhstani cities. Extrapolating these solutions to the size of the country will require that hundreds of thousands of cameras be installed by 2022 in order to meet the Ministry of Interior's crime prevention strategy (Profit.kz, September 10, 2019). Additionally, the government will have to introduce a nationwide fingerprint collection and biometric identification system by 2021 (Forbes.kz, February 20, 2019). This mass digitalization of personal data will need to be collected, processed and safely stored on local servers with adequate anti-intrusion and leakage protections. These objectives will probably require more time and resources, knowledge and skills than the government initially planned; but amidst the COVID-19 pandemic, such efforts may be more easily justified, receiving greater support from the wider population.
Ultimately, developing a bill on AI and national surveillance (Forbes.kz, February 20, 2020) could allow Kazakhstan to better navigate its planned mass digitalization campaign. As more countries turn to high-technology surveillance tools in their battle against the coronavirus crisis, their governments—Nur-Sultan included—will come under increasing pressure from civil society and the private sector to think beyond simply collecting information. Rather, these states may take this opportunity to build a healthy cyber ecosystem with credible legal norms and safety regulations, aimed at boosting economic welfare and developing new social rights.