Kazakhstani-Russian Space Cooperation Further at Risk
Publication: Eurasia Daily Monitor Volume: 10 Issue: 173
By: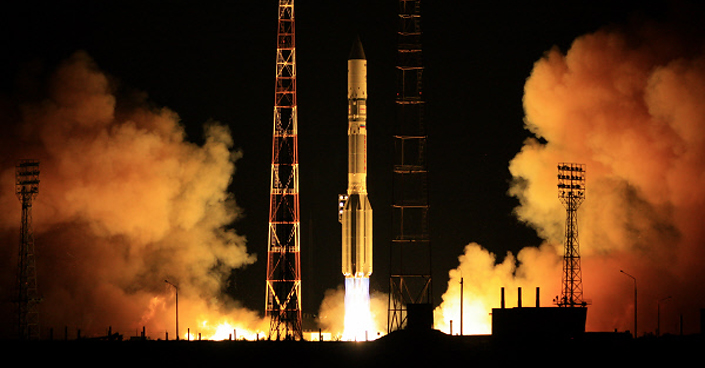 On September 25, the deputy chairman of Kazakhstan's national space agency Kazkosmos, Erkin Shaimagambetov, officially announced his administration's decision to allow Russia to carry out a new launch of its Proton rocket from the Baikonur Cosmodrome on September 30. The following day, Kazakhstan's Environment Protection Minister Nurlan Kapparov further confirmed this authorization, thus bringing an end to a short-lived controversy surrounding Kazakhstani-Russian space cooperation. Earlier on September 24, the Russian daily newspaper Izvestia wrote that Roskosmos had already notified Kazakhstani authorities of its intention to launch a Proton rocket from Baikonur and would do so even in the absence of a formal agreement to be reached before the expected launch date (Kazakhstan Telegraph Agency, September 26; Kazkosmos, September 25; Izvestia, September 24). The rocket blasted off from its Baikonur launchpad as planned on Monday morning, local time.
As the Russian space agency previously explained, the September 30 rocket launch was scheduled within the framework of a long-term commercial contract with the Virginia-based International Launch Services (ILS) company, which specializes in joint space operations between Russia and the United States. Established in 1995, this firm is now controlled by a Russian space research organization that acquired a majority stake in the company in May 2008. According to the initial order from ILS, a Proton rocket was expected to take an Astra 2E telecommunications satellite to near-Earth orbit. However, since the Baikonur Cosmodrome is located on the territory of neighboring Kazakhstan and as the currently used drop zones are fully subject to Kazakhstani jurisdiction, Moscow's ambitions have recently been threatened by a series of technical incidents, which now cast an increasingly long shadow over the future of its space cooperation with Astana (Zonakz.net, September 26).
On July 2, a Proton-M rocket loaded with three state-of-the-art Russia-made satellites crashed two and a half kilometers away from the Baikonur Cosmodrome in a scarcely populated area of Kazakhstan's Kyzylorda province. This launch would have significantly reinforced the GLONASS satellite navigation system operated by Russia's Ministry of Defense. While the damage sustained by the Russian budget is still unclear, some experts believe that it might easily exceed $200 million, given the constantly growing costs of satellites and their components as well as space delivery services. Besides huge budget losses and a considerable demoralizing effect for Russia's space industry, the Proton incident also touched off a serious controversy within Kazakhstani society. In fact, the rocket, which unexpectedly went out of control 17 seconds after its launch from Baikonur, presumably contained over 600 tons of highly toxic fuel known for its deadly consequences for both the environment (water and air contamination) and human health (increased cancer incidences) (Interfax, September 25; RIA Novosti, 24smi.org, July 2).
The leadership of Kazkosmos publicly denied that the July 2 failed rocket launch was in any way Kazakhstan's responsibility, and a vigorous anti-Russian campaign was quickly mounted by some elements of the country's civil society. On July 3, a group of protesters handed their collective petition over to the Russian consulate in Almaty. One of their demands was the suspension of all the planned rocket launches from the Baikonur Cosmodrome until the full scale of the environmental damage caused by the recent incident could be thoroughly evaluated. Moreover, the protesters also said that Kazakhstan's space cooperation with Russia should be revised in order to drastically limit the use of any technologies associated with toxic fuels (Meta.kz, July 3; Rosbalt.ru, July 2).
Five days later, a new protest occurred in front of the Russian diplomatic compound in Astana. In that second case, the organizers of the demonstration had already set up a public association proclaiming one of its priority objectives to be the step-by-step rewriting of the existing bilateral cooperation treaties between Kazakhstan and Russia in ways more favorable to their home country's national interests. At present, both countries await the conclusions of a special inter-governmental commission charged with assessing the amount of future compensatory payments from the Russian budget. The publication of these findings is expected no later than early November (Newskaz.ru, September 25; Kapital.kz, July 10).
Kazakhstan's decision to authorize a new Proton rocket launch might have been made during Russian Prime Minister Dmitry Medvedev's recent visit to Astana. On September 24 and 25, the head of the Russian government met with both President Nursultan Nazarbayev and Prime Minister Serik Akhmetov to discuss economic cooperation within the framework of the trilateral Customs Union and the Common Economic Space. While some Russian media sources earlier speculated that space issues would also be discussed behind closed doors, neither side confirmed this information (Kazinform.com, September 23).
Apart from the recurrent environmental concerns, Russian-Kazakhstani space cooperation is also undermined by the persistence of financial disputes regarding the implementation of joint programs at Baikonur. The failure of the Baiterek program, caused by Moscow's reluctance to share its financial burdens, led to a series of public statements by Kazkosmos threatening Russia's commercial contracts with foreign clients. In its turn, Russia is increasingly focused on its new Vostochny Cosmodrome in the Far East, which is viewed by the Kremlin as a possible replacement for Baikonur starting in 2015–2018. However, both countries are likely to stick to their space cooperation in the short and medium term, since neither side can reach its goals without assistance from the other (see EDM, January 31, 2013; October 24, 2012).