Legal Reform and the Mass Line: The 'Socialist Rule of Law' With A Human Face?
Publication: China Brief Volume: 14 Issue: 12
By: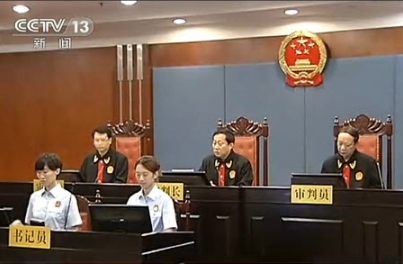 On Monday, June 16, Chinese state media announced plans to launch pilot judicial reform programs in six provinces, experimenting with changes that will centralize control of the judiciary at the provincial level. According to an interview with a "responsible official" from the Central Judicial Reform Leading Small Group Office, these reforms will separate the judiciary from administrative authorities, improve judicial accountability, protect the job security of judicial officers and "promote the unified management of sub-provincial court finances." This means removing two key levers of power over the courts—personnel decisions and budgeting—from local control. These reforms are thus intended to prevent interference in the judicial process by local officials. These "blows against the law's chronic diseases," as they were described in Xinhua, will be tested in Shanghai, Guangdong, Jilin, Hubei, Hainan and Qinghai (Xinhua, June 16).
These reforms, which have not yet been described in detail, are clearly not aimed at promoting, in a Western sense, the rule of law­­. For much of the past year, both top leaders and Party media have repeatedly condemned Western-inspired ideas about the rule of law and "constitutional government," and a crackdown on advocacy outside the Party has sent dozens of independent lawyers to prison (China Digital Times, May 19). Meanwhile, reports from the National People's Congress have emphasized the importance of constructing a "socialist rule of law" (Xinhua, March 16). The pilot reforms are nonetheless important as a component of a wide-ranging campaign by the Communist Party of China (CCP) to fight corruption and promote ethics in local government. The reforms described aim to address a key weakness of oversight in the Chinese system: Rather than having an independent court system, courts at every administrative level answer to political authorities. It is, therefore, impossible for courts to provide accountability—to the extent that judges have been known to advise plaintiffs to appeal their rulings in order to escape local political interference (see China Brief, March 20).
To understand why judicial reform is important, it is worth considering it as part of a broader campaign to impose discipline on the Party. This includes political campaigns like President Xi Jinping's effort to promote the "mass line" and Maoist-style self-criticism sessions, and purge against corruption led by the Central Commission for Discipline Inspection (CCDI). Legal reform appears to be an effort to make institutional changes that will reinforce and sustain cadres' good behavior. As Xi wrote in a 2006 essay, "establishing the rule of law absolutely does not weaken the Party's leadership." Rather, it will "uphold the Party's leadership by improving it" (collected in Xi Jinping, Zhijiang Xinyu [New Thoughts from the Yangtze], Zhejiang People's Publishing House 2007).
These programs will create opportunities for provincial leaders­­: First, by moving more control to the provincial level, it could strengthen their offices and give them a relatively independent tool to oversee subordinates. Second, implementing a reform program will give provincial chiefs a chance to advance their own careers by demonstrating creativity and leadership abilities. Guangdong Party Secretary and Hu Jintao protégé Hu Chunhua appears already to have begun using legal reform to brand his administration, promising in May to build a "public legal service system with Guangdong characteristics" (Legal Daily, May 26). Guangdong, which also experimented with legal reform under the previous leadership of current Vice Premier Wang Yang, was singled out in the article introducing the pilot program as "walking at the forefront of legal reform, just as it led the vanguard of reform and opening" (Xinhua, June 16).
Abuses of power and resistance to reforms by local officials emerged during the Hu era as a major challenge for the CCP. Outrageous behavior such as land seizures, and local cover-ups in cases such as the powdered milk scandal of 2008, have undermined Party legitimacy. At the same time, local autonomy and conservatism has stymied reform initiatives and undermined the power of the leadership as local governments have ignored laws intended to mitigate pollution or provide compensation for property owners after demolitions. In the half year since the publication of the Third Plenum reform agenda, commentaries in Party media have repeatedly complained that officials are taking a "wait and see attitude" rather than implementing reform (for an example on legal reform, Beijing Times, June 17; more generally, Seeking Truth, December 21, 2013).
Many of Xi's highest-profile initiatives have targeted the issue of Party discipline: The educational campaigns on topics like the "mass line" and the "four bad styles" have told officials that they are out of touch with the people, and sought to eliminate arrogant behavior—"formalism, bureaucraticism, hedonism and extravagance"—while the invigorated Party discipline commission has launched a massive anti-corruption campaign under Wang Qishan. Xi has also modeled good behavior, eating only "three dishes and a soup" at formal dinners and deploying down-to-earth charm in surprise appearances at local restaurants and Beijing streets. In the midst of campaigns limiting gift-giving, luxury goods consumption and the use of official cars by cadres, Xi's populist image is likely intended to provide a template. Indeed, a recent article in a magazine published by the Central Party School highlighted "being in touch with the people" as a key element of his leadership style, noting that Xi's common touch had won him approval on Chinese social media (Chinese Cadres Tribune, 2014 No. 6). The New York Times has also reported that Xi's family has shed hundreds of millions of dollars in investments—while not publicized in China, this divestment may also be intended to set an example for China's elite (New York Times, June 17).
In this context, limited legal reforms have a clear role to play in the overall project of rebuilding Party legitimacy by creating accountability within the Party. While political campaigns and crackdowns can produce dramatic results, they are likely to prove temporary. In order to promote lasting change, reform will have to reshape cadres' calculations of their personal interests. While there is no guarantee that these reforms will create a professional judiciary loyal to provincial and central leadership, there is no doubt that this kind of centralization is their purpose.