Macron's France Struggles to Chart Course in Russia's War on Ukraine
Publication: Eurasia Daily Monitor Volume: 19 Issue: 87
By: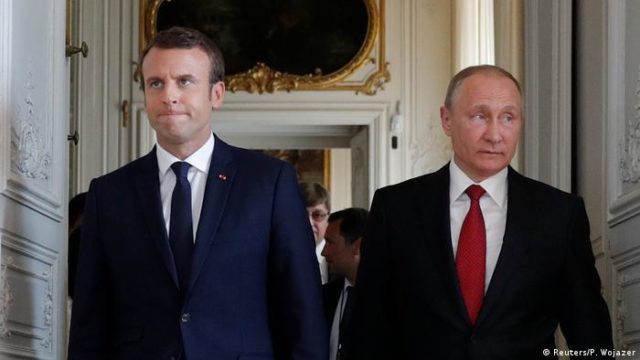 President Emmanuel Macron's recent warning not to "humiliate" Russia (Ouest-france.fr, June 3), while he continues to try to mediate Russia's "exit" from the war in Ukraine, drew ire from Ukrainian officials, echoed by both Ukrainian and Russian experts and even some French thinkers. Not only does such rhetoric from the Élysée Palace undermine France's growing military assistance to Ukraine, but it also invites the Kremlin to attack France without fear of repercussions. Geopolitical considerations but also Macron's personal background may help explain the French president's current approach to Russia, which inadvertently harms the West's unity based on shared values and considerations of the rule of law.
Ukrainian Foreign Minister Dmytro Kuleba reacted that "Calls to avoid [a] humiliation of Russia can only humiliate France and every other country that would call for it" (Twitter.com/DmytroKuleba, June 4). Mykhailo Podolyak, a senior advisor in President Volodymyr Zelenskyy's Office, went further and rhetorically connected Macron's language with Russia's latest missile attack on Kyiv (Twitter.com/Podolyak_M, June 5). Notably, Russian official media also used the opportunity to conclude that the "collective West" realizes Russia's superiority and understands that Russia will win in Ukraine (RIA Novosti, June 7).
Macron had similarly called for finding a diplomatic resolution in Ukraine that would not embarrass Russian President Vladimir Putin about a month earlier (Presidence-francaise.consilium.europa.eu, May 10). In that speech, on May 10, the French head of state praised the embattled Ukrainians: "We feel in our heart that Ukraine, through its fight and its courage, is already today a member of our Europe, of our family and of our union." But at the same time, he virtually precluded any accelerated membership for the country into the European Union; he instead proposed "a European political community," hinting that it could also include the United Kingdom (which left the EU in 2020). In a sharp reprimand, Zelenskyy said, "I know he [Macron] wanted to achieve something by mediating […] but he failed […] not because of our position, but Russia's." Zelenskyy added, "It is inappropriate for world leaders to suggest I should make certain sacrifices in terms of Ukraine's sovereignty, in order to allow Putin to save face" (T.me/V_Zelenskiy_official, May 13).
Remarkably, Macron's preferred course effectively contradicts his government's active and increasing military support to Ukraine. Earlier this month, the French Embassy in Kyiv retweeted a France 2 report about "elite Ukrainian artillery troops on the Donbas frontline" successfully firing at Russian positions using French-made and delivered Caesar howitzers. The Ukrainian commander on the video contends that the six Caesars at his disposal allowed his unit to destroy a minimum of 80 Russian artillery pieces (Twitter.com/FranceenUkraine, June 6). Macron has declared, "To support Ukraine, we have mobilized like never before huge amounts of military, financial and humanitarian resources" (Presidence-francaise.consilium.europa.eu, May 10). Indeed, in terms of publicly pledged military aid for Ukraine between January 1 and May 10, France was at the bottom of the list, with $0.19 billion, below Latvia and Estonia (Spiegel.de, May 30). However, in mid-April, French Defense Minister Florence Parly met with her Ukrainian counterpart, Oleksiy Reznikov, and mentioned €100 million ($104 million) in defense assistance, along with further promises (Twitter.com/florence_parly, April 13). Moreover, France began some defense supplies to Ukraine—patrol boats and Airbus helicopters—well before Russia launched its full-scale invasion.
Meanwhile, Macron's continued overtures toward Russia have met with widespread criticism. Even German media recently summarized the outcome of that policy with disdain: "In recent years, Macron has repeatedly sought to pursue dialogue with Moscow, and the French president has also spoken on the phone with Putin on numerous occasions since the beginning of the war—with nothing to show for it" (Spiegel.de, May 30).
Some prominent French experts have also questioned "why Emmanuel Macron persists in the logic of failure" vis-à-vis the Kremlin (Twitter.com/FHeisbourg, June 5). The pro-Ukrainian French strategist Nicolas Tenzer warned that "we have seen the resurgence of reproaches [of Paris by some European governments] often heard after the August 2019 [Macron-Putin] meeting in Bregançon and the proposal of a new 'architecture of security and trust' with Russia" (Desk-russie.eu, May 28).
President Macron's steadfastness in these matters may be explained by his pursuit of a traditional "Gaullist" French independent foreign policy. And while seeking dialogue with the Kremlin raises uncomfortable questions among Macron's liberal voters about Russian violence and atrocities in Ukraine, this policy nonetheless seems to be largely shared by all major rival political forces in France. That fact was visible in the latest French presidential election campaign in April—all of the major candidates, except for the overtly pro-Russian and far-right Éric Zemmour, condemned Putin's aggression, while simultaneously emphasizing the need for a diplomatic solution to "the war in Ukraine." Even Marine Le Pen defended intelligence sharing with Ukraine during the debate (France24, April 13), yet she also insisted, "As soon as the Russian-Ukrainian war is over and has been settled by a peace treaty, I will call for the implementation of a strategic rapprochement between NATO [the North Atlantic Treaty Organization] and Russia" (Le Monde, April 13).
Some Ukrainian analysts have posited geopolitical explanations for Macron's policies. According to Kost Bondarenko, Macron's reasoning is that "The European Union is possible only if geopolitical balances are observed; any imbalance is the death of the European Union. Therefore, [Macron] is ready to sacrifice Ukrainian interests" (Author's interview, June 5). And according to Yevhen Hlibovytsky, "Russia is clearly viewed as an equal by parts of political elites of former empires. Ukraine in that sense is simply not visible. This is imprinted in culture and can run unnoticed" (Twitter.com/YHlibovytsky, May 28). On the other hand, it is worth recalling that Macron's professional background includes working as a philosopher alongside Paul Ricoeur—thus, the preference for dialogue and "understanding the other" may be especially deep rooted in the French president's personal philosophy. Likewise, as a former investment banker, Macron is experienced in negotiating "deals" (Institutmontaigne.org, November 24, 2017).
Putin's war logic, however, may be more about winning zero-sum games and weakening the West rather than reaching any sorts of compromises. Russia's recent rhetoric vis-à-vis France has been quite aggressive: Foreign Minister Sergei Lavrov accused France of "sparking Ukrainian nationalism and neonazism in Ukraine… Paris actively arms Ukraine, including offensive weapons […] and demands to conduct the war to a victorious end […] to defeat Russia" (T.me/rian_ru, May 30). While the director of Russia's Foreign Intelligence Service, Sergei Naryshkin, pointed to France's alleged "Russophobia and complicity with the Nazi regime in Kyiv" (T.me/dimsmirnov175, May 30). Macron's policy toward Russia fails to satisfy Kyiv or restrain Moscow's behavior. Some sharp policy shift may be necessary in Paris if this large European power expects to live up to its foreign policy ambitions without undermining Western unity in the face of Russian aggression.