Moldova's Chief of General Staff Dismissed After Long Feud With Defense Minister
Publication: Eurasia Daily Monitor Volume: 13 Issue: 60
By: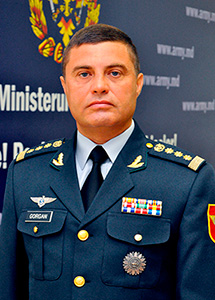 On March 18, the Moldovan government initiated the dismissal of the commander of the National Army, Brigadier General Igor Gorgan, after a months-long feud with Defense Minister Anatol Șalaru (Deschide.md, March 18). Once approved by the president, this would be the fourth reshuffle of the army's leadership since the pro-European three-party coalition came to power in 2009. The Ministry of Defense has also been affected by high turnover at the top, with four ministers being nominated in the last six years. Soon after incumbent Minister Anatol Șalaru's (Liberal Party) appointment on July 30, 2015, he found himself at loggerheads with the chief of the General Staff, Igor Gorgan, a Liberal Democratic Party appointee. In fact, Șalaru tried to dismiss Gorgan earlier, but the latter was shielded by his fellow party member, then–prime minister, Valeriu Strelet (Deschide.md, February 19). A Prosecutor General's report citing a 40 percent increase in crime within the Armed Forces served as a formal reason for the dismissal (Realitatea.md, February 18). However, the animosity between the two has been as political as it has been personal.
From a political standpoint, Gorgan no longer enjoys the backing from either the government or the parliament, as the Liberal Democratic Party is now in the opposition. The local political culture in Moldova continues to politicize all major state institutions, including the military; thus, it was only a matter of time before Gorgan would have had to go. After all, it was Gorgan who pushed his predecessor out in a similar power struggle back in 2013. On a personal level, the fact that General Gorgan publicly challenged Defense Minister Șalaru's authority, criticizing his lack of military credentials, did not help his case either. The two have exchanged accusations of nepotism, corruption and incompetence (Unimedia.info, March 2; Jurnal.md, March 3). The scandal further undermines both the army's prestige and morale at a time of continuous regional geopolitical volatility.
Former United States ambassador to Ukraine John E. Herbst has warned that the ceasefire in Syria would turn Vladimir Putin's attention back to Ukraine (Kyiv Post, February 29). As Russia scales down its presence in Syria, Romanian analyst Dan Dungaciu echoes Herbst's concern that the Kremlin may now refocus on Kyiv and Chisinau, using hybrid warfare to influence election outcomes and impose its federalization agenda (Adevarul.ro, March 20). Minister Șalaru appears to shares these concerns. In fact, he publicly raised the issue of Russian hybrid warfare, called for the replacement of Russian peacekeepers in Transnistria with a United Nations mission, and questioned Moldova's posture of neutrality, advocating for closer ties with the North Atlantic Treaty Organization (NATO) (Publika.md, February 29). These remarks prompted a critical response from the Russian Ministry of Foreign Affairs (RIA Novosti, March 2). Conversely, aiming at counterbalancing Russian media influence in Moldova, the Romanian Ministry of Foreign Affairs hosted the inaugural session of the Romania-Moldova Mass-Media Consultative Council, on February 29 (Mae.ro, February 29). Attending the event, Moldova's ambassador to Romania, Mihai Gribincea, earlier an envoy to NATO, equated the risk posed by "Russian propaganda to that of Russian troops in Transnistria" (Timpul.md, March 1).
Șalaru was an active member of Moldova's national liberation movement of the late 1980s. And soon after his appointment to head the country's defense ministry in mid-2015, Șalaru announced plans for a museum dedicated to the Soviet occupation and started collecting exhibits by taking down an old T-34 tank from a Soviet-era monument in Chisinau (Publika.md, September 16, 2015), much to Moscow's indignation (TASS, September 23, 2015). Șalaru even criticized the current draft of Moldova's National Security Strategy for not being explicit enough about the threat posed by Russia (Europalibera.org, March 4). Unsurprisingly, Șalaru's anti-Russian rhetoric prompted a no-confidence motion initiated by the Communists on February 22, but which failed on March 11 as only the Socialists joined in to dismiss the minister (Jurnal.md, Ria.ru, March 11). Yet, the timing of the motion could also be seen as a response to Șalaru's attempt to dismiss the Army commander and boost his own influence. Socialist parliamentarian and analyst Bogdan Tirdea suggested that the motion was, in fact, an attempt by the Democratic Party, the senior coalition partner, to "scare Șalaru rather than actually censure him" (Vedomosti.md, March 15). Even if, the Democrats did not orchestrate the motion, one can see how problematic Șalaru's rhetoric can be at a time when the Democratic Party is trying to mend relations with Moscow. Russian Deputy Foreign Minister Grigory Karasin is scheduled to visit Chisinau on March 28–30, indicating some improvement in bilateral ties, despite Russian trade restrictions and Moldova having expelled 76 Russian citizens in 2015, including journalists and soldiers (Deschide.md, March 21). Still, the Moldovan government hopes for better trade relations and progress on the Transnistrian front.
Nonetheless, Minster Șalaru's recent inauguration of a permanent exhibition on "Soviet Occupation" at the National Military Museum (Army.md, March 26) cements his "bad cop" image, while Democrats act as the "good cop" in relations with Moscow. The opposite dynamic is employed with regard to the West, particularly NATO. On March 24, Șalaru welcomed the first visit to Moldova by General Philip Breedlove, NATO's Supreme Allied Commander Europe (SACEUR) and Commander of the United States European Command (USEUCOM). Apart from the defense minister, Gen. Breedlove only met with President Nicolae Timofti, reaffirming US and NATO support to Moldova, including plans for a NATO Liaison Office in the country (Deschide.md, RIA Novosti, March 24). He also toured the Bulboaca National Training Center, where the US is supporting renovations to create a modern training facility (Army.md, March 24). Moldovan soldiers have recently taken part in a number of military exercises and trainings along with their US and NATO partners, both in Moldovan and abroad: "Mission Readiness Exercise," "Agile Hunter 2016" and "Joint Combined Exchange Training 2016" (Army.md, February 26, March 7, 11, 22). These opportunities are important in maintaining the army's preparedness and increasing interoperability with NATO forces, particularly in light of Moldova's growing budgetary constraints. However, at the same time, the scandal surrounding the dismissal of the head of the General Staff and the increased politicization of the military needlessly tarnishes the image of the army, which is one of the few institutions Moldovans still trust.