Moldova's Pro-Western Parties: Divided and Enfeebled (Part Two)
Publication: Eurasia Daily Monitor Volume: 17 Issue: 108
By: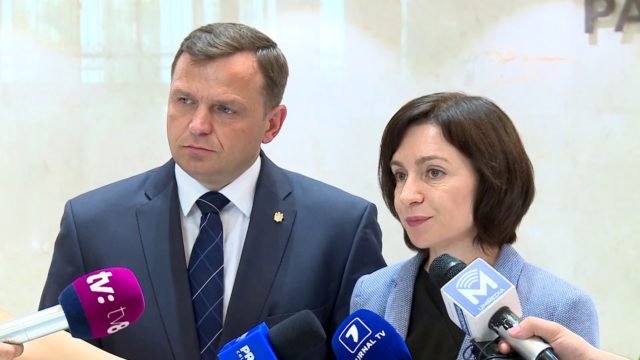 Moldova's ACUM ("NOW") bloc of two parties led a minority government in June–November 2019, with parliamentary support from President Igor Dodon's Socialist Party. After five months in office, however, then–prime minister Maia Sandu unilaterally terminated that arrangement without clear or convincing reasons. The unforced exit abandoned governmental power to the Socialists, tore the ACUM bloc apart between Sandu's and Andrei Nastase's parties, and triggered the current cycle of instability, with risk-fraught elections ahead (see Part One in EDM, July 21).
Four consequences stand out, shaping the current events and those ahead:
First, Moldova lost its best-ever ministerial team, comprised of graduates from top Western universities (and cast in Maia Sandu's mold who assembled that team). It was not only the first genuinely pro-Western but also the first competently pro-Western government. It amounted to a cultural leap for Moldova's governance, correspondingly engendering some local cultural resentment. With that team's departure, Moldova slipped from the threshold of the post-post-Soviet age back into mere post-Sovietism.
Second, the end of ACUM-Socialist power-sharing also ended the chance for consensus-building across Moldova's ethnic, linguistic, cultural, ideological and "geopolitical" dividing lines. That chance seemed at hand, potentially encompassing at least 70 percent of Moldova's population (Cotidianul, July 20) to facilitate the broadest, non-controversial acceptance of Moldova's European orientation, as had been the case under the nominally Communist president Vladimir Voronin in 2003–2008 (when no modern pro-Western party existed in Moldova). Similarly, President Dodon moved from Russocentrism to a carefully balanced posture while cohabiting with ACUM (see EDM, October 1, 2019, February 13, 20, 2020). The optimal scenario for 2020 envisaged Dodon's reelection, a bipartisan ACUM-Socialist majority in the newly elected parliament, and an ACUM-led government. The ACUM-Socialist divorce, however, has closed off those prospects. It leaves Moldova in the throes of another cycle of deeply divisive elections, and precludes any serious reforms for the duration.
Third (and related to the second), ACUM's diminished influence reopens Moldova to the divisive politics of ethnicity, language, culture, historical memory, and left-versus-right ideologies, all instrumentalized by political parties for the purposes of voter mobilization. ACUM's parties are Moldova's only major political force that has risen above those old quarrels. Yet, the bloc's stint in power was far too short for ACUM to reach out to "Russian-speaking" population groups; nor is this within the means of under-resourced opposition parties such as those of the former ACUM in the upcoming election campaigns. President Dodon, by contrast, has reverted to full-blown Russocentrism in order to mobilize his voter base. And while ACUM's parties do not endorse Romanian irredentism in Moldova, local irredentist groups are poised to bite off at least a few percentage points from the former bloc's electorate.
And fourth, ACUM's loss of power has removed the incentives for the bloc's two parties to preserve their former unity. The unnecessary abandonment of power remains a basis for mutual recriminations to this day (Cotidianul, July 21; Unimedia, July 22). The bloc has not been dissolved officially, but has collapsed de facto. Sandu's ministerial dream team of politically unaffiliated experts has scattered. Sandu's and Nastase's mutual rancor has been on public display for the last eight months. Their respective parties campaigned against each other in the notorious Hincesti district by-election in March, resulting in a Socialist victory over both of them. Sandu and Nastase each intend to launch their respective presidential campaigns in September and compete again in the ensuing parliamentary elections.
Sandu's and Nastase's parties hold 15 and 11 seats, respectively, in the 101-seat parliament. Their voters (all Romanian/Moldovan-speaking) are concentrated in what is conventionally known as "right of center" slices on the political spectrum and in the Moldovan diaspora in Europe. These two parties have little room for expansion because other parties occupy the remaining niches. Sandu's and Nastase's parties must therefore divide their relatively narrow slices, either by a cartel arrangement or by competing against each other. The cartel option is suboptimal because they would be dividing a limited pie; but still better than the fratricidal struggle underway.
Whether his team's grievances are valid or not, Nastase is clearly the conflict-initiator against Sandu's. Nastase feels entitled to the (former) ACUM bloc's nomination as joint presidential candidate in 2020, in exchange for his strong support to Maia Sandu's presidential candidacy in 2016 (Dodon narrowly won that race). Nastase claims that Sandu had agreed to that quid pro quo, which Sandu denies. She retorts that they should both enter the first round of the upcoming presidential election, in the knowledge that Sandu stands at some 30 percent in the opinion polls whereas Nastase is down into the single digits. A similar gap exists between their respective parties. Nastase dismisses (not entirely without reason) all polls as dubious or even rigged and threatens to run against Sandu come what may. This could result in a country-wide replay of the fratricidal struggle in the Hincesti district in March (see above).
Nastase's party also needs an urgent refloat, ahead of the pre-term parliamentary elections likely in early 2021. Toward that goal—and also as a reserve option, if his presidential bid fails—Nastase is maneuvering to become prime minister with the help of Andrian Candu, leader of the Pro Moldova party representing fugitive billionaire Vladimir Plahotniuc's interests. The scenario seems pure bluff but has preoccupied Moldova's mass media and punditry across the spectrum for the last three months. Under this scenario, the Pro Moldova party and the Shor Party (of fugitive "oligarch" Ilan Shor) would support a no-confidence motion against the Socialist-led government and immediately authorize Nastase's party to "assume the responsibility of governance" (an extra-legal notion). Nastase has already nominated three possible candidates for prime minister (himself and two of his deputies), promised to nominate a full ministerial team and an anti-crisis program (he has done neither, as his party lacks such capacities), and most importantly would focus on organizing the presidential and parliamentary elections.
To salvage (if still thinkable under such a scenario) his high reputation as an anti-"oligarch" fighter, Nastase proposes that the Pro Moldova, Shor, and the other parties should allow their deputies to vote for him in a personal capacity, not directly on behalf of their "oligarch"-controlled parties.
This scenario is one of those that could have been activated, had the no confidence motion been approved at the Nastase party's initiative in the parliament's July 20 session (Ziarul National, Unimedia, July 19–21; see EDM, July 21). It failed narrowly, and the parliament went into summer recess on July 21. Pro Moldova and the Shor Party have announced their intention to press for an extraordinary session in August and "as many resubmissions of no confidence motions as necessary" (RFE/RL, July 22).