Moscow Treats New US Strategy for Iran as Great Opportunity
Publication: Eurasia Daily Monitor Volume: 14 Issue: 130
By: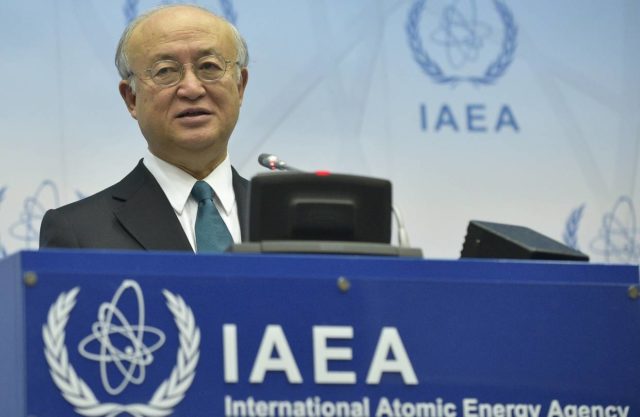 The decision of United States President Donald Trump not to certify the fact that Iran is duly implementing the provisions of the Joint Comprehensive Plan of Action (JCPOA) had been expected, so all international political responses were carefully measured. Russia's Ministry of Foreign Affairs, for its part, expressed grave concerns about this "mistake" and declared Moscow's firm commitment to preserve the integrity of the JCPOA, adding that Friday, October 13, is now loaded with "political associations" (RIA Novosti, October 13). These associations are, in fact, entirely positive and even joyful for the Russian leadership. It has been granted an opportunity to position Russia as an upholder of international law in the company of other parties to the 2015 "Iran nuclear deal" (China, France, Germany, the United Kingdom, and the European Union) and in full agreement with the findings of inspections conducted by the International Atomic Energy Agency (IAEA). Furthermore, many measures that ensure punishment for Russia's own violations of norms of international behavior are now compromised and weakened.
The most immediate impact of Trump's new strategy of confronting Iran of course affects the Middle East, and here Russia may find its positions shaken. President Vladimir Putin has cultivated channels of dialogue with almost every party to the many conflicts in this region. But now the Russian head of state is in sharp disagreement with Israel's Prime Minister Benjamin Netanyahu, who immediately embraced Trump's decision and is also upset with the reconciliation agreement between Hamas and Fatah, which Russia had facilitated (Rossiyskaya Gazeta, October 12). The long-expected visit to Moscow of Saudi king Salman bin Abdulaziz al-Saud (see EDM, October 10, 11) was portrayed by Russian commentators as a breakthrough in Russia's relations with the Arab World (Russiancouncil.ru, October 9). King Salman's main message, however, was about the need for Moscow to distance itself from Tehran in the forthcoming crisis (Ezhednevny Zhurnal, October 9). Putin is not able to follow this advice and is actually preparing a trip to Tehran in a couple of weeks (RBC, October 12). The main reason for this "loyal friendship" is the dependency of the Russian military intervention in Syria upon combat support from Hezbollah and other Shia militias controlled by Iran's Revolutionary Guard Corps (Nezavisimaya Gazeta, October 10).
The vulnerability of this position is more than compensated for by the unequivocal support for Iran's implementation of the JCPOA by the key European states. Meeting with Russian officials in St. Petersburg, Ali Larijani, the speaker of the Iranian parliament and former nuclear negotiator, was remarkably on the same page as Federica Mogherini, the EU High Representative for Foreign Affairs and Security Policy, on the subject of rejecting Trump's strategy (Newsru.com, October 13). European politicians are most concerned by the prospect of the US Congress reintroducing sanctions against Iran (Kommersant, October 14). Such a unilateral step might actually play into Moscow's hands by undermining the legitimacy of the sanctions regime that severely affects the inflow of Western investments into Russia (RBC, October 12). Putin has long encouraged every dissenting voice and all non-mainstream political forces in Europe who find it opportune to argue for lifting sanctions against Russia, no matter Donbas and Crimea; and now, he can connect with the widespread resentment against Trump's policies on the international stage.
Russia also stands to benefit from the damage that is about to be inflicted to global arms control. President Hassan Rouhani has already declared his readiness to expand Iran's ballistic missile program, and Moscow is willing to overtly treat it as an unfortunate but entirely legitimate response to US pressure (RBC, October 13). More importantly, Trump's disparaging dismissal of the JCPOA provides Russia with an opportunity to dismiss US accusations of Russian violations of the 1988 Intermediate-Range Nuclear Forces (INF) treaty as a manifestation of the same cavalier attitude toward arms control (Russiancouncil.ru, October 10). Instead of disproving the technical evidence, it is much easier for Moscow to charge that Washington simply wants to negate all limitations and to achieve superiority in nuclear and global strike capabilities (Gazeta.ru, October 13). Putin and his top brass are ready to withdraw from the INF, which effectively bans the modernization of Iskander surface-to-surface missiles, but would much prefer to put the blame on the Trump administration, assuming that disgruntled Europeans would then refuse to provide bases for new US missiles as well as object to the replacement of old nuclear bombs.
An implicit but effective connection exists between Trump's new strategy for Iran and his crude pressure on North Korea, and the Kremlin seeks to turn this interplay to Russia's advantage (Nezavisimaya Gazeta, October 13). Putin has not been able to play any independent role in managing the Korean crisis (see EDM, March 28) and is probably more irritated than he can afford to show with the need to follow the firm lead from Beijing (Carnegie.ru, October 9). Moscow maintains that sanctions cannot work for compelling the North Korean regime to curtail its nuclear and missile programs, but China keeps tightening the sanctions regime in close coordination with the US (Russiancouncil.ru, October 12). Now, Russia can push the point that agreements with Washington are worthless because the US leadership is willing to break any deal that it finds disagreeable. Demonstrating that the United States cannot be a trustworthy partner in any security arrangement is a task Russian diplomacy is eagerly concentrating upon (Republic.ru, October 10). A greater goal is to prove that the confused "hegemonic power" relies primarily on its military might to uphold its declining influence—and fails to apply it effectively or indeed responsibly.
The belief that every US setback in the international arena is a net gain for Russia is fomented by malicious propaganda. This approach—damaging Western unity to create chances for Moscow to exploit the deepening divisions—might appear rational from the Kremlin's point of view. It is, however, dangerous for Russia to position itself as a "principled" adversary of the US in such test cases as North Korea or Iran. Putin keeps talking about the benefits of cooperation against terrorism, but for Trump Russia's friendliness toward Iran likely amounts to collusion with the main state-sponsor of terrorist networks across the region. If Moscow is recognized in Washington as the prime saboteur of US policies, the urge to punish it might come together with the need to expel the specter of the Russia investigation. Trump is going slow with executing the law on sanctions against Russia; but Putin's activities could tempt his US counterpart to move faster.