NATO and EU Strive for Peace Amid Simmering Balkan Tensions
Publication: Eurasia Daily Monitor Volume: 19 Issue: 128
By: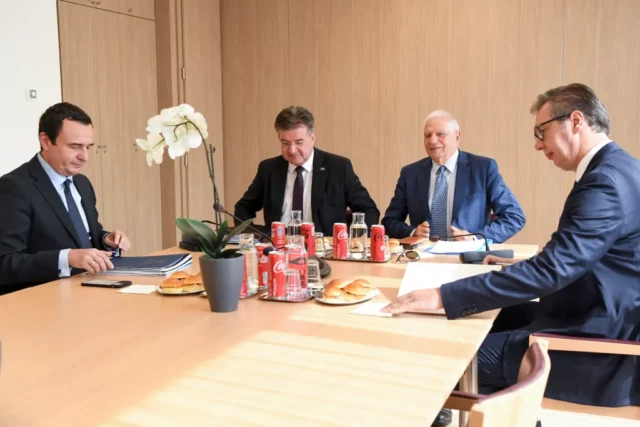 The presidents of Serbia and Kosovo, Aleksandar Vučić and Albin Kurti, respectively, failed to reach an agreement on August 18 during bilateral talks hosted by the European Union in Brussels. The negotiations specifically concerned vehicle license plates and travel documents. After the meeting, EU High Representative for Foreign Affairs Josep Borrell said both leaders agreed that the process needs to continue and talks will resume in the coming days (Beta.rs, August 18).
A dispute over such seemingly mundane subjects seems farcical at a time when Europe is dealing with Russia's brutal war against Ukraine, but these issues almost led to armed clashes in the Balkans twice during the past year. In September 2021, after Kosovo Serbs initiated protests against Pristina's new license plate requirements, Vučić ordered military and police units on heightened alert and blocked the border crossings at Jarinje and Brnjak, in northern Kosovo. The drama continued as Serbian Deputy Prime Minister and Minister of Defense Nebojša Stefanović visited the border region accompanied by Russian Ambassador Aleksandr Botan-Kharchenko and Moscow's military attaché (see EDM, September 28).
Under EU mediation, a temporary solution was eventually found that was supposed to be replaced with a permanent provision this summer. But as soon as Pristina announced in July 2022 that it was time to finally use Kosovo registration plates for all cars belonging to Kosovo residents, trouble flared up again. On July 31, a group of Kosovo Serbs erected barricades at the Jarinje and Brnjak crossing points from Serbia, while air raid sirens and gunfire could be heard in Kosovska Mitrovica, a Serb stronghold in the north of Kosovo (Twitter/dana916, July 31).
In June 2022, President Vučić claimed that Pristina's attempts to finally resolve the license plate dispute harbored the sinister goal of expelling Serbs from Kosovo, especially those from the north of "Kosovo and Metohija"—a term Belgrade continues to use as it refuses to recognize Kosovo's independence  (Balkan Insight, June 30). This statement was in line with Vučić's earlier pledge that the Serbs in Kosovo will "not be beaten again," a phrase used by Slobodan Milošević 35 years ago that heralded Belgrade's repression, mass murder and expulsion of Kosovo Albanians, which precipitated a North Atlantic Treaty Organization (NATO) military intervention in 1999.
The new eruption of tensions subsided when the Kosovo government agreed with the proposal of US ambassador to Kosovo, Jeffrey M. Hovenier, to postpone implementing the new car plates for one month. But by September 1, the two sides must agree on how to solve the problem, which seems like an impossible deadline to meet given the myriad disagreements on both sides concerning almost everything.
The license plate dispute, similar to many other unresolved matters between the two neighbors, has been dragging on for over a decade. The "normalization" dialogue between Serbia and Kosovo facilitated by the EU since 2011 has produced few substantial results. Even so, one of the most notable outcomes was the June 2022 accord on a road map to further implement energy agreements made in 2013 and 2015 (EurActiv, June 22). Undoubtedly, the current energy crisis in Europe was the main driver behind the agreement, but its implementation may be stalled if tensions between Belgrade and Pristina continue to escalate.
However, the August 2022 meetings of the two Balkan presidents in Brussels have been quite different. First, NATO Secretary-General Jens Stoltenberg stated at a joint press conference with Vučić that NATO has strengthened its presence in Kosovo and is ready to deploy additional forces if tensions with Serbia escalate. Stoltenberg said that the NATO peacekeeping force in Kosovo (KFOR), currently composed of close to 4,000 troops, is ready to intervene "if stability is jeopardized" and "will take any measure that is necessary to ensure a safe and secure environment and freedom of movement for all the people of Kosovo" (DW, August 17).
Vučić was quick to deny that Serbia was planning "any sort of invasion" and declared that Belgrade will continue to respect KFOR's mandate in accordance with international norms. The Serbian leader claimed that security in the north of Kosovo no longer depends on him or NATO but is rather in the hands of young Serbs there who grew up convinced that Kosovo is Serbia.
However, Pristina is convinced that Serbian security forces are behind the recent disturbances. In truth, Vučić's rhetoric during the August meeting was markedly different from his address to the nation on July 31 when he claimed that Kosovo was planning to attack Serbia around midnight as tensions heightened along the border. He vowed, "There will be no surrender and Serbia will win; if they dare to start persecuting Serbs, killing Serbs, Serbia will win" (Balkan Insight, August 1).
Vučić also denied that Serbia intends to host a Russian military base on its territory, stressing his country's military neutrality (YouTube, August 17). Nevertheless, Serbian Minister of Internal Affairs Aleksandar Vulin will be traveling to Moscow on August 22 to meet with Russian Foreign Minister Sergey Lavrov. Vulin is known for denying the Srebrenica genocide and being an avid promoter of the "Serbian World" concept, a replica of Putin's "Russian World" idea that led to the invasion of Ukraine (Koha.net, September 27, 2021).
As Belgrade is trying to balance its four primary pillars of diplomacy—that is, equal relations with Russia, China, the EU and the United States—Russia's war in Ukraine is inevitably changing the equation. Although Belgrade has condemned the invasion, it has refused to impose sanctions on Moscow. Yet, the Russian pillar of Serbian foreign relations is rapidly collapsing as Moscow's international standing and reputation has been thoroughly tarnished, and now, many have labeled Russia a terrorist state actively committing war crimes.
Indeed, the war has been on the mind of NATO and EU leaders as they work to prevent another crisis in the Balkans. To this end, Borrell clearly stated: "This is happening at a critical time for our continent. After the Russian invasion of Ukraine, we are facing a very dramatic and dangerous moment for our continent, and this is not a time to raise tensions but to seek solutions and solve far-reaching issues" (Beta.rs, August 19).
Additionally, Borrell talked about reaching a comprehensive agreement for the normalization of relations between Kosovo and Serbia, not just solving the license plate problem and other granular issues. He stressed that the current tensions are a symptom of broader unresolved issues. Thus, it seems that both NATO and the EU, along with the US, have concluded that piecemeal deals on individual problems will not be resolved until the question of mutual state recognition between Kosovo and Serbia is finally settled.