Is Serbia Preparing to Annex Kosovo's North?
Publication: Eurasia Daily Monitor Volume: 18 Issue: 147
By: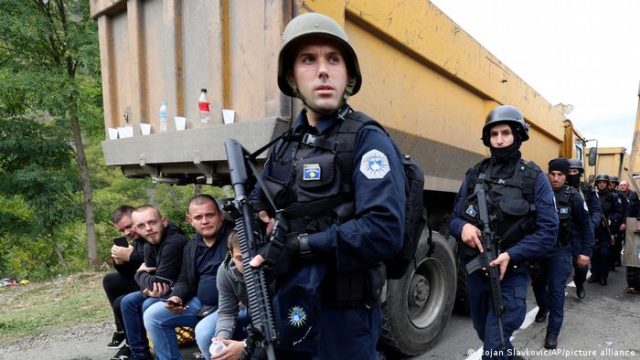 Tensions on the Serbian-Kosovo border have rapidly escalated, threatening to spiral into a renewed conflict in the Balkans. Serbian President Aleksandar Vučić has ordered military and police units on heightened alert after Kosovo Serbs initiated protests against Pristina's new vehicle license plates requirements and blocked the border crossings at Jarinje and Brnjak, in northern Kosovo. The area is mainly populated by minority ethnic Serbs, who reject the authority of the ethnic-Albanian-led government in Pristina.
As Pristina dispatched special police units to provide security and implement the license plate requirement, Serbia deployed military vehicles along the border with Kosovo and began flying fighter jets over the area (Koha.net, RTS, September 26). On September 25, Kosovo Serbs attacked government offices, including burning down the vehicle registration center in Zubin Potok and throwing two hand grenades into the vehicle registration center in Zvecan. No injuries were reported as the grenades did not explode (Euronews.com, September 26). Following the attacks, Kosovar Prime Minister Albin Kurti accused Serbia of trying to "provoke a serious international conflict" (Aljazeera.com, September 25).
On September 23, Serbia's Deputy Prime Minister and Minister of Defense Nebojša Stefanović visited Serbian troops placed on heightened alert in the Raška garrison and the garrison town of Novi Pazar (Mod.gov.rs, September 23). Three days later, Stefanović traveled to the border region accompanied by Russian Ambassador Aleksandr Botan-Kharchenko and Russia's military attaché, Major General Aleksandr Zinchenko, while Serbia's Russian-produced MiG-29s circled over the area (The Frontier Post; RFE/RL, September 26).
In an effort to deescalate the situation, the North Atlantic Treaty Organization's (NATO) mission to Kosovo (KFOR) increased the number and duration of routine patrols in northern Kosovo (Balkan Insight, September 27; RTS, September 28). The Kosovo media reported that KFOR has offered to take over security protection at the blocked border crossings and replace Kosovo's special police units. The proposal was accepted by Pristina but rejected by four Serbian mayors in northern Kosovo (Koha.net, September 27).
Pristina introduced new vehicle license plates in December 2010 that contain the letters RKS, the initials of the Republic of Kosovo. They replaced the ones previously issued under the authority of the United Nations Mission in Kosovo (UNMIK), which contained the letters KS for Kosovo. Serbia, which does not recognize the Republic of Kosovo, refused to accept the new license plates and, for ten years, under an agreement with Pristina, has allowed only vehicles with KS plates to freely enter Serbia. Cars with RKS plates were forced to change them at the border with provisional plates issued by the Serbian authorities. At the same time, cars with Serbian plates could enter Kosovo freely, without extra procedures.
On September 9, Pristina announced that it would not renew the 2011 agreement and, starting September 15, will only accept license plates containing the letters RKS (Balkan Insight, September 9). From September 20, the Kosovo authorities requested that all vehicles entering Kosovo with Serbian license plates purchase temporary Kosovo tags. While Belgrade called this policy a "provocation" and a "criminal act," Croatian President Zoran Milanović told the media that Kosovo has responded with reciprocal measures to something Serbia has been doing for ten years. "If you cannot go to Serbia with Kosovo license plates, then Kosovo can decide that the same applies to cars from Serbia," he commented (Koha.net, September 27).
Pristina's introduction of an equal policy with Serbia on vehicle registration has evolved into a potentially explosive situation requiring international mediation. Serbian and Kosovar negotiators, Petar Petković and Besnik Bislimi, respectively, are slated to meet on September 29 with European Union representatives in Brussels. The United States Embassy in Pristina has announced that the Department of State's Deputy Assistant Secretary for European and Eurasian Affairs, Gabriel Escobar, will also be present, but the EU foreign affairs spokesperson, Peter Stano, said that Escobar will not participate in the meeting (Gazeta Express, September 28). NATO Secretary General Jens Stoltenberg has spoken by phone with Serbia's President Vučić and Kosovar Prime Minister Albin Kurti and called for "restraint dialogue" (Twitter.com/jensstoltenberg, September 26).
The current crisis in northern Kosovo is the worst since 2011, when the Kosovar police legitimately entered four Serb-majority municipalities to control several border crossings and their actions caused protests and clashes. The incident took place amidst extensive discussions about the potential partition of Kosovo, with its northern part annexed by Serbia.
The current crisis, however, takes place in a different environment. The ghost of partition was officially released in 2018, when Brussels and Washington appeared receptive to the idea. Since then, with help and support from Moscow, it has morphed into an elaborate new revisionist concept pursued by Serbia throughout the Western Balkans.
Significantly, the rhetoric used by Belgrade and Moscow paints Pristina's license plates policy as "criminal activity" that threatens the existence and wellbeing of the Serbian minority in Kosovo—a claim reminiscent of the Kremlin's rhetoric before Russia annexed Crimea in 2014. The similarity is enhanced by Belgrade's recent embrace of the idea of a "Serbian World" in the Balkans, a copy-cat of Putin's "Russian World" doctrine. Serbian Interior Minister Aleksandar Vulin has started actively promoting the "Serbian World" concept, claiming that the very survival of the Serbs is endangered (Koha.net, September 27).
As an ominous reminder of the Balkans' violent past, Vučić repeatedly vowed to fight for the Serbs in Kosovo, promising that they will not be "beaten again." This exact phrase was used in Pristina in April 1987 by Slobodan Milošević, the then-future president of Yugoslavia, as justification for revoking Kosovo's autonomy and a spark for the 1990s wars.
President Vučić told NATO Secretary General Stoltenberg that Serbian forces would not enter Kosovo, to avoid further escalation. But he also issued a warning that Serbia will only wait for 24 hours for NATO to react in case of "pogroms" against Serbs in northern Kosovo (Intellinews.com Sept 27). This signifies that any violence in Kosovo's northern municipalities could trigger military intervention by Serbia and the attempted annexation of Kosovo's north.