New Georgian Government Attempts Reset With Russia While Balancing Euro-Atlantic Aspirations
Publication: Eurasia Daily Monitor Volume: 15 Issue: 106
By: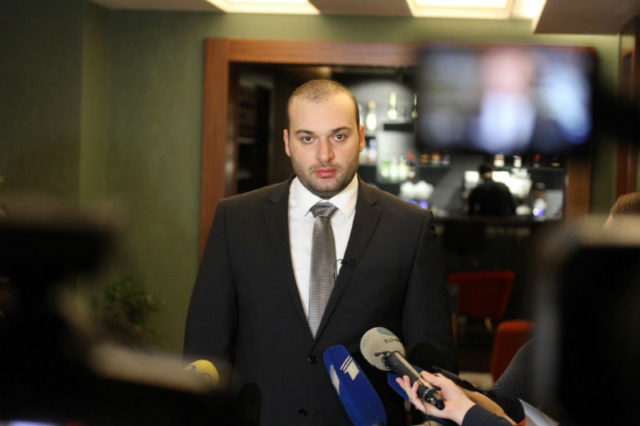 Georgia's new government, led by 36-year-old Prime Minister Mamuka Bakhtadze, apparently intends to focus on improving trade and cultural contacts with Russia under its "Freedom, Rapid Development and Prosperity" program. In more conciliatory language that Moscow has heard in many years, on July 13 Bakhtadze told reporters, "Within the framework of rational policy and policy of de-escalation toward the Russian Federation, the facilitation of trade, economic [and] cultural contacts and contacts between peoples will continue" (Vestnik Kavkaza, July 13). Two days later, the Georgian parliament voted and passed Bakhtadze's program. The Freedom, Rapid Development and Prosperity initiative is designed to last for 28 months, until the autumn of 2020, when the next nationwide parliamentary elections are held (Kommersant, June 20).
While this new government program could substantially ameliorate the decade-long difficult relations between Georgia and Russia in the wake of their brief August 2008 war, its Russian outreach component is only part of Tbilisi's broader international initiative, which proposes that Georgia also base its foreign policy on "irreversible integration" with both the European Union and the North Atlantic Treaty Organization (NATO). Neither of these latter two developments would likely please Moscow.
Both Prime Minister Bakhtadze and his predecessor, Giorgi Kvirikashvili, who stepped down in mid-June because of party infighting and rising street protests (see EDM, June 20), are members of the ruling Georgian Dream coalition, whose major foreign policy goal is to integrate Georgia into Euro-Atlantic institutions. Bakhtadze's swift confirmation as Georgia's new head of government has, for the moment, ended several years of rising political tensions. Despite his relative youth, Bakhtadze amassed a respectable resume; prior to assuming the prime ministership, he had served as Georgia's minister of finance since November 2017, after serving four years as the CEO of Georgian Railways and, before that, as director general of the Georgian International Energy Corporation.
Following his swift confirmation by the parliament, which, on June 20, voted 99 to 6 to appoint Bakhtadze as prime minister, he announced plans to shrink the size of the Georgian government while simultaneously pursuing more robust social welfare and fiscal reforms (Georgia Today, June 26).
Whether Bakhtadze can deliver on his ambitious agenda remains to be seen. But by moving beyond the status quo, Bakhtadze's proposal has elicited much commentary in the Russian press. Quite aside from the seemingly inevitable political posturing, underpinning the thaw in relations is the fact that Russian-Georgian bilateral trade has been steadily increasing. In 2017, bilateral trade reached $1.08 billion (Russian-trade.com, February 15). In January 2018, Russia became Georgia's biggest export partner; and in terms of the overall trade balance, Russia is currently second after Turkey and slightly ahead of Azerbaijan (BNE IntelliNews, July 9).
Beyond domestic considerations, Bakhtadze's government also announced its continued longstanding commitment to policies favoring Euro-Atlantic cooperation and integration. These policies include deepening commitments with the United States. In the wake of the Russia-Georgian war a decade ago, the South Caucasus country has steadily risen to become the recipient of the largest amount of United States foreign aid per capita (Georgia Today, July 6).
Bakhtadze's elevation to prime minister also coincides with the introduction of the bipartisan Georgia Support Act in the US Congress. On June 26, Representatives Ted Poe (R-TX) and Gerald Connolly (D-VA) of the House Foreign Affairs Committee introduced H.R. 6219, the bipartisan bill to further assist Georgia. After Congressman Poe noted this country's commitment to NATO operations in Afghanistan, Congressman Connolly remarked, "Georgia is a valued and strategic partner of the United States. The Georgia Support Act demonstrates the United States' robust support of Georgia's sovereignty, continued democratic development, and security, especially in the face of Russian aggression. In the Georgian regions of Abkhazia and South Ossetia, Russia has violated Georgia's territorial integrity and committed serious human rights abuses, including ongoing detentions and killings" (House.gov, June 26). The bill was subsequently referred to the Committees on Foreign Affairs, Judiciary, and Ways and Means for consideration (Congress.gov, accessed July 17). If brought up for a vote, it is likely to pass.
At present, Georgia is pursuing an adroit strategy of positioning itself not as an anti-Russian state, while simultaneously not abandoning its pro-Western course. The current government's policy direction suggests that Tbilisi's ideal scenario would be for all neighboring countries to have some level of stake in the security of Georgia. While transport and energy initiatives, such as the Baku–Tbilisi–Ceyhan oil pipeline and the now operational Baku–Tbilisi–Kars railway, have deepened Georgia's relations with the neighboring countries involved and increased East–West trade and transport, the most intractable foreign policy Gordian knot for Tbilisi remains Russia.
On July 12, following the two-day NATO summit in Brussels, when asked about Georgia's future membership in the Alliance, US President Donald Trump replied simply, "Well, at a certain point they'll have a chance. Not right now" (Whitehouse.gov, July 12). Such tepid-sounding support thus makes Bakhtadze's realpolitik appear all the more pragmatic.