Politics Around COVID-19 Pandemic Undermine Relations Between Georgia and Armenia
Publication: Eurasia Daily Monitor Volume: 17 Issue: 81
By: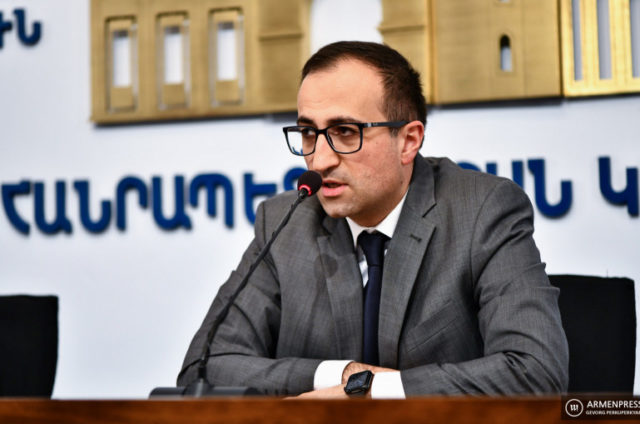 On May 22, Armenian Health Minister Arsen Torosyan accused Georgia of hiding true statistics about the numbers of its people infected with the novel coronavirus and boasted that his country's anti-epidemiological system was far superior to the Georgian one (Arminfo.info, May 22). His remarks sparked angry reproaches in Georgia, particularly since the scandal broke out as cases of COVID-19 began sharply rising in Armenia while international observers had approvingly evaluated the Georgian authorities' success in fighting the deadly pandemic.
Prior to Minister Torosyan's controversial comments, the Armenian media had been vigorously discussing the apparently successful case of neighboring Georgia and questioning officials in Yerevan as to why the situation in Armenia looked so problematic in comparison (Ekho Kavkaza, May 15). Though the Georgian government understood that the Armenian health ministry head's statement was meant for internal consumption, Tbilisi nonetheless waited several days for an official apology. During this time, the Georgian side avoided sharp rhetoric, although its Foreign Minister David Zalkaliani expressed bewilderment at the Armenian health official's words, and Tbilisi called Torosyan "un-diplomatic" (Ekho Kavkaza, May 25). A much angrier response came from Georgian epidemiologists, who demanded an apology from the Armenian minister for his alleged slander (Imedi.ge, May 23). At the same time, the medical researchers argued that, in comparison with Armenia, Georgia has the most modern and high-tech biological laboratory in the whole region—the Richard Lugar Public Health Research Center, just outside Tbilisi (see EDM, May 5)—adding that the lab's staff are undergoing continuing education in the United States and that the facility operates under the watchful eye of US experts (Imedi.ge, May 23).
On May 23, the press secretary for the Armenian minister of health posted on Facebook that Torosyan had been misunderstood and misinterpreted by the media (Interpressnews.ge, May 23). Yet, this explanation failed to impress the Georgian side: two days later, Georgia's Health Minister Ekaterine Tikaridze demanded a further explanation from Yerevan (Interpressnews.ge, May 25).
Soon thereafter, on May 28, the Georgian Epidemiological Service pointedly offered assistance to Armenia (Interpressnews.ge, May 28), thus hinting that the situation there is worse than in Georgia. However, the Armenians refused. On May 30, Prime Minister Nikol Pashinyan expressed gratitude for the gesture but declared there was no such need. Instead, he recalled how, during a 2019 measles outbreak in Georgia, Armenia provided its neighbor with 30,000 doses of vaccine (Ekho Kavkaza, May 28).
This scandal has its own political and even cultural context: traditionally, the two nations have continually competed and compared themselves with the other as well as borrowed from one another. In Soviet times, this rivalry was vividly reflected in cinematography. Moreover, in downtown Tbilisi, Soviet-era authorities erected a monument called "Mother of Georgia"; and a few years later, a copy of this monument went up in Armenia with the name "Mother of Armenia." Such rivalry and imitation are also reflected in contemporary politics. Following the so-called Velvet Revolutions in Armenia (2018), Yerevan notably began initiating effectively the same reforms that were implemented in Georgia after the Rose Revolution (2003).
Up to now, the Armenian-Georgian rivalry never went beyond permissible limits, and similar scandals never arose, at least at the level of government representatives. In 2012, when the Georgian Dream political party came into power in Georgia, bilateral relations grew relatively warm. Until that time, under the previous government in Tbilisi, headed by Mikheil Saakashvili, Georgia's main priority was building a strategic partnership with Azerbaijan; Armenia was considered a secondary neighbor, much to Yerevan's disdain. However, under successive Georgian Dream cabinets, Georgia's priorities have shifted somewhat. Despite the fact that Armenia is the main regional ally of Russia (with which Georgia has tense relations), the current Georgian authorities show more sympathy toward Armenia and vice versa than was the case eight years ago; while relations with Azerbaijan have slightly worsened (see EDM, February 12, 2018, February 7, 2019, June 6, 2019, July 8, 2019, July 30, 2019).
In 2012, during an official visit to Yerevan, the billionaire leader of Georgian Dream and then–prime minister Bidzina Ivanishvili declared that Armenia's foreign policy model is attractive to Georgia. Contacts between the leaders of the two countries became increasingly common. And after Armenia's Velvet Revolution, bilateral relations reached a new level when, for the first time in many years, Armenia did not vote against Georgia at the United Nations (1tv.ge, June 6, 2019). Yerevan's routine UN votes against issues of importance to Tbilisi had been a bone of contention between the two neighboring, purportedly friendly, states since 2008. But the government of Nikol Pashinyan appears to have finally overturned this tradition. Relations at the highest levels have been rather close, with Pashinyan having last traveled to Georgia in March of this year (Imedinews.ge, March 3).
Georgia is a vitally important neighbor for landlocked and largely regionally isolated Armenia. Transport and communication arteries across Georgian territory connect Armenia with the rest of the world as well as offer the most direct overland link to Russia, its most important economic benefactor and security guarantor. Illustratively, in 2011, Armenians were almost completely cut off from the Internet for a day because a 75-year-old woman scavenging for copper in a Georgian village accidentally damaged a transborder fiberoptic trunk cable that provided Internet connectivity to 90 percent of Armenia (Netgazeti.ge, April 1, 2011).
Some expect that, following last month's clumsy statement from the Armenian health minister, the honeymoon between the Georgian and Armenian authorities might finally come to an end. Indeed, Georgian authorities are unlikely to quickly brush aside the accusation of deceit coming from a cabinet official of a neighboring country, particularly on the eve of Georgia's parliamentary elections, which will be held in October. Some Armenian politicians, meanwhile, openly fear that the scandal caused by Minister Torosyan's notorious remarks may end up undermining their country's already precarious geopolitical position by harming Armenian-Georgian relations (Panorama.am, May 23).
In a hopeful sign for both sides, on June 4, Prime Minister Pashinyan admitted that Armenia faces a very difficult situation and, within hours, a group of Georgian citizens created an online petition calling on their government to accept COVID-19 patients from Armenia (Ekho Kavkaza, June 4). Moreover, Georgia's foreign minister once more offered medical assistance for Armenia (Interpressnews.ge, June 4). It will now be up to the leadership of both countries to build off this humanitarian good will and repair the diplomatic relationship.