Russia Dusts Off Conspiracy Theories about Georgia's Lugar Center Laboratory in Midst of COVID-19 Crisis
Publication: Eurasia Daily Monitor Volume: 17 Issue: 62
By: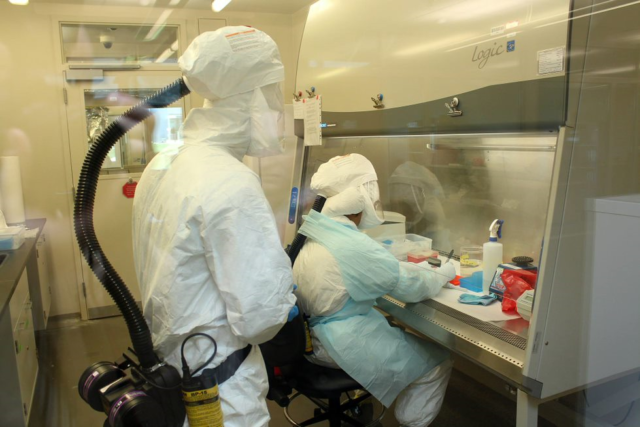 Georgia's Ministry of Foreign Affairs has called on the Russian government to "refrain from provocative statements" and "disinformation" against the Center for Public Health Research, located near Tbilisi and named after the late United States Senator Richard Lugar (Kavkazsky Uzel, April 19). A couple weeks later, Georgian President Salome Zurabishvili similarly rebuked Russia for its "slanderous statements about the Lugar Center" (Twitter.com/Zourabichvili_S, May 1). The Georgian authorities were, in particular, responding to an April 17 statement from Russian foreign ministry spokesperson Maria Zakharova, who, without presenting any factual evidence, blamed "Pentagon-controlled" US laboratories in the former Soviet republics for the severe outbreak of the COVID-19 coronavirus in Russia. Alluding to Georgia, Zakharova alleged that these laboratories, situated in direct proximity to Russian borders, may be working on developing dangerous pathogenic agents, including for military purposes. She also claimed to have information that, during a recent visit to Georgia, US Defense Department officials had told their hosts they would be willing to ramp up such alleged research at the Lugar Center (TASS, April 17). In addition, the de facto authorities of the Russia-backed separatist Georgian region of South Ossetia later accused Georgian security services and the US Defense Intelligence Agency of deliberately contaminating residents of the breakaway territory with COVID-19 (Sputnik-ossetia.ru, April 28). Some Chinese media outlets notably echoed Russian assertions about these supposed virological risks emanating from the US-founded research laboratories in some former Soviet republics (TASS, April 29). But on May 2, Georgian and Chinese officials visiting Tbilisi issued a joint statement defending the peaceful and crucial activities being undertaken at the Lugar Center (Agenda.ge, May 2).
The Lugar Research Center is the result of a series of biodefense cooperation agreements signed by the US and Georgian governments between 1997 and 2002. It was first opened in 2011 (fully operational in 2013) and, following a US government investment of $350,000, its ownership was entirely transferred to the Georgian government in 2018. Today, the Center is operated by Georgia's National Center for Disease Control and Public Health (NCDCPH) and serves as a reference laboratory for the country's public health system. Some limited space at the Center is presently occupied by the US Army Medical Research Directorate–Georgia (USAMRD-G), a subunit of Walter Reed Army Institute of Research. USAMRD-G representatives say that the Lugar Center is the sole research laboratory in the South Caucasus that is Biosafety level-3 certified—that is, capable of working with microbes that can cause potentially lethal disease following inhalation (Global Biodefense, July 16, 2016; Radio Tavisupleba, May 15, 2018).
A number of Russia-leaning organizations in Georgia have long sought to spread suspicion around the Lugar Laboratory and the research conducted therein. For example, in 2015, the Global Research Center—a now seemingly dormant non-profit founded by Ioseb Archavadze, Nana Devdarini and Maia Chubinishvili—organized a conference, whose participants concluded that US-funded biomedical facilities of this type across the post-Soviet space risk leaking dangerous viruses and infections, jeopardizing local populations. Pundits taking part in the conference suggested granting the Lugar Center an international status in order to be able to bring in European and, notably, Russian specialists alongside the US scientists already working there (Globalresearch.ge, October 31, 2015).
Russian attacks on the Lugar Center began as early as 2012, but the most vociferous ones came in 2018 from General Igor Giorgadze, a former Georgian minister of state security who resides in Russia. Giorgadze claimed that documents he received from "friends" in Georgia showed the death of some 191 people, whom the Lugar Center had allegedly used as test subjects for developing biological weapons during 2015–2016 (EaDaily, September 18, 2018). The general's allegations were proactively backed by the Russian defense and foreign ministries, which released tersely worded statements that Russia would not allow the production of biological weapons near its borders (Echokavkaza.com, September 25, 2018 and October 4, 2018). A subsequent BBC News investigation found no truth to the Russian media and officials' claims against the Lugar Center (BBC News, November 12, 2018); and 22 experts from 17 countries who visited the Georgian research laboratory under the aegis of a routine United Nations inspection also unearthed no evidence of biological weapons production at the facility (TASS, December 18, 2018). Nevertheless, Moscow continues to repeat such baseless claims.
The Georgian government has repeatedly sought to invite Russian specialists to inspect the Lugar Center in order to finally put to rest Moscow's allegations. And in 2018, Georgia allowed some Russian media representatives to film the work being done at the Lugar Center and interview the personnel (Sputnik-Georgia, October 8, 2018). However, the Russian government's request of unlimited access to all units of the laboratory was reportedly denied. The Russian authorities presumably are looking to obtain the same level of access they secured at a similar US-founded center in Armenia thanks to an agreement Moscow reached with Yerevan in 2019 (see EDM, November 4, 2019).
Over the past several months, the Lugar Center has been instrumental in Georgia's fight against COVID-19. The diagnostic tests conducted at the laboratory are unanimously acknowledged as the most reliable in the country. Moreover, the Georgian authorities have particularly praised the highly accurate medical recommendations the Lugar Center issued for managing the pandemic (Interpressnews.ge, May 1, 2020). The great achievements exhibited by the Lugar Center have even prompted the current and former ruling parties—Georgian Dream (GD) and United National Movement (UNM)—to make competing claims on the bio-research facility. To wit, construction of the laboratory began in 2004 and it opened in 2011, while UNM was in office; but it became fully operational in 2013, already under the rule of the GD.
It appears that Russia's intermittent propaganda assaults on the Lugar Laboratory are an attempt to kill two birds with one stone in its uninterrupted "hybrid war" against Georgia. By trying to paint the biomedical research facility as a "laboratory of death," Moscow may be seeking to distract domestic attention from sensitive local issues and channel it toward alleged external threats. But at the same time, Russia may be seeking to gradually create the groundwork to justify possible punitive actions against Georgia if these suddenly appear politically beneficial to the Kremlin.