President Lukashenka's Pronouncements and Western Sanctions on Belarus
Publication: Eurasia Daily Monitor Volume: 18 Issue: 181
By: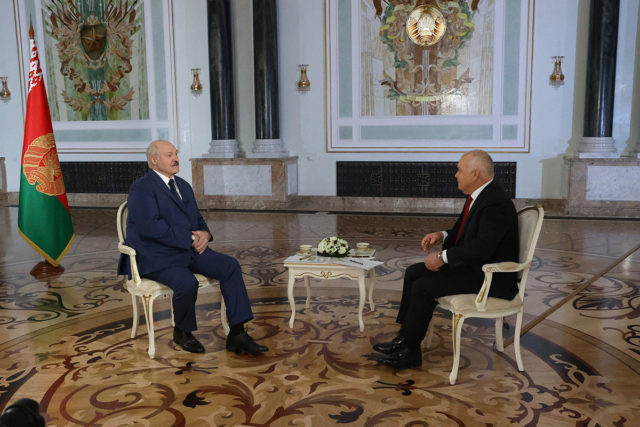 On November 30, Belarusian President Alyaksandr Lukashenka gave a 2.5-hour-long interview to Dmitry Kiselev, the director general of Russia's media giant VGTRK (YouTube, December 2). Subsequent commentary online and in broadcast outlets focused specifically on two of Lukashenka's statements: 1) his recognition of Crimea as a part of Russia not only de facto but de jure, as well as 2) his promise that, in the effect the United States relocates its nuclear missiles from Germany "further east," he would retaliate by asking Russian President Vladimir Putin to move nuclear arms back to Belarus. It is worth noting that, until now, Lukashenka explained Minsk's non-recognition of Crimea as a part of Russia by his signature on the 1994 Budapest memorandum and by the fact that Ukraine is still the second-largest trading partner of Belarus.
Other of Lukashenka's statements to Kiselev, however, deserve attention too. For instance, the Belarusian leader pointedly called migrants, many of whom are still camped at the Polish border, fairly "advanced," wealthy and educated people; he acknowledged that these people's transit to Belarus was facilitated not only by Belarusian travel agencies but also by Russians, including those of Chechen ethnicity; and Lukashenka accused Poles and Lithuanians of killing migrants and catapulting some corpses in sleeping bags to the Belarusian side of the border (YouTube, December 2).
Lukashenka's most important pronouncements on domestic issues were that early presidential elections could be possible several months after the constitutional referendum, which will take place in February, barring a war in the region. Moreover, he confirmed he is planning his retirement but does not talk about it for the same reason Putin refrains from publicizing his retirement plans (i.e., implications of being labeled a lame duck prematurely). He said he intends to influence Belarusian politics even after retirement. And Lukashenka mused that the major part of his legacy is the creation of the first-ever Belarusian state. Additionally, he repeated his earlier denial of falsifying the August 2020 election results as well as doubled down on his earlier claim that at their peak, the post-election Belarusian public protests attracted just 46,700 participants.
The constitutional innovations subject to endorsement in the February referendum include the eventual adoption of the All-Belarusian People's Assembly (OBPA) as a constitutional body; some redistribution of powers away from the president to the OBPA and government while maintaining Belarus as a "presidential republic"; the endorsement of the victory in the Great Patriotic War (i.e., World War II) as the key factor of modern-day Belarusian statehood; and the definition of marriage as a legal union of one man and one woman.
Lukashenka did not give a direct response to the question about the actual content of the 28 Union State programs that he and Putin adopted in Moscow last September (see EDM, September 15). Rather, he talked extensively around the issue, emphasizing Russian-Belarusian cohesion in the military and diplomatic spheres, the arrival of the S-400 missile system in Belarus, the necessity to finally establish common prices for hydrocarbons, and the fact that there is no other country but Belarus where the Russian language is cultivated "even at the expense of the native language" (YouTube, December 2).
Yet Lukashenka did not avoid taking a few verbal jabs at Putin, twice calling him an emperor. Despite Lukashenka's professed distaste for any marine activities, "What can I do if the Emperor invites me" to take a boat trip in the Black Sea, he asked rhetorically.
According to one of the most esteemed opposition-minded analysts, Artyom Shraibman, Lukashenka's recognition of Crimea as de jure Russian fits "the logic of sliding down the funnel of self-isolation." The problem is that even though Lukashenka will need to continue to "constantly remind Moscow of his loyalty," after he takes the step of recognizing Russian rule over Crimea, "precious little is left on the menu of rhetorical and symbolic concessions," writes Shraibman (Carnegie.ru, December 2).
While this may well be the case, the problem with Shraibman's criticism itself is that it fits a tired cliché persistently applied to Lukashenka through his entire 27-year-long tenure: Politician X makes a fateful choice, Lukashenka then becomes path-dependent, overplays his hand and becomes doomed to failure for ostensibly losing his handlers' trust. But in fact, by hook or by crook, Lukashenka has managed to outlive literally hundreds of such predictions. Obviously, even a broken clock is right twice a day, and Lukashenka will eventually be gone.
In his interview to the Belarusian Service of Radio Liberty, regarding the fifth package of sanctions just adopted by the European Union, Shraibman observed that the major "function of sanctions is not to put the regime on its knees," but "to destabilize Lukashenka to provoke his self-destructive reactions." He also claimed that "military analysts in Ukraine, as well as in the Baltic States, have long ceased to view Belarus as autonomous. And now they see that they were justified in that view" (Svaboda.org, December 3). This assertion too, while possibly a fair judgment, strongly resembles a self-fulfilling prophesy. Yet as Siarhei Bohdan, a Belarusian historian working for the Free University of Berlin, has shown, it is Western sanctions that have led to the recent explosive growth of Belarusian-Russian ties. The volume of trade between the two countries increased by a whopping 37 percent during the first half of 2021, compared with the same period in 2020. Most damaging for Belarusian statehood, according to Bohdan, has been the rerouting of Belarusian exports to Russian ports. Spooked by sanctions, Belarusian industrial producers have rushed to set up their assembly lines in Russia (Minskdialogue.by, November 22).
Responding to a debate about sanctions on Zmitser Pankavets's (former deputy editor of Nasha Niva) Facebook account, Bohdan made a point that Western sanctions do work, as Russian soldiers are now taking part in the activities of the Belarusian army, and up to half of the drills are organized with Russian participation (while previously, only one or two a year were). Even an ordinary Belarusian citizen can travel abroad only through Russia. "Well done," Bohdan mockingly exclaims, "impose more sanctions and raise more hell!" (Facebook.com/zmicier.pankaviec, November 25).
"They want to overthrow Lukashenka, but they are punishing the Belarusian people," writes Zianon Pazniak, the founder of the Belarusian Popular Front (Racyja, November 18). Strangely, Pazniak, who regularly brands almost anybody disagreeing with him a Russian spy, may accidentally hit the mark when labelling Svetlana Tikhanovskaya, who demands Western sanctions on Belarus, a "useful idiot" of the Kremlin (Pazniak, November 21). Whether or not the label is warranted, one can definitely do someone else's bidding even without knowing it.