Putin's Fifth Visit to Tehran: Renewing and Bolstering Russian-Iranian Relations
Publication: Eurasia Daily Monitor Volume: 19 Issue: 111
By: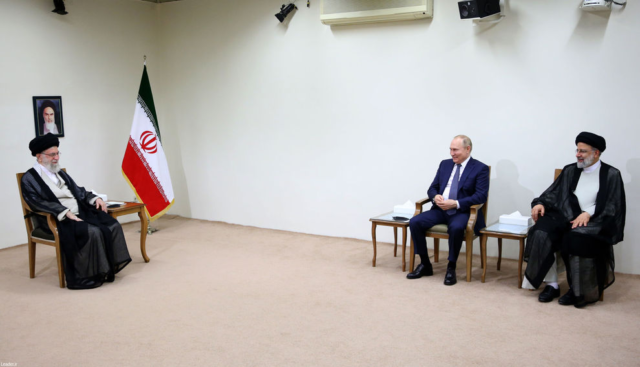 Russian President Vladimir Putin participated in the seventh summit of the heads of states in the Astana Peace Process for Syria in Tehran, Iran, on July 19, 2022. This marked Putin's first trip outside the post-Soviet bloc since Russia's military attack on Ukraine, and it was only his second voyage abroad, after visiting Tajikistan and Turkmenistan in June 2022. Although this was Putin's fifth visit to Tehran, he has yet to have a purely bilateral visit to Iran. The Russian president participated in the second Caspian Summit in October 2007, Gas Exporting Countries Forum in November 2015 and Astana Process in November 2017 and September 2018. Nevertheless, the Ukrainian war has ushered in a new phase for bilateral relations between Iran and Russia.
To begin, transit restrictions to Europe have pushed Russia to pay special attention to Iran's transit routes in the International North–South Transport Corridor (INSTC). In June 2022, both countries signed a memorandum of understanding on road transportation following a Road Transportation Joint Committee meeting in Moscow. Likewise, Russia has announced its readiness to complete the 164-kilometer Rasht-Astara rail route, which is the only remaining rail gap of the INSTC. Until this segment is finished, freight moving by train must be transferred to trucks and then back again at Astara on the Iranian-Azerbaijani border (see EDM, May 16). For this reason, Supreme Leader Ayatollah Khamenei, in his meeting with Putin, said that "he agreed with President Putin on the need to complete the Rasht-Astara railway, which will complete the North-South corridor, that will serve both countries' interests" (Islamic Republic News Agency, July 19). Russia hopes to use multimodal transportation (road, rail and sea transport) from the routes of Central Asia, the Caspian Sea and the Caucasus to Chabahar Port in the Gulf of Oman and Bandar Abbas in the Persian Gulf to circumvent transit restrictions caused by the war (see EDM, July 13). Tehran has sought to utilize this situation, stepping up efforts to attract Russian investment in transit and transportation.
The second most important issue for Russia is the strengthening of trade and commerce ties with Iran. Extensive Western sanctions have seriously inhibited Russian trade and commerce, especially the import of agricultural products. In such a situation, Iran can be a suitable alternative partner in exporting agricultural products to the Russian Federation. Before the onset of Western sanctions against Russia, 60 percent of Iran's exports to Russia were agricultural products. With the new conditions, Moscow hopes to increase its food security by increasing imports from Iran.
In the meantime, the preferential trade agreement (PTA) between Iran and the Eurasian Economic Union (EAEU) has helped spur increased cooperation, offering lower tariffs on 862 commodities, of which 502 are Iranian exports (Russiancouncil.ru, January 24). However, the agreement is set to expire on October 5, 2022. For this reason, the parties recently began technical negotiations to upgrade the PTA to a free-trade agreement. To this end, two days before traveling to Tehran, Putin approved the ratification of the protocol to the provisional agreement signed on May 17, 2018, which will lead to the establishment of a free-trade zone between the EAEU and Iran (TASS, July 14).
The third key issue for Iran and Russia is the expansion of financial and banking relations. Both countries are under sanctions and face restrictions in using international banking mechanisms, including SWIFT. As such, Iran and Russia are trying to gradually replace the US dollar with the rial and ruble for commercial transactions. Ahead of Putin's visit to Iran, Kremlin spokesman Dmitry Peskov remarked that "Russia will gradually abandon the US dollar in its trade with Iran" (Xinhua, July 20). Supreme Leader Ayatollah Khamenei, in his meeting with the Russian president, also emphasized that the "dollar must be removed from bilateral trade" (Tehran Times, July 19). Following these developments, Governor of the Central Bank of Iran Ali Salehabadi mentioned that "Iran's exports to Russia will increase following the launch of trading in rubles and rials" (Xinhua, July 20).
The fourth and final critical issue discussed during Putin's visit to Tehran was the Ukraine war.   In this regard, the meeting between Ayatollah Khamenei and Putin became a scene of criticism regarding the recent North Atlantic Treaty Organization (NATO) agreement. The Supreme Leader emphasized that "the Western powers are opposed to the existence of a strong and independent Russia, arguing that NATO is a dangerous creature, and if the path before it is left open, it realizes no borders and boundaries. If NATO's path had not been blocked in Ukraine, later, on pretext of the Crimean Peninsula, they would have begun the same war" (Islamic Republic News Agency, July 19). Putin added that "some European countries said they were opposed to Ukraine's membership in NATO but were forced to agree with it under US pressure, which shows they are neither independent, nor have true national governance" (Islamic Republic News Agency, July 19).
Yet, despite Russia and Iran's shared position regarding NATO's role in Ukraine, the challenging issue was the sale of Iranian drones to Russia, which was highlighted by Western sources before the Tehran meeting. In particular, Jake Sullivan, the US national security advisor, released satellite imagery to CNN that purportedly showed a Russian delegation visiting an airfield in Kashan (central Iran) at least twice in June 2022. The Russian delegation was allegedly treated to a showcase of the Shahed-191 and Shahed-129 drones, both capable of carrying precision-guided missiles (Al Jazeera, July 16). However, Iranian Foreign Minister Hossein Amir-Abdollahian and his Ukrainian counterpart, Dmitry Kuleba, rejected the baseless accusations that Iran has provided Russia with drones for the conflict in Ukraine (Tasnim News Agency, July 16).
In the meeting between the Iranian leader and Russian president, no developments about the sale of Iranian drones to Russia came up. Although, based on United Nations Security Council Resolution 2231 (July 2015), which endorsed the Joint Comprehensive Plan of Action in Iran, all restrictions on the supply of major arms to and from Iran expired in October 2020. That means Iran is legally able to buy and sell conventional weaponry, including small arms, missiles, helicopters and tanks (Al Jazeera, October 17, 2020). The opening of the Iranian Ababil-2 drone factory in Dushanbe, Tajikistan, has been a key result of the lifting of Iran's arms embargo (see EDM, June 14). Thus, legally, no restriction prohibits the sale of Iranian drones to Russia. Even so, this issue faces serious political complications in attempting to maintain balanced relations for Iran with Russia and with Ukraine.