Putin's War in Ukraine Hitting Russia's Numerically Smallest Nations Hardest
Publication: Eurasia Daily Monitor Volume: 20 Issue: 27
By: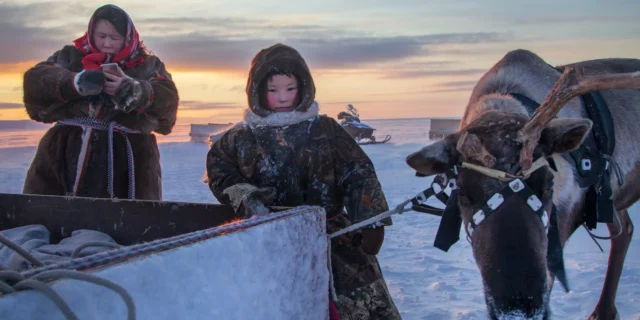 The disproportionate use of soldiers from the primarily non-ethnic Russian republics in the North Caucasus, Middle Volga and Far Eastern regions in President Vladimir Putin's war against Ukraine has attracted widespread attention since the beginning of Russia's campaign a year ago. Whether this reflects poverty, ethnic discrimination or a desire by Moscow to avoid losses in major Russian cities, which might spark more serious anti-war protests, has been the subject of much debate (see EDM, March 1, March 31, 2022; Idel-ural.org, April 11, 2022; Posle Media, December 4, 2022). Far less attention, however, has been devoted to the impact of Moscow's draft and mobilization on Russia's numerically smaller nationalities (malyye narody), including those that possess autonomous territory, such as Sakha (Yakutia), and those that do not, the latter numbering far more. It is unfortunate that such a lack of attention has persisted because it is becoming clear that Moscow's mobilization of men from these nationalities as well as the deaths of many of them in Ukraine are not only hitting these peoples harder than anyone else but are also sparking protests, placing them on an accelerated course to disappearance.
Discussing the fate of Russia's "indigenous small-numbered peoples" (korennyye malochislennyye narody)—the Russian state's official designation for indigenous minorities numbering 50,000 or fewer—editor of the Russia of the Indigenous Peoples portal Dmitry Berezhkov presents five ways in which Putin's war against Ukraine is harming these groups with particular severity (Istories Media, January 30). First of all, he says, mobilization has fallen disproportionately on them, not because they have been targeted but because they have less information and fewer resources to resist. The resulting deaths in combat have an enormous impact because, even if they are small in absolute numbers, they touch so many people in these communities. If a nation of a million loses 100 men in combat, that is one thing, Berzhkov points out, but if a nation numbering a hundred or less loses even two, then that can cast an enormous shadow on the demographic survival of that community. And that is happening all too often among the 47 nations of the Russian Federation that number fewer than 50,000 people. Moreover, those dying are disproportionately men who are integral in keeping traditional forms of economic activity alive in the indigenous communities of the North and Far East—these forms being the basis for the limited subsidies these peoples receive.
Second, the war has had a serious negative economic impact on peoples who live far from major cities in Russia. As the economy has worsened, businesses have cut back deliveries to smaller markets, and the cash-strapped government has cut back subsidies. This means that the numerically "small peoples" now have fewer supplies than they did only a year ago.
Third, the exit of foreign firms has hit these peoples especially hard as well. When Western firms depart, standards at the remaining Russian companies invariably fall, and the employees at these firms suffer as a result.
Fourth, the Russian government has cut government subsidies to these peoples and thus is unable to compensate for the economic decline in their regions.
Fifth and final, Berezhkov says, the war has cut Russia's northern peoples off from the chance to tell their stories in international forums and sometimes receive assistance. Earlier, representatives of these peoples could tell their stories in Geneva or New York, but now they cannot. As a result, Moscow "no longer devotes attention to international demands, letters and appeals."
In response to this situation, ever-more representatives of the numerically small peoples are protesting. Most recently, Anvar Kurmankayev, the émigré leader of the Nogais, a 100,000-strong nation in the North Caucasus, spoke at a Brussels meeting of the Free Peoples of Post-Russia Forum about how Putin's war is affecting his people and other numerically small peoples. He subsequently amplified his views in an interview with Kavkaz realii, in which he declares bluntly that, if Moscow carried out "two or three" more waves of mobilization, some of the smaller nations within the current borders of the Russian Federation, including the Nogais, will be at risk of disappearing altogether, as yet more unrecognized casualties of Putin's war against Ukraine (Kavkaz.realii, February 7).
Having spoken to the European Parliament, Kurmankayev's words have received some attention, though Moscow outlets mocked him for having delivered his remarks in Russian rather than Nogai. The Kremlin's mockery has not stretched to a large wave of protest across the Russian North, however. The safety of the indigenous peoples there, long untouched by the Russian draft because of constitutional restrictions against drafting those engaged in traditional ways of life, ended last year in dramatic fashion. In the aftermath of the Kremlin's mobilization announcement, helicopters arrived in distant settlements to seize men who "are uninformed of their rights and can barely speak Russian to wage war against Ukraine," the Sakha Pacifist Association wrote. Moreover, the letter adds, "Among those taken were people over [age] 55, full-time students and peoples with disabilities." In response, their mothers, wives and daughters organized a large protest, only to have their second protest attempt suppressed by the police (Teletype.in, October 22, 2022).
Being so small in number (they constitute fewer than 2 or 3 percent of the country's population), so far from Moscow and thus isolated from outside coverage, and so apparently easily suppressed, many in Moscow and in the West often view these peoples as marginal or even irrelevant. But at least two reasons underline why that is a mistake. For one, while they are few in number, these peoples dominate enormous swaths of the sparsely populated Russian North and can cause trouble for Russian firms and the Kremlin there. Sakha, for example, covers a territory larger than the entire European Union, and northern peoples have a reputation for defending their interests, often with the guns they legally have for hunting. (On that tradition, see Window on Eurasia, August 16, 2019.) Secondly, despite Moscow's assumption that no one pays attention to the peoples of the North, urban Russians who have been profoundly affected by environmental protests in the North and the member countries of the Arctic Council—a group Russia hopes to influence but has recently found itself isolated from due to the war in Ukraine—are two major exceptions (Publizist.ru, July 4, 2019; Window on Eurasia, March 24, 2022). Thus, the Kremlin's mistreatment of the numerically small peoples of the Russian North will only exacerbate these situations, which in turn should make what happens to them a matter of concern for many who, up to now, may not have known they existed.