RUSSIA'S MILITARY PR PART OF KREMLIN INTRIGUES
Publication: Eurasia Daily Monitor Volume: 4 Issue: 54
By: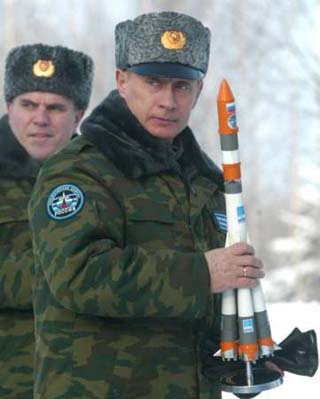 After one month as Russia's second first deputy prime minister, Sergei Ivanov is enjoying ample, uniformly positive media attention that will secure him higher numbers in opinion polls and expert ratings. He receives exactly the same amount of TV coverage as Dmitry Medvedev, the other first deputy prime minister, easily outshining Prime Minister Mikhail Fradkov, who is not taken seriously in the informal but gearing-up race of presidential hopefuls. While Medvedev mainly deals with such mundane matters as education and health care, not to mention the ever-deepening crisis of communal housing, Ivanov's portfolio involves big issues of industrial policy. In his mandate from President Vladimir Putin, the key word is "innovation," so one week he presides over a meeting focused on launching the Russian satellite navigation system Glonass, which is supposed to outperform the U.S.-managed GPS, and another week he instructs the Atomic Energy Agency (Rosatom) that nuclear power stations must greatly increase their role in Russia's energy sector (Lenta.ru, March 9; Kommersant, March 13; Newsru.com, March 16).
Ivanov's activities might appear extremely important, but in fact they amount to little more than PR spin. The Ministry of Transport hardly needs his grand ideas about Russia's national security or his reminders about the "transport inequality" inside the country; nor does Rosatom expect that new instructions would miraculously eliminate the technological limitations in the already well-developed plans to construct new reactors (Vremya novostei, March 14). The fact of the matter is that Ivanov does not have any extra-budgetary money for distribution and so, in practical terms, his coordinating role amounts to very little. His main emphasis is on strengthening state control over key industries, for instance by gathering the shipbuilding companies in one "holding" firm (Kommersant, March 12). The model is the United Aircraft Building Corporation created in 2006 through the state-enforced merger of several companies, including Sukhoi, Ilyushin, Tupolev, and MiG. The downside of this hyper-centralization can be seen in the fact that 2006 saw a record high number of air catastrophes in Russia with 318 victims, and the crash of Tu-134 in Samara last Saturday suggests that this chain of disasters will continue (Lenta.ru, March 14).
The military-industrial complex formally remains Ivanov's principal responsibility, but he excels more in making grand promises to invest 5 trillion rubles in the State Armament Program for 2007-2015 than in monitoring the implementation of the current "defense order" at the weekly meetings of the Military-Industrial Commission (Ezhednevny zhurnal, March 16). Since Ivanov's departure from the Defense Ministry, the "top brass" have started to complain openly about the quality and quantity of arms delivered by the military industry, arguing, for example, that the price for the T-90 main battle tank has jumped from 42 million rubles in 2006 to 58 million this year (Lenta.ru, March 15). Ivanov claims credit for the steady growth of Russian arms exports, which reached $6.5 billion in 2006, but he knows perfectly well that it is Sergei Chemizov, the head of Rosoboroneksport, who really deserves praise for this achievement. Putin has granted this company a full monopoly on exporting arms and military equipment, and Chemizov advances his own ambitious agenda both in acquiring industrial assets and in developing an independent political profile by not asking Ivanov's opinion (Nezavisimaya gazeta, March 16).
Ivanov is probably glad to rid himself of the task of explaining away the endless news about brutal hazing and suicides in the barracks or about appalling conditions in military hospitals (Newsru.com, March 16). New Defense Minister Anatoly Serdyukov generally keeps a low profile and ignores such disturbing news while paying introductory visits to key headquarters, starting with the Strategic Forces Command (Rossiiskaya gazeta, March 16). This familiarizing with the over-grown and over-staffed military bureaucracy might take a long time; meanwhile, it remains unclear who is in charge of developing a new military doctrine, as prescribed recently by the Security Council (Nezavisimoe voennoe obozrenie, March 16). The rationale for revising the quite surrealistic doctrine approved back in 2000 is derived from the shifts in the global security situation, specifically the planned deployment of radars and other elements of the U.S. missile defense system in Poland, the Czech Republic, and possibly also in the Caucasus.
This issue has received entirely disproportionate attention in Moscow, which boils down to the search for the most appropriate "asymmetric answer." Chief of the General Staff Yuri Baluyevsky has hinted at unilateral withdrawal from the INF Treaty but refrained from elaborating this option, perhaps being deeply offended by the appointment of strategically ignorant Serdyukov (Nezavisimoe voennoe obozrenie, March 2). Ivanov ordered his Military-Industrial Commission to focus on the long-promised delivery of the S-400 surface-to-air missile system, which should cover every kind of air target and protect Moscow against any potential threat (Novaya gazeta, March 5). The final word belongs to Putin, but he currently prefers to assume a reasonably peaceful stance after delivering his "hawkish" speech in Munich last month.
A remarkable feature of this anti-U.S. and anti-NATO rhetoric is that none of the official PR champions is really serious about the proposed counter-measures. They are perfectly well informed that the yet-to-be-deployed U.S. systems would not constitute any threat to Russia, and they know full well both that it is nearly impossible to resume production of intermediate-range missiles and that the "fifth generation" S-400 is based on pre-computer-era technologies. The aggressive statements could not even qualify as strategic bluff, as they amount partly to claims for extra resources from the increasingly strained state budget but mostly to self-positioning in the Byzantine intrigues around Putin's fast-approaching but by no means certain departure from the Kremlin. Ivanov presumes that nothing is better for surfing over bothersome domestic problems than a towering wave of external threat, but Putin is still able to check the progress of competing "surfers" by regulating this imaginary wave.