The Female Suicide Bombing at Karachi's Chinese Confucius Institute and the Paradigm Shift in Baluch Rebels' Strategy in Pakistan
Publication: Terrorism Monitor Volume: 20 Issue: 10
By: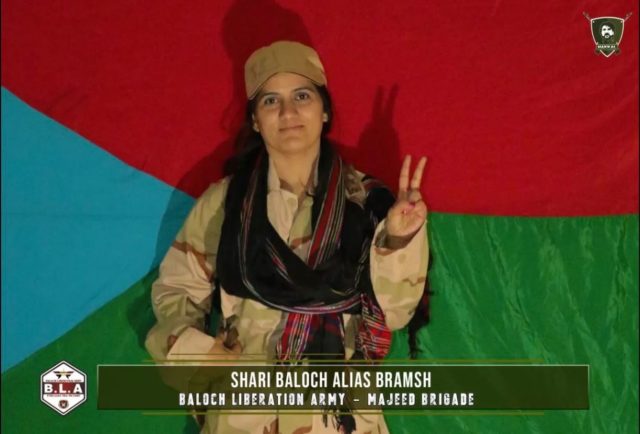 Introduction
Since 2018, the Baluch insurgency in Pakistan has become more lethal, especially for Chinese nationals, and the pattern behind such attacks is clear. In the past, Baluch separatist violence focused on a guerrilla style of warfare and was largely confined to southwestern Pakistan's Baluchistan province, but now the violence has expanded to Karachi. Although casualties and the number of attacks remain relatively low, the separatist insurgents are receiving more attention now than they have in the 20 years since the fifth rebellion broke out in early 2000. This is because they have started conducting suicide bombings, including now a female suicide bomber. This shift in tactics has helped the group stay in the public eye domestically and internationally.
Since 2018, the Baluch separatist militants have carried out only six fidayee [suicide "martyrdom"] attacks, among which all but one were directed at Chinese targets. Three of these suicide attacks occurred in Karachi, outside of Baluchistan (Twitter/Kiyya Baloch, April 27). The dramatic shift in the operations of the Baluch Liberation Army (BLA)'s suicide wing, known as the Majeed Brigade, surprised many when it dispatched its first-ever female suicide bomber at the Chinese Confucius Institute on April 26, which killed three Chinese nationals and their Pakistani driver (Dawn, April 26).
The Baluch separatist and ethnic-nationalist militants have more broadly been apprehensive about their future in Baluchistan in the wake of Chinese-funded infrastructure projects under the China–Pakistan Economic Corridor (CPEC). They fear these projects may cause changes that result in their becoming a minority in Baluchistan province, which is now home to around 6.8 million ethnic Baluch (China Brief, January 28). However, extreme operations, such as a suicide bombing by an educated woman at Karachi's Chinese Confucius Institute, show a dramatic shift from the previous strategies of Baluch militants and indicate new trends emerging in the conflict (al-Jazeera, April 28).
Baluchistan's Evolving Rebellion
Since Pakistan's independence in 1947, Baluchistan province has witnessed five rebellions. However, the current insurgency that broke out in early 2000 is the longest phase. Baluch tribal chiefs had previously dominated various militant groups. However, all this changed in 2006 after a practicing physician, Dr. Allah Nazar, was arrested by Pakistani law enforcement agencies in Karachi. Nazar had also founded the Baluch Students Organization (BSO-Azad) in 2002, which was dominated by middle-class students who advocated for Baluchistan's separation from Pakistan. After Nazar's release from prison in 2008, Nazar became part of the Baluch armed struggle and led his own Baluchistan Liberation Front (BLF). Middle-class, non-tribal, and educated youth, including doctors, engineers, and teachers, have since joined BLF (Express Tribune, September 9, 2015; Dawn, February 2, 2012).
Since August 2018, the Baluch Liberation Army (BLA) has been behind the most lethal attacks against Chinese installations inside and outside Baluchistan (PIPS, March 22). Chinese engineers and workers have come under attack, however, only since the beginning of the fifth Baluch insurgency. For instance, in Gwadar port town, Nazar's BLF killed three Chinese engineers in an IED blast on May 3, 2004. Since then, there have been sporadic attacks on Chinese workers, which increased significantly in 2018 in Baluchistan and Karachi (Dawn, July 20, 2007).
BLA's Majeed Brigade claimed its first attack in 2018 on a Chinese target, which was carried out by founder Aslam Achu's son, Rehan Baluch, in Dalbandin, southwest of the provincial capital Quetta. The attack targeted Chinese engineers working at the Saindak mineral reserves, and wounded three Chinese nationals (Dawn, August 12, 2018). Three months later, in November 2018, the Majeed Brigade attacked the Chinese consulate in Karachi, but no Chinese nationals were hurt (scmp.com, November 23, 2018). The Majeed Brigade breached security again in Gwadar, the epicenter of CPEC, with an attack which targeted the Pearl Continental hotel in May 2019. According to officials, five individuals, including four hotel employees (three security guards and a navy officer) lost their lives while the three BLA attackers were also killed. The hotel was very popular among Chinese tourists and business people (Al Jazeera, May 12, 2019). More recently, besides the Karachi Stock Exchange attack in 2020, where China has shares, BLA perpetrated two major suicide attacks in February 2022 on paramilitary frontier corps in southwestern Pakistan (Dawn, February 2).
BLA's Female Suicide Bombing
The most dramatic shift in the insurgency was seen on April 26 when a female suicide bomber named Shari Baluch blew herself up outside the Confucius Institute in Karachi. BLA's Majeed brigade immediately claimed responsibility for the attack in an e-mail to journalists, which stated that "the mission was carried out by first female fidayee of the Brigade." Identifying the suicide bomber as the 31-year old Shari Baluch was a surprise because Baluch insurgents had refrained from recruiting women in their ranks, let alone using them as suicide bombers (al-Jazeera, April 28).
According to Shari Baluch's family and friends, she was a teacher, held a Master's degree, and a cheerful lady. Her uncle claimed she was obsessed with books and literature related to philosophy, and her colleagues in the local school where she taught described her as a "curious lady" (BBC Urdu, April 28). BLA's operational tactics suggest that the primary motive behind the shift is due to the fact that a female suicide bomber attracts less attention from law enforcement agencies and can more easily accomplish the mission. Indeed, out of five suicide attacks against Chinese nationals since August 2018, only the current attack was successful. In contrast, the other attackers failed to kill any Chinese nationals in their attacks.
Beijing reacted strongly to the attack and urged the Pakistani government to bring the perpetrators to justice. The Chinese foreign ministry spokesperson stated, "The Chinese blood cannot be shed in vain, and those behind this incident will surely pay the price (NDTV, April 27)." Hours after the attack, Pakistan's newly elected Prime Minister Shahbaz Sharif also arrived at the Chinese embassy in Islamabad to show his sympathy to the Chinese ambassador and also sent a message to President Xi Jinping. He promised that the attack "would be investigated expeditiously, and the country would make an example out of the culprits behind this horrific attack (Twitter/@PakPMO, April 26)."
Following the deadly attack on the Chinese Confucius Institute in Karachi, the recently formed Pakistani government is under immense pressure to secure Chinese interests in the country. With Pakistan's greater economic dependence on China as its economy is on a ventilator, a stronger military crackdown against Baluch insurgents, pro-separatist activists, and their facilitators inside and outside Baluchistan could be the first move Islamabad takes to protect its all-weather friendship with Beijing.
Conclusion
Despite the increase in attacks on Chinese targets by Baluch insurgents, Beijing continues to pursue its projects under CPEC. Nevertheless, Baluch experts suspect China may continue to work on projects it has already invested in but might not invest in new projects in Baluchistan. [1] BLA's Majeed Brigade, meanwhile, still continues to pose a threat to both Chinese and Pakistani interests in the country. The use of women suicide bombers may lead to divided opinions within the insurgent group on the appropriateness of the tactic. Whether it proves to be a sign of BLA desperation or strength and whether the Majeed Brigade will keep employing new tactics combined with old ones to cause maximum fatalities remains to be seen.
Notes
[1] The authors' interview with Adnan Aamir, editor of Baluchistan Voices, who closely follows the China-Pakistan Economic Corridor, April 2022.