The China-Pakistan Economic Corridor Hits Bottom in Balochistan
Publication: China Brief Volume: 22 Issue: 2
By: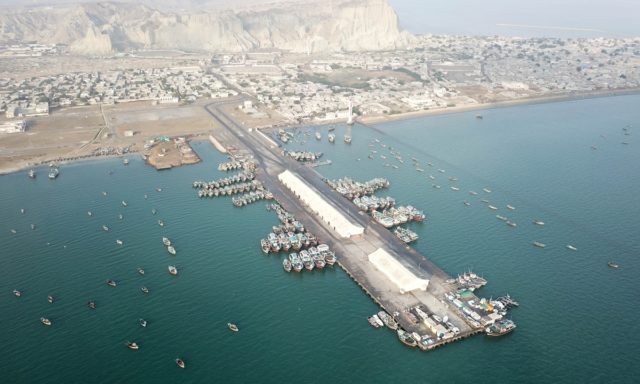 Introduction
In early January, several hours of heavy rain exposed poor infrastructure and exaggerated claims of massive development in Gwadar. The largely deserted port city sits on the Iranian border in Pakistan's southwestern Balochistan province, which is wracked by poverty, militancy, and violence. Despite its challenging location, Gwadar has long been touted as the crown jewel of the much heralded China-Pakistan Economic Corridor (CPEC), the $62 billion megaproject connecting western China with the Arabian sea (China Brief, January 17, 2020). On January 4, heavy rains disrupted routine activities, forcing schools, restaurants, and shops to shut down. The town's main streets and roads, as well as its tiny airport, were flooded (Twitter/KiyyaBaloch, January 4). Cars floated down roads and people used small wooden dhows to navigate flooded streets. Local reports claimed that in the remote southern parts of Gwadar, thousands of people fled their homes (Dawn, January 5). In the city center, which is about three miles from the seaport where the China Overseas Port Holding Company (COPHC) is building a $250 million coastal port, officials from the Pakistan Disaster Management Authority (PDMA) said floodwaters had reached heights of four to six feet (ARY News, January 4; Balochistan Times, January 4).
As Gwadar has fallen on hard times, residents have blamed Beijing and Islamabad for ignoring them in their CPEC megaproject plans. The governments of both China and Pakistan claim that they are modernizing Gwadar by building a well-equipped hospital, parks, technical colleges, modern roads, an industrial park, and a seaport. For years, Chinese and Pakistani officials have claimed that this coastal backwater would soon compete with Dubai, Singapore, and Shenzhen to attract huge foreign investment. However, the currently poor state of  Gwadar's infrastructure underscores that this narrative remains illusory. The rain and flooding have wreaked havoc in Gwadar as it grapples with huge protests demanding better civic facilities and an end to economic injustices. Some have called the recent protests a struggle for civil rights, while others have labeled the movement — the "Baloch Spring" (Dawn, January 2). In December, the protests, which lasted for more than a month, became a heated topic of discussion on Pakistani social media. However, the protests attracted only modest international media attention, and were officially called off on December 16. While it is too early to determine the full impact of the protests, Pakistan Prime Minister Imran Khan and the Chief Minister of Balochistan province have formed a committee to address protesters' concerns.
Gwadar Residents Confront Beijing and Islamabad
In mid-November, thousands of people staged a sit-in in Gwadar to protest water and energy shortages as well as a lack of quality employment opportunities (Dawn, November 19, 2021). The protests persisted for 32 days with civil society activists, politicians, fishermen, and ordinary Gwadar residents all joining in. In addition to joblessness and inadequate utilities, protesters cited additional grievances including excessive security checkpoints, and deep-sea trawling by Chinese fishing boats (Arab News, December 10, 2021). The protests have posed a major challenge for both Beijing and Islamabad. Videos and photos of the demonstrations went viral on social media, forcing PM Khan to finally respond on December 12, which was 28 days in to the protests (Twitter/ImranKhan, December 12, 2021).
Khan, other leading Pakistani politicians, and the press, drew severe public criticism for their silence, while Gwadar residents' peaceful struggle for basic rights earned popular support. After her videos were widely shared on social media, a 70-year-old woman was hailed as a hero for mobilizing the public in chilly weather (Friday Times, December 13, 2021). Clad in traditional Shalwar and Kameez with a white dupatta on her head, each day, Masi Zainab (a term referring to older women in Balochistan) baked more than 300 pieces of naan bread, in a traditional wood-fired Tandoor oven, to give to the protesters. Although her age makes it challenging to sit in front of the Tandoor oven, which can reach 400 °C, Zainab persisted. After finishing baking, she walked more than one kilometer to distribute the naan bread among the sit-in participants. "The so-called development in this small city is crushing us," said Zainab, a housewife, and widow of a fisherman. [1] Zainab was one of hundreds of women who took to the streets on November 15.
Another Gwadar citizen who has emerged as a leader during the protests is Maulana Hidayat Ur Rahman. A charismatic 50-year-old religious leader with a long black and white beard, Rahman wears a locally made skull cap. He was born in Surbandan village, locally known as Sur, a cluster of villages located 25 kilometers southwest of Gwadar. He began his political career with Islami Jamiat-i-Tulaba, the students' wing of the conservative Islamist political party—Jamaat-e-Islami. When asked about his sudden rise, Rahman claims he has been involved in politics since 2003 and had previously contested elections in Gwadar. Today, he has become the face of Gwadar's protests, empathizing with residents' pain and suffering, Rahman is also unafraid to publicly criticize Pakistan's powerful military establishment, which largely controls the coastal town. "I am the son of the soil. I am the son of a fisherman. Nobody can understand the problems of the fishing community better than me," he proudly told the author, Notezai.
During the protests, which evolved into a peaceful civil rights movement called "Give Rights to Gwadar," Rahman accused Pakistani law enforcement agencies of creating hurdles for the local fishing community in order to secure Chinese investment. He successfully mobilized thousands of young people on the streets to fight for better civic rights. While not a traditional or radical religious clerk, Rahman's bold views have made him a sort of national hero, who is particularly popular among Pakistani's liberal elites and on social media. When the Gwadar protests were trending on Twitter in December, some users wrote songs and poems in his name and others painted his portrait.
Rahman has shaken Islamabad and Beijing with his withering commentary on Pakistan's powerful military and Beijing's exploitative plans, eventually forcing China's Foreign Ministry to respond. Despite the large demonstrations, spokesperson Zhao Lijian called the Gwadar protests "fake news" (Global Times, November 30, 2021). When the authors contacted the Chinese Counsel General in Karachi for comment on the Gwadar protests, he refused to speak on the phone and said he would only meet and communicate directly in person out of safety concerns, presumably fearing recording or location tracking. The Ministry of Foreign Affairs in Beijing and Chinese Embassy in Islamabad did not respond to requests for comment.
Rahman accuses Islamabad of issuing licenses to Chinese and other foreign fishing trawlers. According to Rahman, deep-sea trawling has harmed Gwadar's maritime environment. He also criticizes Pakistan's powerful army for setting up large numbers of security pickets where he says ethnic Baloch minorities regularly face humiliation. "We need teachers and doctors, not soldiers. We need hospitals and schools, not military pickets," he told a charged crowd on December 2 (Twitter/MHidayatRehman, December 2, 2021).
After a month of mass protests, Rahman called off the demonstrations on December 16, when the Balochistan government agreed to address his demands. "We will review the situation after a month,' Rahman told protesters that day. On December 19 in Gwadar, Notezai met Rahman, who expressed his plans to renew protests against the economic injustices, but this time aims to direct his efforts against Islamabad. Since then, Rahman has renewed protests in a number of towns. He organized a large rally in the neighboring town of Turbat on January 16, and similar protests occurred in Gwadar district. In Turbat, people chanted "Give Rights to Balochistan" as Rahman took the stage. His movement, "Give Rights to Gwadar" has transformed into "Give Rights to Balochistan." Rahman recently announced an indefinite strike starting on March 1 after he said the government has failed to implement the agreement signed on December 16. 
CPEC in Gwadar
Six years ago, when the much-anticipated China-Pakistan Economic Corridor (CPEC) was launched, Pakistani and Chinese officials described Gwadar as the crown jewel of the multi-billion-dollar infrastructure project. "Gwadar has the potential to turn into Dubai and Singapore, and the port could be given a special status like Hong Kong to attract foreign investment and boost the national economy," Pakistan's former Prime Minister Nawaz Sharif said in 2013 after meeting Chinese President Xi Jinping in Beijing (Express Tribune, August 24, 2013). The officials promised to build Pakistan's second largest airport in the city for $256 million, a 300-megawatt coal-fired power plant, a modern 300-seat hospital estimated at $100 million, free economic zones, roads, and a port (Gandhara, January 26, 2021). Six years later, little has changed in Gwadar. "CPEC does not exist in Balochistan," said Rahman during a meeting with the authors in Gwadar in late December. "The road we see in Gwadar was constructed when former military dictator General Retired Pervez Musharraf was in power. The only thing we have got under CPEC is an increasing number of military check-posts in this small town," explained Rahman. [2]
Gwadar residents share similar views. The fishing community complains that their livelihoods are imperiled due to China's deep-sea trawling. "We have already lost our livelihood due to increasing security in the town," said Qadir Bakhsh, a local leader in the Gwadar fishing community. "Now Chinese trawlers have been intruding our coast. In recent months we spotted five Chinese trawlers in the waters of Gwadar, which as a result is depleting fish stock." [3]
China's Foreign Ministry has denied these reports claiming that "our investigation revealed that no Chinese trawler has gone to the Gwadar Port area for fishing or docking purposes" (Asia Times, December 7, 2021). Reports of Chinese fishing trawlers off Balochistan's coast have been rare, but local concerns over deep-sea trawling, especially by Chinese vessels have been rising of late. A Gwadar Port Authority (GPA) official said such reports should not be wholly rejected. "To me, these are legitimate concerns," he told the authors, wishing to remain anonymous due to the sensitivity of the subject. "Islamabad approved deep Sea Fishing Licensing Policy in 2018, which is actually in violation of the Constitution. Under this policy, Islamabad has issued licenses to retired army officers, including various multinational companies among which Koreans and Chinese are included," the GPA official said. [4]
Andrew Small, a senior transatlantic fellow with the German Marshall Fund of the U.S. Asia program, says the Belt and Road (BRI) has been an externalization of the Chinese development model, which is adept in mobilizing resources and moving at speed and scale but pays little attention to local concerns over transparency, environmental costs, political sensitivities, debt, etc. "That 'worked' in one sense, or was at least possible, in China itself—even if it came at tremendous cost—but it's much harder to replicate outside Chinese borders without running into resistance," said Small. "It also tends to reinforce existing power structures in countries. When there's dissatisfaction with those structures, that tends to translate into a backlash that's ultimately directed at China itself," he told the authors. [5] More than $1 billion in Chinese projects in Gwadar have been delayed due to militant attacks by Baloch insurgents seeking separation from Pakistan, and little of the promised investment, including the $100 million Gwadar hospital project and 300-megawatt coal power project, has materialized on the ground (The Diplomat, February 16, 2021; Arab News, October 24, 2021).
Small says Gwadar was not a top priority for the Pakistan Muslim League Nawaz (PML-N) government during its 2013-2018 tenure, which was mostly focused on getting the energy projects in motion. He noted that "it's an intrinsically difficult location, much harder than to do this in an already well-developed and economically-integrated part of the country; the security conditions created obstacles."
Despite promises made to residents at the launch of CPEC, life in Gwadar remains hard. More than 70 percent of the population lives below the poverty line, and youth unemployment is high. In six years, Beijing and Islamabad could barely create any job opportunities for Gwadar residents. "There are only two sources of employment: fishing or smuggling goods and diesel from neighboring Iran," said Gwadar-based journalist Bahram Baloch. He claims that the "two only sources of employment [fishing and smuggling] are also at risk due to security concerns. That is why the public has taken up the issues on the streets now." [6]
The town also continues to struggle with electricity supply, leaning on Iran to supply electricity to 10,000 of Gwadar's inhabitants. In July, the entire city plunged into darkness for 18 days after power from Iran was cut (Arab News, July 16, 2021). For Dr. Fiaz Ahmad Chaudhry, a professor at Syed Babar Ali School of Science and Engineering at LUMS University, Gwadar's remoteness is one of many reasons that it has not been connected to the national grid. "Gwadar is on a large distance from the national grid station. In this way, it is not easy to supply electricity to Gwadar," he says. "This is why it was decided to supply electricity to Gwadar from Iran. But it should be connected to the national grid and Iran simultaneously so that Gwadar could get an uninterrupted electricity supply." [7]
Meanwhile, the small, deserted town relies exclusively on rainfall for water consumption as work on the Gwadar distillation plant to provide fresh water has not yet materialized. "Nature decides what inhabitants of Gwadar should nourish, drink and eat, not Beijing or Islamabad," says a GPA official. "No rainfall means no water. That means a completely dry and thirsty city." [8]
Gwadar's fish market does not resemble modern markets in the developed world. The fishing community is extremely poor and cannot afford to use the latest technology. Fishermen still rely on the traditional methods of using locally weaved fishing nets. Furthermore, the colorful wooden dhows that locals use for fishing lack cold storage facility, which limits catch size. Fish are often stored in tins and boxes full of factory-made ice cubes prepared with contaminated water. Once ready, large tin boxes filled with ice cubes are sent to the local market for sale. No cold storage facility exists in the market. In the summer, when power outages are common, fish often rot due to high temperatures. In recent months, the fishing community has complained the business has been dwindling, and the job market has been ravaged. "There are no fishes in the sea now. Deep-sea trawling has destroyed the sea," says Zainab, the older woman and housewife from Gwadar. [9] Fed up with deep-sea trawling and humiliation at the hands of security agencies, the fishing community of Gwadar decided has taken their concerns to the streets. The government has refrained from using force to disperse protestors. However, several members of the movement have been charged with sedition and placed on a terror watch list.
Conclusion
Gwadar, the strategic yet impoverished coastal town located on the shores of the Arabian Sea, has been in the news for many years now due to massive Chinese investment. However, this investment has barely changed the poor fishing community's lifestyle and infrastructure and has not created many job opportunities. The city's poor infrastructure, mud hut houses, and debilitated roads with no proper local transportation speak to its limited development. The town's main road leading to its main market is in disrepair resulting in a bumpy ride. Even patients with common illnesses are referred to Karachi, Pakistan's largest commercial hub as Gwadar's main hospital lacks qualified doctors, modern machines, and medicines.
Late last year, the poor conditions in Gwadar precipitated mass protests led by Rahman. In Balochistan, Rahman's defining characteristic is that he belongs to the right-wing Islamist Jamaat-e-Islami (JI) party. Although Rahman has not invoked JI's political Islamist ideology during these protests, a fraction of ethnic Baloch nationalists fear Pakistan's powerful military might have positioned the JI leader to diminish Baloch nationalism. Nevertheless, with regards to China, Rahman may have already played a key role. A GPA official interviewed for this piece claims that under the banner of recent protests, Islamabad has forced Beijing to accept many of its demands. They claimed, "through a legitimate and peaceful protest, Islamabad managed to send a clear-cut message to Beijing exploiting local sentiments that Pakistan can't be held hostage like Sri Lanka or any other poor African States." [10]
Kiyya Baloch, a freelance journalist, reports on the insurgency, politics, and Baloch militancy in Balochistan. He tweets at @KiyyaBaloch 
Akbar Notezai is a journalist with Dawn and is based in Quetta. He tweets at @Akbar_notezai
Notes
[1] The authors' interview with Masi Zainab, a housewife from Gwadar, involved mobilizing the public for protests against economic injustices.
[2] The authors' interview with Maulana Hidayat Rahman, leader of "Give Rights to Gwadar."
[3] The authors' interview with Qadir Bakhsh, leader of Gwadar fishing community.
[4] The authors' interview with an official of Gwadar Port Authority (GPA).
[5] The authors' interview with Andrew Small, an expert on China and a senior transatlantic fellow with the German Marshall Fund of the United States Asia program.
[6] The authors' interview with Bahram Baloch, a journalist based in Gwadar.
[7] The authors' interview with Dr. Fiaz Ahmad Chaudhry, a professor at Syed Babar Ali School of Science and Engineering at LUMS University Lahore.
[8] The authors' interview with an official of Gwadar Port Authority (GPA).
[9] The authors' interview with Masi Zainab, a housewife from Gwadar, involved mobilizing the public for protests against economic injustices.
[10] The authors' interview with an official of Gwadar Port Authority (GPA).