China-Lithuania Tensions Boil Over Taiwan
Publication: China Brief Volume: 22 Issue: 2
By: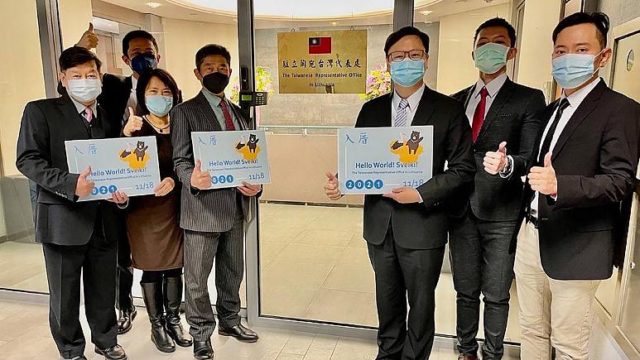 Introduction
After Lithuania decided to open a Taiwanese Representative Office in July 2021, China responded with an all-out diplomatic and economic pressure campaign against the Baltic nation of 2.8 million people. The Chinese government expelled the Lithuanian ambassador, recalled its own ambassador from Vilnius in August, and downgraded Lithuania's overall diplomatic status in China (Xinhua, August 10, 2021). In response, Lithuania announced a diplomatic boycott of the upcoming Beijing Winter Olympics in protest of China's human rights abuses, even before the United States, Australia, Canada, and Britain announced their own Olympic boycotts (LRT, December 2, 2021).
"Anyone who would choose Lithuania as an enemy has also made an enemy of the United States of America," former U.S. President George W. Bush told a crowd of thousands gathered in the capital city of Vilnius in 2002 (Radio Free Europe/ Radio Liberty, November 25, 2002). Back then, Bush lauded Lithuania's entry into NATO and pledged that its people would no longer stand alone against external aggression. Two decades later, rapidly intensifying tensions between Lithuania and China are putting Bush's famous words to the test. As Lithuania looks to its democratic partners in the EU and U.S. for support amid a firestorm of Chinese sanctions, the response has been mixed and somewhat uncertain.
Background
Lithuania's decision to open a Taiwanese Representative Office and China's subsequent sanctions against the Baltic state is the latest escalation in a series of high-profile disputes between Vilnius and Beijing. In September 2021, Lithuania's defense ministry advised consumers not to purchase Chinese smartphones after discovering a dormant censorship feature with a list of 449 terms banned by the Chinese Communist Party (CCP) (Deutsche Welle, December 13, 2021). In May, the Baltic state became the first—and so far, only—country to leave the "17+1 economic cooperation forum" between China and Central and Eastern European countries. Lithuanian ambassador Diana Mickeviciene said the withdrawal was a result of the mechanism's failure to deliver improved access to the Chinese market, dismissing accusations that her country was adopting an "anti-China" stance. Nevertheless, according to the chairman of Lithuania's parliamentary Committee on Foreign Affairs, the departure from the 17+1 enabled Vilnius to promote cooperation with democratic countries (LRT, March 2, 2021). In 2019, Chinese diplomats organized a belligerent counter-protest against a rally in Vilnius supporting Hong Kong's pro-democracy movement, which provoked swift backlash from Lithuania's Ministry of Foreign Affairs (LRT, September 2, 2019).
Clearly, Lithuania and China are a geopolitical mismatch. Lithuania's military has no tanks or fighter jets, and its economy boasts a total GDP of $56 billion—1/270th the size of China's GDP (World Bank, accessed January 24). Overall, Vilnius conducts relatively little direct trade with Beijing. In 2020, China was Lithuania's 22nd largest export market with a value of less than $500 million. In 2010, Lithuania's exports to China were worth $81 million (South China Morning Post, June 1, 2021). However, the export-based Lithuanian economy houses hundreds of companies that make products like lasers, food, and clothing for multinational firms that sell goods to China.
The Taiwan Question
China's all-out pressure campaign against Lithuania stems from differing interpretations of the One-China principle, which is diplomatic recognition of Beijing's position that there is only one official Chinese government. The central government in Beijing views Taiwan as a wayward province, and actively seeks to isolate the island economically and diplomatically. Currently, only 14 countries recognize Taiwan, and Lithuania is not one of them (Ministry of Foreign Affairs (MOFA) of Taiwan, accessed January 24).
Lithuania has affirmed its adherence to the One-China principle, but it has also declared a right to "expand cooperation with Taiwan and to accept and establish non-diplomatic missions to ensure the practical development of such relations." According to a statement from the nation's foreign ministry, the establishment of a Taiwanese Representative Office in Vilnius was "based on economic interests" (Ministry of Foreign Affairs of the Republic of Lithuania, November 21, 2021). Countries like Germany and neighboring Latvia have similar Taiwanese representative offices, which function as de facto embassies. However, these offices use the moniker, "Taipei Representative Office," whereas the new office in Vilnius is called "The Taiwanese Representative Office," which undoubtedly angered Beijing as it suggests that the self-governing island is a sovereign state (MOFA Taiwan, accessed January 24).
China responded to the opening of the Taiwanese Representative Office in Vilnius with outrage. A Chinese Foreign Ministry spokesperson charged that "this act creates the false impression of 'one China, one Taiwan' in the world, flagrantly violates the One-China principle, and renounces the political commitment made by Lithuania in the communiqué on the establishment of diplomatic relations with the People's Republic of China" (Ministry of Foreign Affairs of the People's Republic of China, November 19, 2021). The nationalistic Global Times described Lithuania as "trampling" over the One-China principle (Global Times, December 20, 2021). Foreign Ministry spokesperson Zhao Lijian warned that Lithuania must "stop undermining China's sovereignty and territorial integrity" and "come back to [its] commitment to the One-China principle" (Embassy of the People's Republic of China in the United States of America, December 21, 2021).
Trade Sanctions and the WTO
China has blocked imports from European Union countries that contain Lithuanian components and rejected import applications from the Baltic state, according to EU officials (Euronews, December 24, 2021). For example, Beijing has pressured multinational firms like German car part manufacturer Continental to either stop using Lithuanian components or lose access to China's lucrative market (LRT, December 17, 2021). The Lithuanian Confederation of Industrialists, which represents thousands of Lithuania-based companies, confirmed that China was targeting multinational firms that purchase goods from Lithuanian suppliers. Around 60 Lithuanian companies are currently struggling under Beijing's unofficial sanctions. If the status quo persists, these companies could suffer over $340 million in losses (Baltic Times, January 4).
China has repeatedly denied claims that it is targeting Lithuania in retaliation for its engagement with Taiwan. "The claim that China's authorities 'are not clearing Lithuanian shipments' and that 'they are rejecting import applications from Lithuania' is not true," Zhao told reporters. However, Zhao also added that Lithuania should "face the crux of the difficulties in the relations with China, reflect upon itself, and admit and seriously correct mistakes, instead of soliciting U.S. support" (Embassy of the People's Republic of China in the United States of America, December 22, 2021).
Lithuanian officials are working with the EU's European Commission to bring the case before the World Trade Organization (WTO), although the Commission continues to investigate the matter. "We're exploring steps at the WTO and an official complaint to the WTO," a spokesperson for the Commission told reporters. "In order to build a case in the WTO, we need to have enough evidence, so that's actually what we [are doing] now" (Reuters, December 17, 2021). In December, the EU raised concerns about China's application of "unannounced sanctions" on products from member state Lithuania with WTO Director-General Ngozi Okonjo-Iweala (LRT, December 10, 2021). The WTO chief then raised the issue with Chinese Premier Li Keqiang at a recent "1+6 roundtable" video call, an annual dialogue between China and major financial organizations like the World Bank and the International Monetary Fund. However, any formal dispute at the WTO would likely take years to resolve. And since the WTO's appellate body—which hears appeals from dispute settlements—still lacks enough judges to function, China could simply appeal the case into oblivion.
EU and U.S. Responses
Lithuania has appealed to the EU for assistance in dealing with China, but the response has been somewhat equivocal. On the one hand, EU Trade Commissioner Valdis Dombrovskis stated the bloc was "concerned" over China's restrictions on goods from Lithuania. In a recent strategic dialogue with Chinese Foreign Minister Wang Yi, EU High Representative for Foreign Affairs and Security Policy Josep Borrell defended Lithuania but also repeatedly reassured Beijing of the bloc's steadfast commitment to the One-China principle. This echoes the top EU diplomat's comments from a July 2021 meeting with Wang, when Borrell said that "the EU believes it should respect China, does not want to confront China and will not participate in any form of new Cold War" (Xinhua, July 16, 2021).
On the other hand, the EU has also considered—and, in some cases, adopted—more aggressive measures to counter China's economic coercion. In December, the bloc instituted a new "anti-coercion" mechanism that would allow the European Commission to sanction individuals, companies, and countries like China who weaponize trade. The policy achieved some early success: four days after being unable to send shipments due to technical problems, Lithuanian exporters reported renewed market access to China (South China Morning Post, December 7, 2021). Ongoing tensions between Vilnius and Beijing also likely factored into the EU's decision to postpone its annual summit with China. The summit, which was initially slated for late 2021, has since been delayed over concerns that the chances of substantive progress on critical issues like human rights and trade are slim (South China Morning Post, December 16, 2021).
Vilnius has also turned to Washington for assistance in dealing with pressure from China. Overall, the U.S. has offered strong words of support but few concrete actions. In an earlier phone call, U.S. Trade Representative Katherine Tai told Lithuanian Foreign Minister Gabrielius Landsbergis that both countries would maintain regular contact to strengthen their economic ties (South China Morning Post, January 6). In December, Lithuanian Prime Minister Ingrida Simonyte spoke with U.S. Secretary of State Antony Blinken about the row with China. During the call, Blinken "noted troubling public reports that People's Republic of China (PRC) customs authorities are not clearing Lithuanian shipments or shipments with Lithuanian components" and "reaffirmed the U.S. commitment to work with like-minded countries to push back against the PRC's coercive diplomatic and economic behavior in response to Chinese economic pressure" (U.S. Department of State, December 21, 2021). More recently, reports surfaced that some American diplomats raised the idea of changing the name of the representative office in Vilnius to ease tensions and avoid offending Beijing, although the White House has vehemently denied such claims (Financial Times, January 20).
Conclusion
So far, Lithuania has remained committed to its defiant stand against the world's second-largest economy. Moreover, Vilnius is not alone. Slovenia recently announced plans to establish a representative office for Taiwan on its soil, a move that reportedly "deeply shocked" Beijing (South China Morning Post, January 18). This opens yet another fissure China's coercive efforts to deter countries from strengthening ties with Taiwan.
Vilnius will adapt to the "short-term" economic pain as it seeks to diversify domestic supply chains away from China in the long term, according to foreign minister Gabrielius Landsbergis (Brussels Morning, November 25, 2021). Undeterred by Chinese pressure, Lithuania has also moved forward with expanding its overall economic and security ties with Taiwan. For example, 25 domestic food retailers showcased their products at a recent Taiwan International Food Industry Show (Taipei Times, December 23, 2021). In December, Lithuania's State Border Guard Service said on Twitter that it was using unmanned aerial vehicles donated by Taiwan to bolster the EU's eastern border with Belarus. In the post, the Baltic state described the island with the hashtag "#FriendInNeedFriendInDeed" (Twitter, December 20, 2021).
As China-Lithuania relations continue to deteriorate across the board from trade to diplomacy, no immediate end appears in sight for this dispute. Until then, two critical questions remain unresolved—to what lengths China is willing to go to punish Lithuania over its embrace of Taiwan, and perhaps more importantly, to what extent the European Union and United States are willing to defend it.
William Yuen Yee writes about China's foreign relations and international trade. He has previously written for the Center for Strategic and International Studies, SupChina, the China Story, and the SOAS China Institute. The opinions expressed here are his own.