The Legalization of Ukrainian PMCs: Challenges and Opportunities
Publication: Eurasia Daily Monitor Volume: 17 Issue: 42
By: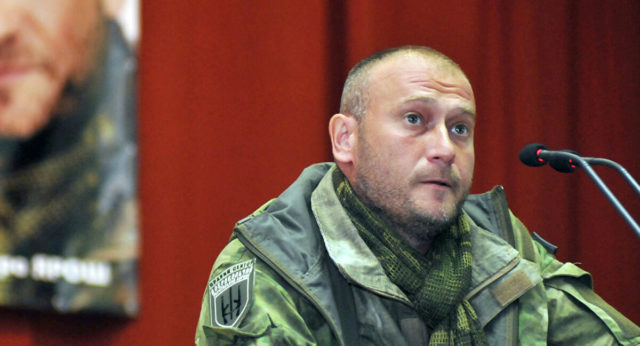 On February 3, the deputy secretary of the National Security and Defense Council of Ukraine, Major General Serhiy Kryvonos, suggested the necessity to legalize private military companies (PMC) in Ukraine. According to the national security official, many Ukrainian soldiers—especially those coming from the front lines in Donbas—are unable find decent jobs upon their demobilization (UNIAN, February 3). The following day, parliamentary deputy Olha Vasylevska-Smahliuk (representing the majority Servant of the People party), officially introduced a bill "On Military-Consultancy Activities," de facto proposing to legalize national PMCs. The bill regulates terms and conditions under which Ukrainian PMCs are to operate (Rada.gov.ua, February 4).
The issue of legalizing PMCs in Ukraine became more pressing after 2014 (Russia's annexation of Crimea and war in Donbas). On April 3, 2015, the then-leader of the Right Sector organization, Dmytro Yarosh, working with members of PrivatBank (at the time, controlled by Ukrainian oligarch Ihor Kolomoysky), tried to prepare legislation (unsuccessfully) to create legal status for national PMCs (Ipress.ua, April 4, 2015). Later, on February 3, 2018, Yevhen Deidei, the former coordinator of the Special Tasks Patrol Police "Kyiv-1" battalion, spoke in favor of PMCs by declaring, "Private Military Companies in Ukraine represent the demands of the present and our contemporary realities" (Obozrevatel.com, February 28, 2018). The following month, on March 5, a member of the Petro Poroshenko Bloc political party (since renamed European Solidarity), Valery Kapuntsov, proposed a bill on Military-Consultancy Activities; the measure failed to pass, however. According to Kapuntsov, his bill ended up watered down by the Ministry of Defense because "the military was afraid that its personnel would leave the army for more economically attractive opportunities… But this is happening anyway on a regular basis. In Ukraine, there are many recruiting centers. Whenever we have joint military exercises like Sea Breeze, many [PMC] recruiters head there." Kapuntsov suggested that legalizing PMCs would offer large economic benefits to the country. He also noted that the "global market for these services [PMCs] is estimated to be around $200 billion." He further claimed, "The founder of one of the most well-known American PMCs Blackwater [now Academi], Erik Prince, was interested in this prospect and is ready to invest hundreds of billions of dollars in organizing training centers [in Ukraine]" (Kp.ua, February 16, 2020). This opinion is, by and large, shared by mainstream domestic experts: Ukraine needs PMCs to effectively deal with war veterans and as a means to raise more money for the state budget.
Somewhat different arguments on the subject have been voiced by Russian experts. The well-known military correspondent Semen Pegov argued that the Ukrainian Armed Forces suffered 7,000 cases of deserters; and in the Donbas region (an area of confrontation), functions typically performed by the army have already been replaced by PMCs. Another military commentator, Yuri Knutov, argued that Ukraine needs PMCs in order to be able to forcefully reincorporate occupied Donbas back under government control: "[I]f Donbas is overtaken by the army—this is a clear violation of the Normandy agreements. If this is done via PMCs," it could be explained away as part of the ongoing "civil war," and no legitimate punitive steps could be undertaken in response (Tvzvezda.ru, February 6).
Referring to the positive side of legalizing Ukraine's PMCs, parliamentarian Vasylevska-Smahliuk stated that the country already has such private-sector military formations anyway; the problem is that "they are registered abroad […] and they do not pay taxes in Ukraine"—if they obtain legal status, this situation can change. Most Ukrainian military experts tend to agree with the need for such a bill as well as its prospective positive impact on both the Ukrainian war veterans and the state budget (UNIAN, February 11). Yet, not everyone shares such optimism. Already in 2018, one former employee of a Ukrainian PMC (on conditions of anonymity) pointed out the potentially detrimental effects of this kind of reform. The individual warned that this initiative "will result in even larger corruption and the creation of private armies […] and a potential outbreak of a full-fledged armed conflict between oligarchical clans" (Obozrevatel.com, March 22, 2018). Another well-known military expert, Igor Romanenko, compared the creation of PMCs with the "legalization of gambling, medical cannabis and passing amber extraction into private hands"—there are obvious risks but also potential opportunities. He argued that if PMCs are legalized, they should be certified and become accountable for their actions. If these conditions are satisfied, the government will receive a significant new source of revenue, while the war veterans will also benefit. Yet, if the first condition is not fulfilled, the outcome might be dire: PMCs will de facto become private armies serving the interests of specific oligarchs, which, in turn, would create more instability and growing criminalization (providing illegal services, extorting private property, using violence to achieve political ends) in Ukraine (Kp.ua, February 16, 2020). Given current levels of domestic instability (see EDM, February 24) coupled with the persistent conventional military and "hybrid" threat from the east, such an outcome would represent the worst-case scenario for Ukraine.
Analysis of the current proposed bill on legalizing PMCs demonstrates that its supporters do not consider PMCs to be private armies as such. Rather, their main tasks tend to be concerned with training and performing non-military missions. Yet, two points of uncertainty will need to be kept in mind by Ukrainian policymakers.
First, given the political role historically played by oligarchs in Ukraine, it, indeed, seems dubious that some of them will not be tempted to use this potentially powerful instrument—PMCs—for their own needs. Were this scenario to materialize, Ukraine could experience skyrocketing criminalization akin to the 1990s, yet with far more serious consequences for the state.
The second concern is that, even if legalized, it seems unlikely Ukrainian PMCs will be able to successfully compete on the global PMC market. Notably, during the late 1990s–early 2000s, Russian entrepreneurs established a number of what were then called Private Military Security Companies (PMSCs) (see Jamestown.org, June 25, 2019) in the belief that privatized Russian soldiers would be as highly valued as more established Western PMCs. But this calculation turned out to be wrong: the market for private security-providing firms had long been divided between Western players. That revelation urged Russia's Moran Security Group to try branching out to create a more de facto private military force—Slavonic Corps Limited—which, after engaging in combat operations in Syria, essentially became the predecessor to the notorious Russian Wagner Group PMC (see Jamestown.org, December 18, 2019).