The Quick Way to Quasi-Recognition of Donetsk-Luhansk's Armed Formations: A Play-By-Play Account (Part Two)
Publication: Eurasia Daily Monitor Volume: 17 Issue: 116
By: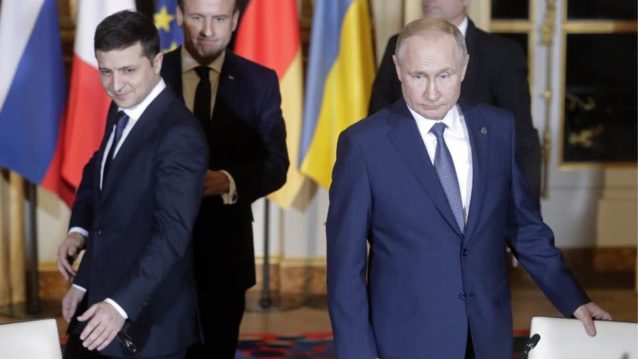 Ukrainian President Volodymyr Zelenskyy and his chief of staff, Andriy Yermak, have de facto acquiesced to the quasi-recognition of the Donetsk and Luhansk "armed formations" in a signed agreement at the political level on July 27. Following the failures of the Russian side to force Kyiv into accepting the "Steinmeier Formula" and, later, a "consultative council" project that would have positioned Kyiv and Donetsk-Luhansk as parties to direct negotiations with Russia in a mediating role, the newly signed agreement effectively raises the Moscow-backed Donbas militias to the same level as Ukraine's Armed Forces. A careful survey of the developments in the negotiations process over the past month sheds light on how this came about (see Part One).
On July 9 and 10, in two statements of unusual length and vehemence, Russia's envoy to the talks, Dmitry Kozak, charged that Ukraine was refusing to present a draft "special status" for discussion with Donetsk-Luhansk, as well as draft constitutional legislation on Ukraine's overall decentralization that would incorporate that "special status." Kozak further complained that the collapse of the "consultative council" in March had been a "watershed" in the negotiations and overall in relations; and he expressed sympathy for his Kyiv partners who had faced a backlash on that project (meaning Yermak without naming him). Kozak rejected Ukraine's "red lines" as violations of the Minsk "agreements." For all these reasons, there was "no basis for a Normandy summit in the foreseeable future." He demanded that President Zelenskyy disavow Deputy Prime Minister Oleksiy Reznikov's and Foreign Minister Dmytro Kuleba's calls to revise or replace the Minsk "agreements"; failure to disavow such calls would signify Ukraine's withdrawal from the Minsk and Normandy negotiations. Kozak admitted to a wish "at some point to slam my fist on the table" (TASS, July 9, 10; see EDM, July 15).
On July 10, Russia's Foreign Minister Sergei Lavrov announced that Kozak demarched his Normandy counterparts with a letter of complaints against Ukraine. On that same day, President Vladimir Putin convened a special session of Russia's Security Council and expressed "disappointment" with Kyiv's negotiating positions. The key complaint was Ukraine's reneging on the December 2019 Paris Normandy summit's decisions—a clear warning that another summit would be denied (TASS, July 10). On July 12, Kremlin spokesperson Dmitry Peskov insinuated that a "hot phase" might ensue in Ukraine's east (TASS, July 12; see EDM, July 15).
This elaborate political theater seems to have impressed Zelenskyy. Apparently, he attempted to contact Putin by telephone, as may be deduced from Peskov's retort on June 20: Zelenskyy must comply with the Minsk "agreements," "and it is absolutely unnecessary to make a phone call to Vladimir Vladimirovich [Putin] for this" (TASS, July 20).
On July 21, TASS cited the Donetsk authorities to the effect that Ukraine has thus far failed to sign the additional ceasefire agreement that would confer de facto recognition ("Subektnost") to the parties to the ceasefire (i.e., Donetsk and Luhansk) (TASS, Doetskoye Agentstvo Novostey, July 21).
That same day, Zelenskyy caved again (not gratis either, but for the price of a summit, as he apparently believed): "We await an early date for a Normandy summit; we have the consent of the German and the French sides, and Russia is not against it either. Tomorrow [July 22], we are signing the ceasefire agreement in Minsk" (Ukrinform, July 21). "No basis for a Normandy summit," instantly replied Peskov (Interfax, July 21).
Zelenskyy turned out to be equally mistaken about German and French readiness for a summit. Notwithstanding, he instructed his plenipotentiary representative, former president Leonid Kuchma, to sign the new ceasefire agreement ex aequo with the "certain areas of the Donetsk and Luhansk regions [Russian acronym ORDLO]."
On July 22, Russia's plenipotentiary to the Minsk Contact Group, Boris Gryzlov, complimented the Ukrainian side for "finding at last within itself the courage to agree with those [additional] ceasefire measures that ORDLO's representatives had all along proposed—the ceasefire measures between Kyiv and the Donbas. […] Only thanks to Dmitry Kozak's firm intervention (vmeshatelstvo) in the Contact Group's work did this success become possible" (TASS, July 22). And on July 23, Russian foreign ministry spokesperson Maria Zakharova praised the signing of the agreement "as a result of direct dialogue between Kyiv and ORDLO, mediated by Russia and the OSCE" (TASS, July 23).
The circumvention of the Normandy forum and the shift of the main action to the Minsk Contact Group achieved this result for Russia. Capping the process, Peskov explained that Russia "can in no way ensure compliance with the ceasefire measures by ORDLO, since Russia is not a party to this internal conflict in Ukraine" (TASS, July 27).