The Turning Point in Relations Between Moscow and Minsk?
Publication: Eurasia Daily Monitor Volume: 17 Issue: 18
By: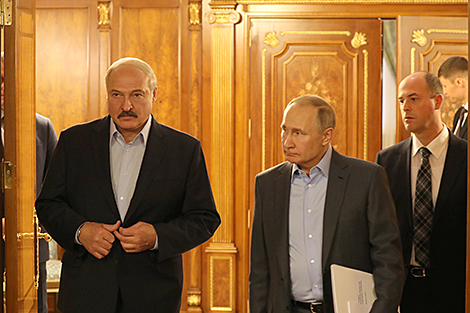 As hard as it is to believe, given President Alyaksandr Lukashenka's long record of successfully wrenching concessions on energy prices from Moscow, Belarus's relationship with Russia may finally be approaching a critical turning point. On February 7, Lukashenka was in Sochi to continue the negotiations with his Russian counterpart, President Vladimir Putin. But the Belarusian leader left the meeting without making a public statement. A few official reports suggest Lukashenka failed to reach his goals this time. On natural gas, the 2019 price of $127 per 1,000 cubic meters remains unchanged for 2020 (Belta.by, February 7). This is higher than Minsk wanted but less than Moscow planned to charge. During an interview with Ekho Moskvy, Lukashenka apparently disclosed that Moscow originally demanded $152 (Svaboda.org, February 8). When Minsk complained about unfair gas pricing back in 2016, Moscow had offered to sell it an additional six million tons of crude oil duty free, allowing Minsk itself to charge such a fee when re-exporting this oil to the West. But that compensation scheme, active from 2017 to 2019, has now been canceled (Naviny.by, January 9).
On oil, Moscow maintained that it could not offer the discount Minsk wanted. Nor is Russia willing to compensate Belarus for the former's tax-maneuver-related price hike—such compensation would be tantamount to artificially manipulating the oil market, which Moscow is reportedly determined to keep free (Belta.by, February 7). The price of Russian oil for Belarus is meant to reach a free market level by 2024, when Russia's so-called tax maneuver (shifting taxes entirely away from Russian exporters and reapplying them to domestic producers) is completed.
All this is fraught with a variety of consequences for both sides. First, the roadmaps for integration with Russia may go by the wayside: further integration has lost meaning for Minsk after it failed to secure energy price discounts from its eastern partner. Second, some degree of belt-tightening for Belarusians is almost guaranteed. Artyom Shraibman suggests this will come in the form of price hikes on domestic gasoline, purchasing less crude oil and selling less refined oil to the West as a result. This will blow a hole in the budget that will need to be filled with new external loans, higher taxes and/or cuts in social spending, and by tapping into domestic convertible currency reserves. Minsk will continue to buy small quantities of oil on non-Russian markets to set its new import strategy by 2024. Structural reform long demanded by the International Monetary Fund (IMF) and further tightening of relations with the West are also in the offing (Carnegie.ru, January 10).
Lukashenka and the members of the Belarusian negotiating team (including the ambassador to Russia, Vladimir Semashko, and Deputy Prime Minister Dmitry Krutoi) had landed in Sochi on Thursday, February 6, in preparation for the energy price talks with their Russian hosts. But Putin did not arrive until Friday at noon, with a weather-related two-hour delay. The arrival of the members of the Russian negotiation team, including the new deputy chief of the presidential administration, Dmitry Kozak, and Mikhail Babich, Russia's former ambassador to Minsk, was postponed even more due to stormy conditions in Sochi. In the meantime, the two heads of state ate lunch, negotiated one-on-one for 1.5 hours, and then played ice hockey, accompanied by Lukashenka's youngest son. It was not until around 7 PM that the Russian and Belarusian leaders were finally joined by their respective teams of negotiators. During their lunch, Putin reportedly asked his counterpart whether or not he ate porridge at breakfast. "At any rate not like this one cooked with water," replied Lukashenka pointing to a bowl with porridge next to Putin on the table. "Try it, you will like it," replied Putin. On the Internet, this porridge cooked with water instead of milk quickly became symbolic of the vastly diminishing Russian aid to Belarus (Svaboda.org, February 8).
Just days prior to these most recent negotiations, Lukashenka delivered a series of public statements expressing his extreme irritation over the unresolved issues of oil and gas prices for Belarus. On February 4, he declared that a "moment of truth" has arrived (Belta, February 4). And indeed, this time, his statement was not simply a rhetorical flourish. On February 6, he accused Russia of reneging on its commitment to deliver two million tons of oil to Belarus per month: only 500,000 tons were delivered in January.
Additionally, the earlier (February 1) visit of US Secretary of State Michael Pompeo to Minsk cast a separate shadow over the entire situation. "The USA is ready to meet 100 percent of Belarus's demand for oil at competitive prices and will send an ambassador to elevate the relationships to a new level," wrote Alexei Pushkov, the chair of the Information Policy Commission in the Federation Council (the upper chamber of the Russian parliament). "This sounds familiar. Earlier, they elevated [Viktor] Yanukovych of Ukraine to a new level, and the American Ambassador Geoffrey Pyatt played a noticeable role in that" (Vzglyad, February 1). In turn, Lukashenka replied that Russia itself "has been trying its best to kiss Americans passionately but never quite succeeded. Are we worried about that? No, we rejoice when they hug and kiss. As for them, they raised a scandal: oh, the Secretary of State has arrived! Yes, he has. And I did not hide it. On the contrary, I hinted that we have had a long-standing relationship with him in absentia!" (EADaily, February 4).
Likely further raising tensions in Sochi, a December 2019 survey by the seasoned sociologist Andrei Vardamatsky appeared on the eve of the Belarusian-Russian talks. The polling data revealed that, from September to December 2019, the number of Belarusians favoring some kind of union with Russia had dropped sharply from 54.8 to 40.4 percent, whereas the proportion of those favoring accession to the European Union increased from 24.4 to 32 percent (Belsat, February 5; Deutsche Welle—Russian service, February 6). Some interpreted the results as a pure fabrication, designed to please the Western funders of the survey (Vzglyad, February 5). But others opined that the poll was a transient byproduct of the difficult integration talks, which, so far, have yet to yield the results that were supposed to have arrived as early as December 8, 2019 (Facebook.com/piotra.piatrouski, February 6).
Time will tell whether or not last week's Sochi meeting was, indeed, a turning point in Belarusian-Russian relations. But at the moment at least, that certainly seems more likely than not.