Turkey Enters Tunisia's Weapons Market With Combat-Proven Arms: A Technical and Strategic Assessment
Publication: Terrorism Monitor Volume: 19 Issue: 2
By: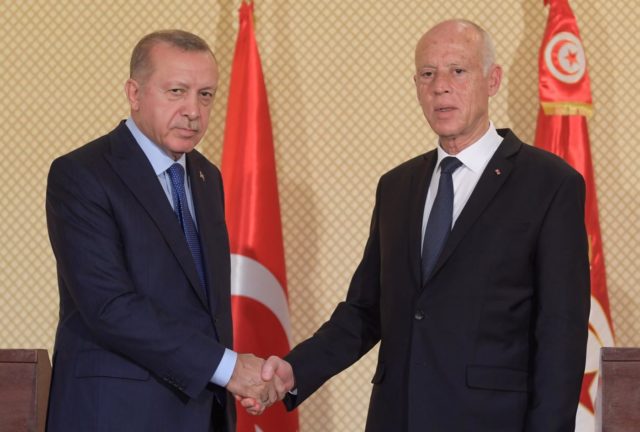 In late 2020, Turkey finally secured a lucrative arms sale package to Tunisia after a long period of negotiations. The $150 million portfolio, which attracted key players of the Turkish defense technological and industrial base, such as Turkish Aerospace Industries (TUSAS) and British Motor Corporation (BMC), will mean more than only defense revenues for Turkey (TRT Haber, December 24, 2020). It will additionally mark Turkish weaponry's entrance into the Tunisian market against the backdrop of Ankara's geopolitical quests in North Africa, which has become a geopolitical flashpoint encompassing various forms of militancy, transnational terrorism, and proxy warfare.
Turkish Arms Sales to Tunisia: Drones First
From a military standpoint, Turkey offers robust and combat-proven solutions to the Tunisian military, which has long been facing significant hybrid threats both in the homeland and emanating from neighboring countries (see Terrorism Monitor, March 1, 2019). As expected, these sales provide a pronounced drone warfare dimension for Tunisia, since drones have recently become Turkey's best-sellers. The Tunisian military will, for example, soon be operating TUSAS-manufactured ANKA-S medium altitude/long endurance (MALE) unmanned aerial systems. ANKA-S, the satellite communications variant of the drone line, comes with extended control range and more resiliency against electronic warfare threats and jammed environments due to the satellite communications (SATCOM) capability.
The platform comes with 24-hours of endurance and approximately 30,000 feet maximum flight altitude. ANKA-S has 250 kilograms of combat payload which enables advanced electronic and signals intelligence systems, such as ISAR (Inverse Synthetic-Aperture Radar) and wide area surveillance cameras, as well as high-precision munitions (TUSAŞ, January 25). ANKA-S, along with Baykar's "Pantsir-hunter" Bayraktar TB-2, have played critical roles in Turkey's drone warfare campaigns in Syria over the past few years (Milliyet, March 1, 2020). If used properly, ANKA-S would be tantamount to a force-multiplier for the Tunisian Armed Forces in several aspects, including artillery-drone integration, precision strikes in high-risk areas, and real-time intelligence gathering.
When assessing Turkey's drone exports, it cannot be overlooked that Turkish defense companies do not only produce unmanned aerial systems, but also smart munitions that deliver precision fire-power within limited payloads. Roketsan, Turkey's leading rocket and missile manufacturer, comes into play at this stage. MAM [Smart Micro Munition]-L, for example, is the most widely known among these solutions. Weighing only 22 kilograms, it can be tipped with a several warhead option to strike a broad target set. MAM-L's tandem charge warhead is optimized for penetrating reactive armor, while its thermobaric warhead configuration is optimized for closed and urban settings, and against enemy troop concentrations in defended positions (Roketsan, January 26). Turkey, Azerbaijan, and Turkey-backed Libyan combat formations of the government in Tripoli all used MAM-L and other Roketsan-made smart  munitions on various targets under real warfighting conditions, including Russian Pantsir mobile air defenses, Soviet-Russian manufactured main battle tanks, and even mobile Scud launchers, the latter seen with Azerbaijan striking a Scud in the 44-day Nagorno-Karabakh War (azvision.az.com, November 14, 2020).
With the Tunisian military operating ANKA-S, Roketsan will probably dominate Tunisia's smart rocket and missile market. Aselsan, another key player in Turkey's defense sector and an expert producer of electronic systems, is also likely to enjoy a foothold in the Tunisian weapons market by offering high-end sensors equipping unmanned platforms. Together, these systems will enable the Tunisian military to counter asymmetric threats that necessitate time-sensitive surveillance and strike networks optimized for pop-up targets.
Building Tunisia's Next Generation Land Warfare Capacity
Another dimension of Turkey's export package to Tunisia is land warfare. Kirpi (hedgehog) mine-resistant and ambush protected (MRAP) vehicles will make their Tunisian debut with the deal. Manufactured by Turkey-based BMC, Kirpi, has been one of the key assets of the Turkish military in the dangerous hybrid battlegrounds of Syria, whose rough terrain was ravaged by land mines and improvised explosive devices (IEDs) (Sabah, March 12, 2018). With 4×4 and 6×6 variants, along with a military-ambulance modification, Kirpi's family of land warfare platforms offer STANAG 4569 protection standards, which address a broad-array of threats (BMC, January 25; Craig International Ballistics, January 25). This is of particular importance for Tunisian troops operating in any high IED-risk environment in counter-terrorism missions (Kapitalis, June 8, 2017).
Ejder Yalçın 4×4 armored combat vehicles of Nurol Makina, which is one of Turkey's leading land warfare platform producers, remain another solution that Tunisia will start receiving this year. Ejder Yalçın's largest advantage is its modular design, which can easily be adapted to meet different mission requirements. The vehicle comes with anti-tank and short-range air defense, an armored personnel carrier, and surveillance and border security, radar, electronic warfare, counter-IED and de-mining, and command-and-control configurations (Nurol Makina, January 25).
Just as TUSAS's ANKA-S drone paves the way for Roketsan and Aselsan to capitalize on the first sale to Tunisia, Kirpi and Ejder Yalçın can open new opportunities for the rest of the Turkish defense sector. Simulators for combat platforms loom large at this point. For some time, the Turkish military industry has been working on more realistic vehicle simulations, which would train drivers, weapon systems operators, and even the crew carried by the platform all together (Anadolu Agency, October 2, 2020). Simsoft, a Turkish company focusing on military simulators, comes into the forefront in this arena. Thus, as the Tunisian Army adopts Kirpi and Ejder Yalçın platforms, it is quite possible that Turkish simulator companies – including Simsoft, which is a natural candidate – will find this new market to be compatible.
Lastly, another Turkish land warfare systems producer, Katmerciler, also is in the Tunisian portfolio. At first glance, the company may seem to be offering modest platforms, tankers, and tank carrier logistical vehicles to the Tunisian Army within the existing package. However, Katmerciler can go an extra mile. In 2020, in cooperation with Aselsan, the company played a large role in Turkey's unmanned ground vehicle (UGV) program by producing robotic combat vehicles. Equipped with Aselsan's SARP (Stabilized Advanced Remote Weapon Platform), the new UGV, which is scheduled to enter into service this year, enjoys modular configuration options ranging from machine guns at 12.7mm and 7.62mm calibers to 40mm grenade launchers (ASELSAN, January 26; Anadolu Agency, July 2, 2020). Although at present it remains a long shot, if Katmerciler manages its ties with the Tunisian defense establishment well, and if the Turkish government capitalizes on its newly established foothold in Tunisia, there is no reason to rule out future robotic ground systems sales. Militarily, UGVs would be expected to operate in high-risk areas for Tunisian combat troops.
The Geopolitics of Turkish Arms Sales in Tunisia
Tunisia has a special role in Turkey's contemporary geopolitical worldview. It is not only a country with an imperial Ottoman legacy, but also a key neighbor of Libya, a potential anchor in the Mediterranean, and an arena where Franco-Turkish competition plays out and Ankara hope to gain an upper hand over Paris. Turkey's arms sales policy is, therefore, not merely about defense transactions and revenues. It is a way to build strategic ties and cement existing ones, as seen previously in Qatari, Azerbaijani, Somali, and Ukrainian examples. After various ups and downs, Turkey is now fulfilling its long-awaited weapons export deals to Tunisia, which will equip the latter with robust warfighting capabilities, especially in hybrid settings. At the same time, the deals provide the Turkish government with a valuable opportunity to capitalize by guaranteeing Turkey's military future in Africa.