Turkmenistan Steps Up Its Effort to Become an International Transit Hub
Publication: Eurasia Daily Monitor Volume: 20 Issue: 81
By: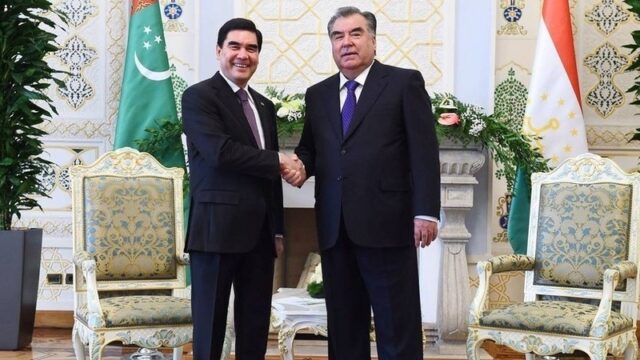 For most of its just over 30 years of independence, Turkmenistan has been left out of discussions on Central Asia and the role of both north-south and east-west transportation routes linking that region to the rest of the world. Ashgabat seldom released much information about itself, and analysts and commentators, in writing about Central Asia, often left the country without any mention. When the isolationist country did attract attention, it usually was regarding its constitutional mandate to be neutral, the extreme authoritarianism of its leaders or the poverty of its population. However, over the past year, that has begun to change and change fast, with Turkmenistan assuming an ever-more important role as a north-south and east-west trade route, not only between China and Europe but also between the landlocked countries of Central Asia and the outside world (see EDM, December 15, 2022; January 12; May 11). Due to this new regional importance, one rooted in its geographic location, Turkmenistan is gaining ever-more attention from various outside powers and is likely to gain even more in the coming months and years.
On the one hand, the fact that Ashgabat has sought to simultaneously develop both the north-south route, which Russia and Iran are interested in, and the east-west one, which China, the West and other Central Asian countries seek to develop, represents a continuation of its neutral and balanced foreign policy. But on the other, the increased pace of Turkmenistan's activities in both directions sets the stage for two possible outcomes: Either it will become the site of new conflicts between the supporters of these two routes, or it will transform Turkmenistan into a new transportation hub that will transform the country into a powerful new player in regional geo-economics and geopolitics. Obviously, Turkmenistan's leaders hope for the latter; but given the appetites and agendas of China, Russia and Iran, as well as the interests of Europe and the United States, they are likely to face serious difficulties in the pursuit of that goal.
International competition over transport routes through Turkmenistan and Ashgabat's efforts to ensure that it is the beneficiary, rather than the victim, of such outside efforts have been growing for the past several years (see EDM, December 15, 2022; May 11). But they have assumed new prominence in recent months, with Turkmenistan at one and the same time seeking to keep Russia and China happy (see EDM, July 29, 2021; Eurasia Today, March 28; Orient.tm, May 15); propitiate Iran (Casp-geo.ru, May 7); reach out to the West, especially the United States (Usaid.gov, April 13; Fondsk.ru, May 10; Turkmenportal.com, May 15); and expand its own independent role in Central Asia and more generally.
If the actions of outside powers have attracted some attention, those of Ashgabat on its own have not, despite the fact that they are important in and of themselves as part of Turkmenistan's efforts to assume a leadership role in the region and may be critical in determining which of the routes favored by others will actually come to fruition. Three developments in the past two weeks may prove especially consequential in that regard.
On May 4 and 5, Ashgabat hosted an international investment conference involving representatives of governments and businesses from 45 countries. Intended to attract the funds Turkmenistan needs to develop both its own economy and its infrastructure in particular, the sessions resulted in some 100 bilateral meetings and the signing of 26 bilateral and multilateral agreements that call for outside governments and businesses to dramatically expand their investments in Turkmenistan (gov.tm, May 4; Casp-geo.ru, May 15). Some Turkmenistani experts celebrated this meeting as an indication that Ashgabat, on its own, has already become "a very strong player" in the international logistics marketplace (Centralasia.news, May 14).
During his visit to Dushanbe on May 10, Turkmenistani President Serdar Berdymukhamedov declared that his country, with its port on the Caspian Sea, should do everything in its power to serve as a gateway to the world for Tajikistan and the other landlocked countries of Central Asia—Kyrgyzstan and Uzbekistan—as well as Afghanistan. Berdymukhamedov also signed an agreement on this point with Tajikistani President Emomali Rahmon. Moreover, his words during their talks suggest that Ashgabat wants to play a far larger role in east-west and north-south trade than at any point in the past and that Ashgabat will approach Bishkek, Tashkent and Kabul as well in the near future (Nezavisimaya gazeta, May 11). This will give new impetus to Turkmenistan's efforts to improve trade ties not only with Tajikistan but with Uzbekistan, Kyrgyzstan, Afghanistan and other countries in South Asia as well (see EDM, February 10, 2021; news, May 10). The Dushanbe meeting was followed by an event in Ashgabat with the Organization for Railway Cooperation from May 15 to 18, during which Turkmenistan pushed for drawing up new international agreements on transit routes (Orient.tm, May 15).
On May 17, Allaberdy Ilyasov, Turkmenistan's leading academic specialist on logistics, outlined the likely thinking of the Turkmenistani government regarding transportation routes. He argued that, if Ashgabat successfully develops its transit corridors and especially inter-modal transport arrangements where it has lagged up to now, thus allowing for the movement of goods from one kind of transport to another, "Turkmenistan can become a center for the development of the international investment business of the Asian direction for the sale of petroleum products." But this will only be possible, Ilyasov suggests, if Ashgabat balances domestic needs with foreign ones and the role of the state with that of private investors. If that happens, he says, Turkmenistan will not only become more important internationally but the standard of living for its own people, a key goal of the current government, will increase as well (news, May 17).
Ilyasov's words suggest that Ashgabat will devote particular attention in the coming months not only on to expanding north-south and east-west railways within the country but also to increasing the capacity of its port on the Caspian. (For background on this issue, see EDM, May 9, 2018; October 16, 2020; June 24, 2021.) Such a focus by Ashgabat, of course, will affect all the Caspian littoral states and especially Russia, Iran and Azerbaijan. As a result, the logistics issue inside Turkmenistan is certain to become a flashpoint in the struggle for dominance in trade and more for the entire region.