Ukraine's Defense Industry Slowly Moves Toward Adopting NATO Standards
Publication: Eurasia Daily Monitor Volume: 15 Issue: 114
By: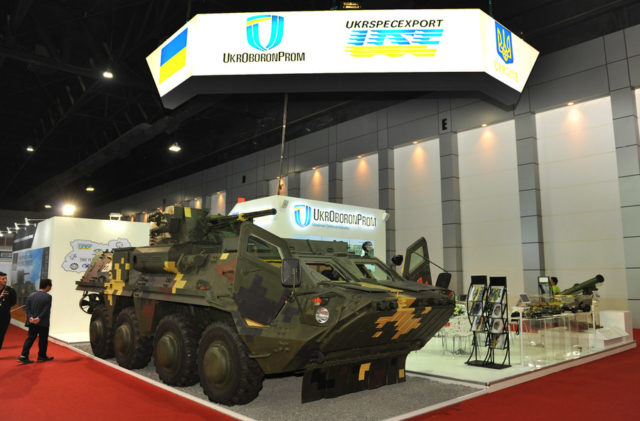 Ukraine has begun mass producing ammunition for 40-millimeter automatic grenade launchers, the state defense industry monopoly Ukroboronprom recently announced. This caliber is widely used by the militaries of North Atlantic Treaty Organization (NATO) member states; whereas, the Ukrainian Armed Forces have, thus far, utilized mainly 30-millimeter ammunition for their grenade launchers. Ukroboronprom said the new ammunition, which corresponds to NATO standards, is being manufactured jointly by the Shostka-based state-controlled Impuls plant and the Kyiv-based Kuznya na Rybalskomu (Ukroboronprom.com.ua, July 18). The latter is part of the business empire of President Petro Poroshenko.
Ukraine has been among the world's largest arms exporters for decades, but its share of the global market has been shrinking. The Stockholm International Peace Institute (SIPRI) calculated that Ukraine was the world's 11th arms exporter in 2013–2017, providing 1.7 percent of world exports, and its main client was Russia, with a 23 percent share of exports. Ukraine's global share had shrunk from 2.5 percent in 2008–2012 (112.international, March 29). The decline was due to several factors. The war that Russia started in Ukraine in 2014 boosted domestic demand for arms and ammunition, so more is now consumed by the Ukrainian army, to the detriment of exports. Additionally, the Ukrainian government banned military sales to Russia, again because of the war, and it has been impossible to quickly find a replacement for such a big market. Finally, Ukraine used to export surplus stock inherited from the Soviet Union, which has dwindled over the years.
With NATO-standard products such as the new grenades, Ukraine could try to not only regain its position on the global market, but also to find Western customers. Thus far, it has been selling weapons mainly to developing countries and those NATO members once part of the Soviet bloc that have retained a substantial Soviet-era inventory. Also, moving away from Soviet and Russian standards will facilitate Ukraine's aim of cutting dependence on hardware and technologies from Russia and its satellites, which is essential for national security at a time when Russia occupies portions of Ukrainian territory. Last but not least, the adoption of NATO standards is essential for attaining membership in the North Atlantic Alliance—one of Kyiv's main foreign policy goals since the EuroMaidan Revolution in 2014.
A new national security law, adopted by Ukraine this summer (see EDM, June 26), provides for the Ukrainian Armed Forces' adoption of NATO principles and standards (President.gov.ua, July 5). However, a transition to Alliance standards in the defense industry officially began earlier, since 2014. In April 2015, Ukroboronprom came up with a plan, according to which the movement toward NATO industrial standards should be completed in 2020. In December 2015, when President Poroshenko visited Alliance headquarters, Ukraine and NATO signed a roadmap on defense-technical cooperation aimed at achieving interoperability with NATO forces and providing assistance to Ukraine in transitioning to the Western political-military bloc's standards. The same year, Poroshenko set the extremely ambitious goal of Ukraine becoming one of the top five arms exporters of new products, rather than old stocks.
Ukroboronprom has said that weapons developed in Ukraine that fit NATO criteria have so far primarily included aviation and armored vehicles. Also, it has been participating in NATO Industrial Advisory Group research, has joined the supplier base of the NATO Support and Procurement Agency, and created new battle tanks, military transport aircraft, artillery, surveillance and reconnaissance systems, as well as small arms jointly with Alliance members (Ukroboronprom.com.ua, February 21).
Armored vehicles have been one of the Ukrainian defense industry's main exports, but the models sold abroad by Ukraine tend to be upgraded versions of Soviet machinery designed in the 1970s and 1980s. As for aviation, the Kyiv-based Antonov design bureau is famous for its giant transport planes—An-124 Ruslan and An-225 Mriya. However, these were designed for specific Soviet aerospace and military needs. Only Russia and China sporadically expressed interest in reviving their production. As a result, Antonov has practically ceased to make aircraft (Hvylya.net, March 29).
Thus far, Ukraine has been trying to enter NATO markets mainly with small arms and ammunition, such as the aforementioned 40-millimeter grenade-launcher rounds. Early last year, Ukroboronprom said it would start assembling the WAC-47 assault rifle based on the famous M-16 under United States government license. This, bragged Ukroboronprom, "is a real step toward Euro-Atlantic structures" (Ukroboronprom.com.ua, January 10, 2017; see EDM, January 25, 2017).
However, judging by official Ukrainian statistics, not much has been achieved to date. Ukraine exported its defense industry products to only six countries in 2017, including the US. In particular, the US imported 15,830 firearms, including grenade launchers and anti-tank rifles. But those were likely bought mostly for commercial purposes rather than military needs. Ukraine exported mainly small arms last year, also to Mongolia, Uzbekistan and Jordan. Thailand and Turkey were two exceptions, with Thailand buying 16 Oplot tanks and Turkey buying 3 anti-air missile complexes (Interfax, July 20; Segodnya.ua, June 6).
The Ukrainian defense industry's efficiency has been dubious, even bearing in mind that transition to new standards cannot be an easy task for an economy as under pressure as Ukraine's. Moreover, the National Anti-Corruption Agency of Ukraine has begun to investigate Ukroboronprom's activities. It suspects, in particular, large-scale fraud involving transfers to bank accounts of a family member of one of the Ukrainian state arms maker and exporter's top managers, as well as re-selling Soviet-era armored vehicles imported from Poland at artificially high prices. But for now, Ukroboronprom is dismissing these charges as part of part of Moscow's propaganda (Foreign Policy, December 21, 2017; Gordonua.com, June 22, 2018).