A Dexterous Move Propels Saakashvili Back Into Ukraine's Political Limelight
Publication: Eurasia Daily Monitor Volume: 14 Issue: 112
By: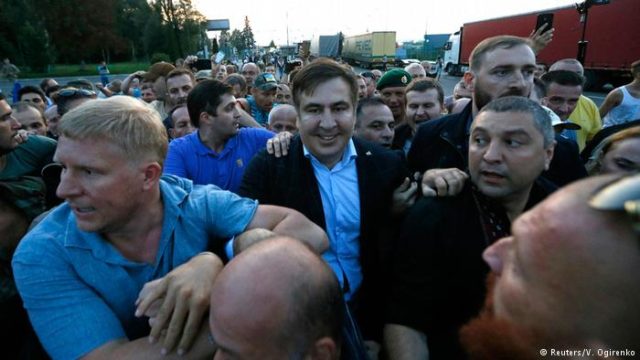 What occurred on September 10, at the Medyka-Shehyni crossing on the Polish-Ukrainian border, is remarkable. Earlier that day, Mikheil Saakashvili, the third president of Georgia and a Ukrainian opposition politician, declared his intention to reenter Ukraine after having been deprived of his Ukrainian citizenship on July 26 and forced to remain outside his adopted country for several months. Following a day-long dramatic course of events, covered closely by various television stations and streamed over Facebook-Live—including outside Ukraine and Georgia—Saakashvili managed to make good on his promise, with the help of supporters gathered on both sides of the border.
Only hours earlier, the tension was showing signs of a premature resolution. Saakashvili and his entourage were forced to abandon the initial plan to drive through the crossing point at Krakovets because the roads appeared blocked. So they boarded an Intercity train instead (Rustavi 2, September 10). The train, with regular passengers, in turn, was held at the Polish station for hours, eventually leading Saakashvili to disembark, where he gave interviews to the journalists gathered on the platform (Rustavi 2, September 10). He was accompanied by several allied Ukrainian Rada (parliament) members, among them Mustafa Nayyem and a stern-faced Yulia Tymoshenko (former prime minister, January–September 2005 and December 2007–March 2010).
The "breakthrough"—as Saakashvili himself termed the event—happened unexpectedly, when a group of his supporters from Rukh Novykh Syl, the party he founded in Ukraine, successfully forced their way through several well-armed units of the Ukrainian State Border Service, from the Ukrainian side (Facebook.com/SaakashviliMikheil, September 11). In one of the videos documenting the event, the activists are shown confronting an initially headstrong commander and soldiers. Several minutes later, they begin to sing the Ukrainian national anthem together (Facebook.com/FarnaozChkadua, September 10). Saakashvili's supporters also managed to rupture the second chain of Border Service soldiers near the Polish side. They then helped Saakashvili and his companions to walk through into Ukrainian territory, while the soldiers stood down.
Saakashvili proceeded directly to the western Ukrainian city of Lviv. He was greeted by Mayor Andriy Sadovy and was seen walking through the streets, applauded by numerous cheering citizens (Rustavi 2, September 11). The next day, on September 11, Saakashvili declared that his passport had been stolen by the Ukrainian officials who searched the bus he used to arrive at the border. His attorney, Mariyan Galabala, submitted a request to the Immigration Authority of the Ministry of Internal Affairs to grant to him the status of a "person who requires additional protection" (YouTube, September 11). Notably, the application referred to the request made by the Georgian Prosecutor General's Office with the Ministry of Justice of Ukraine—resubmitted again on September 5—to extradite Saakashvili to Georgia in the event he be apprehended (RFE/RL, August 18). The attorney argued that Saakashvili is politically persecuted in Georgia, and that the several cases pending with Georgian courts against him suggest unfair trials.
After having been stripped of his Ukrainian citizenship while on a trip to New York City, Saakashvili spent most of his time in Poland. But as of this September, when he publicly reaffirmed his intention to go back to Ukraine, members of his team left in the country came under political pressure. His brother, David Saakashvili, a lawyer in Kyiv, was also detained, with the interior ministry stating that his residency permit had been presumably terminated in March (Khgp.org, September 2).
President Petro Poroshenko stated at a press conference, on September 11, that Saakashvili's actions amounted to a crime and "the incident is now a matter exclusively of law enforcement agencies" (YouTube, September 11). Poroshenko had granted Saakashvili Ukrainian citizenship in 2015, appointing him governor of the Odesa region, before revoking it last July—Saakashvili had gone into vocal opposition against his erstwhile benefactor in 2016. Poroshenko also promised to punish those who allowed the "lawlessness" at the border to occur. Coincidentally, the Ukrainian president announced new instructions to tighten and strengthen the country's borders just over a week earlier, on September 1 (see EDM, September 11).
Whether this dexterous act, which swiftly brought Saakashvili back into the political limelight in Ukraine, at least for the time being, will translate into growth of support behind his political opposition movement, remains to be seen. It is also unclear if he will indeed be arrested, despite Poroshenko's clear indications; thus far, Saakashvili has been only presented with papers registering his border trespassing (YouTube, September 12). He was summoned to court on September 18, while Ukrainian Deputy Minister of Justice Denis Chernyshov indicated that extradition to Georgia cannot happen before Georgian courts conclude their cases against Saakashvili (Rustavi 2, September 13). In recent months, many European and some US politicians and commentators underscored the need for Ukraine to "reach a new, European level" and "stop persecuting political opponents like [former president Viktor] Yanukovych did" (Netgazeti.ge, September 11).
Meanwhile, Saakashvili indicates he intends to "go all the way" and, after this successful move, to challenge Poroshenko's administration of "thieves and corrupt dealers." Though his freedom and his life are "now under attack," Saakashvili insisted that he places "the well-being of Ukraine above his personal aspirations," and is "ready to give his life for this" (Kanal 24 via Facebook.com/SaakashviliMikheil, September 11). One of the difficulties he will need to overcome is to broaden his support base and the number of allied parties around his opposition movement, something that the Rukh failed to accomplish thus far. The collaboration with Yulia Tymoshenko, for instance, was very much circumstantial. She does not represent a branch of the opposition normally friendly toward Saakashvili. But on this occasion, as Saakashvili himself noted, her support was compelled by Poroshenko's decree stripping him of citizenship "in the good old manner of the Soviet Union" (Facebook.com/SaakashviliMikheil, September 11).
Saakashvili has already launched a series of verbal attacks against Poroshenko in Lviv, accusing the Ukrainian president of corruption and mismanagement. Noting he "once again felt the energy of a popular movement," akin to the "two Maidans and the Rose Revolution [referring to the democratic revolutions in Ukraine and Georgia, which he co-led or spearheaded]," Saakashvili is no longer hiding his intentions to repeat these scenarios against Poroshenko. A September 12 press conference begun with Saakashvili ferociously criticizing the "oligarchs" Victor Pinchuk and former president Leonid Kuchma (Khpg.org, September 12). The former Georgian leader announced his plan to arrive in Kyiv on September 19, after visiting the country's regions, in order to prepare the political ground for seeking new parliamentary elections in Ukraine (Rustavi 2, September 13).