Ukraine Strengthens and Tightens Its Borders
Publication: Eurasia Daily Monitor Volume: 14 Issue: 109
By: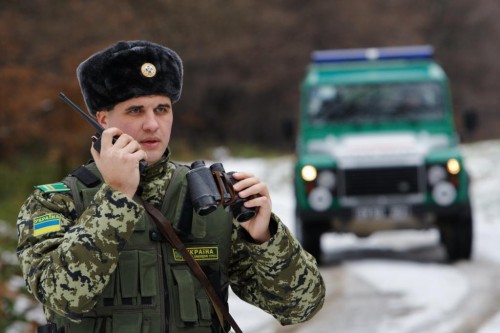 On September 1, 2017, President Petro Poroshenko announced that the National Security and Defense Council (NSDC) would issue instructions to tighten and strengthen Ukrainian borders, a major feature of which would be the stringent requirement that Russian citizens possess biometric passports when entering Ukraine (President.gov.ua, September 1). This NSDC decision announced by the President put an end to a longstanding internal debate with that body.
The hardliners within the NSCD had robustly lobbied for an introduction of visas for Russian citizens (112.ua, June 23). An introduction of a visa regime, the argument went, would have theoretically presented Ukraine with the opportunity to vet applicants for all manner of nefarious and national security issues, regardless of whether the Russian citizen held a biometric or old-style passport, prior to issuing an entry visa. However, that would have also required those granting visas in numerous embassies and consulates to have access to sensitive Ukrainian Security Service (SSU) information and/or lists, perhaps beyond any security clearance they may hold. The probability of leaks to the Russian secret services from even one of Ukraine's many diplomatic outposts relating to such lists of undesirables could not be discounted—particularly considering the level of Russian infiltration remaining within Ukrainian state structures, even though a constant cleansing continues. A leaked list to the Russian secret services would identify those under Moscow's command or control that were on the list—or not. The thing about such lists is that they inform those who have them of what is known and what is unknown in equal measure.
The other view within the NSDC, which in the end prevailed, was somewhat more nuanced, taking into account both domestic and international politics. This view—that biometric passports should be demanded at the Ukrainian border as the document of entry—was not driven by the expectation of Russian reciprocity. Rather, the argument was linked to the issue of the illegally annexed Crimean peninsula and its citizens. Specifically, Kyiv has not recognized the annexation by Russia, and therefore Kyiv continues to recognize many of the peninsula's citizenry as Ukrainian nationals, regardless of what documentation they hold or may have been forced to adopt. As such, the reasoning went, it seemed impossible to justify the Ukrainian state forcing its own people (in Crimea) to obtain a visa to enter their own country. In doing so, what message would that send to the Ukrainian national constituency and international community alike? And what precedent would such a visa policy have set for the future? Thus, the NSDC adopted the more nuanced and forceful argument regarding biometric passports, which now forms the core of a needed and long overdue strengthening and tightening of the Ukrainian border (Lb.ua, July 11). And this newly adopted policy also has obvious advantages when it comes to tackling and tracking both organized crime and transitory terrorists who may cross the Ukrainian border.
Necessary technical equipment will be positioned at border crossing points by January 1, 2018, at which point only Russian citizens with a biometric passport will be able to enter and egress the Ukrainian state. They will also require declarations relating to the purpose and duration of their visit and locations of stay. But what of those foreigners, the Russians at whom this policy is really directed and stateless persons already within the Ukrainian state that arrived without biometric documentation? What of those foreigners that entered years ago, established themselves, and have long since dropped off of the government's migration radar, regardless of any antiquated yet existing legislation they may have ignored and therefore transgressed?
To address those outstanding issues, simultaneously on September 1, President Poroshenko issued Presidential Decree 256/2017, which proclaimed a broader tightening not only of external borders, but also a legislative overhaul relating to the rules governing remaining in Ukraine (President.gov.ua, September 1). The paragraph of note in the Presidential Decree 256/2017 explainer is: "The government was also instructed to take measures to improve the legislation on the procedure for registration of residence/stay in the territory of Ukraine of foreigners, including citizens of the Russian Federation, and stateless persons originating from migration risk countries or having entered Ukraine from the territory of such states."
That said, it is necessary to recognize that if the current legislation is lacking, the Organization of Visas, Immigration and Registration (OVIR—the institution responsible for registering foreigners' internal residence) is somewhat unfit for this purpose. Moreover, it is corrupt and reasonably dysfunctional in its interaction with the Border Service. Thus, whatever legislative solutions may be proposed before the end of the year, significant attention and monitoring will be required regarding enforcement (particularly internally, relating to residence registration). In addition, further attention will be needed in order to address how potential red flags are raised and with whom when legislative transgressions occur as well as to scrutinize the interoperability (both by way of technology and other institutional communication) between the OVIR and the Border Service.
Other outstanding questions also remain: How will desired or necessary extensions to time in country be dealt with? How will the government define a place of residence for the purposes of registration? How much time spent there qualifies it as the place of residence? What will be the process allowing visitors to change a place of residence? Who decides? Who decides who decides? How will this information be effectively promulgated between agencies, and which agencies will need to know? Who will enforce transgressions and how? What anticorruption measures can or will be incorporated into any overhauled legislation that necessarily requires the mix of bureaucracy and human interaction at the state-institutional point of delivery?
It is clear that a legislative overhaul will be required, whether by legal tinkering, a major amendment, or via entirely new legislation. Nevertheless, even if all the above-cited policy questions are tackled, this will still only address half the issue. Perhaps most interesting will be how Ukraine approaches the issue of enforcement systematically once foreigners have entered the country.