A Peculiar Electoral Stalemate in Belarus
Publication: Eurasia Daily Monitor Volume: 17 Issue: 102
By: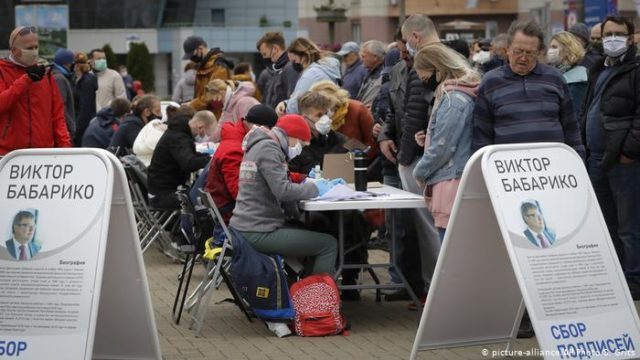 July 14 was the deadline for the registration of candidates in the 2020 Belarusian presidential election. In the meantime, the campaign has entered a baffling stage, whereby the electoral result to be announced on August 9 is exceedingly clear and, yet, feels like an impasse. By denying registration to Victor Babariko (Tut.by, July 14), the Central Electoral Commission (CEC) effectively confirmed that, had he have been allowed to run, the Belgazprombank chairperson would have been a formidable rival to the incumbent president. Earlier, the other leading presidential hopeful, former ambassador and technology entrepreneur Valery Tsepkalo's, lodged a complaint to the CEC for disqualifying 60,000 signatures collected on his behalf. But it was rejected, and he now plans to file a complaint with the European Human Rights Court (Interfax, July 6). Tellingly, Tsepkalo also made a statement in support of Belarus's multi-directional foreign policy, albeit recognizing the country's special ties with Russia that go far beyond economic links (Naviny, July 6). In turn, Babariko's campaign staff released a biographical film devoted to him (Tut.by, July 9), invoking his professional achievements and the memory of his wife, who died in an accident in 2017. Additionally, members of Babariko's electoral team met with Western diplomats in Minsk (Tut.by, July 8).
The government side has not sat idly by either. First, the major TV channel ONT showed fragments of the cross-examinations of Babariko and some of his former associates (ONT, July 9). And the Belarusian KGB issued a statement regarding Babariko's alleged crime (Belta, July 9). The stern language of the authorities' narrative contrasts with the ambiguity of the actually disclosed facts, alleging kickbacks from clients in exchange for discounted loans. As Piotr Rudkowski, the director of the Belarusian Institute for Strategic Studies, put it, the sensational discoveries that were disclosed amount to the following: "First, some political forces try to use elections to change the government; and second, some entrepreneurs created a private bank in order to make money. I would hate to think what will happen," continues Rudkowski, "if they start unmasking what people do at libraries, cafes or movie theaters" (Facebook.com/piotr.rudkouski, July 10). Tsepkalo, meanwhile, suddenly came under fire from a Turkish entrepreneur, who accused the presidential hopeful of not honoring a financial contract and of obtaining prostitutes (Nasha Niva, June 30).
Apparently in response to the Belarusian opposition's dubious earlier claims that President Alyaksandr Lukashenka's popular support only hovers around 3 percent, the chair of the official Union of Belarusian Journalists, Andrei Krivosheyev, circulated a document that put the incumbent's rating at 76 percent—an equally improbable estimate (Tut.by, June 9). Some observers, like Semyon Uralov, the editor of Sonar2050, an analytic portal devoted to the Union State of Russia and Belarus, opined that the figure likely foreshadows the election result that will be announced to the general public on August 9 (T.me/su2050, July 10). Last month, many notable Belarusian commentators tended to cite polling that fell between the two above extremes—results from the city of Minsk suggesting a favorability rating of 24 percent (see EDM, June 23). Incidentally, the director of the Sociology Institute, Gennady Korshunov, who himself shared the latter estimate, has "gone on vacation" and is not expected to return to his post (AFN, July 8).
Perhaps the most bizarre election-related piece of news emerged on July 9, following President Lukashenka's meeting with state-run media reporters. Piotr Petrovsky, a pro-government expert, who attended, wrote on his Facebook account that during this press conference, the authorities purportedly disclosed that four spies working for Russia's military intelligence (GRU) and allegedly collaborating with the electoral team of the now jailed blogger Sergei Tikhanovsky were apprehended in Belarus. Though questionable on its face, this revelation was momentarily shared by countless media outlets. Yet, no sooner was the story picked up, Petrovsky disavowed the information (Tut.by, July 9). He now claims he posted it deliberately as a piece of fake news just to see who would seize upon and spread it. Needless to say, there is no shortage of interpretations of the episode, especially considering that Petrovsky disclosed it to the generally highly reputable Belarusian Komsomolskaya Pravda (Kp.by, July 9). And notably, he had earlier suggested that Babariko should be arrested as soon as possible—which actually occurred one day later (see EDM, June 23).
Also present at the press conference with Lukashenka was Information Minister Igor Lutsky, who told the journalists in attendance that "against the backdrop of political events, including the election campaign, we found ourselves in a situation of acute informational confrontation with opponents and outright enemies of the Belarusian state" (Tut.by, July 11). Ten days earlier, in the city of Mogilev, Gennady Davydko, who chairs the pro-government movement Belaya Rus, used even more evocative language to express the same idea (Mogilev-region.gov.by, June 30). If anything, such pronouncements betray a sense of commotion in the upper echelons of power.
Apparently, confusion reigns supreme on the other side of the barricade, too. Valer Karbalevich, a staunch Lukashenka critic, observes that, this time around, outside interference in the Belarusian elections is at an all-time low. So why is it that many individuals in both the government and opposition are so obsessed with uncovering the hidden hand of Moscow? According to him, "Belarus's politicized public is Russo-centric and suffers from a state and national inferiority complex." Consequently, they perceive signs of Russian meddling even where there objectively is none (Svaboda.org, July 8).
To Yauheni Preiherman of the Minsk Dialogue Forum, the ubiquitous question of who bears the blame for the current stalemate illustrates the "infantile condition of Belarusian social discourse." Thus, the authorities' reaction to any public displays of disobedience is easily predictable. Some have charged that, under the current situation, Preiherman's usual appeal to national consolidation should be read as capitulation vis-à-vis the government. Nonetheless, Preiherman pointed to a perceived necessity to conduct "intra-elite discussions that would pursue mutual understanding." Otherwise, protesters only trigger the anticipated response of the authorities and risk jeopardizing national independence (Svaboda.org, July 10). Dzianis Melyantsou, a close associate of Preiherman's, thinks that although this time around the Western powers are not as fixated on human rights as they once were, sanctions on Belarus are still possible if a public confrontation and crackdown cannot be avoided. To wit, he argues that damaging Belarus's ties with the West specifically jeopardizes the country's independence (Belaruski Partizan, July 7).
It is unclear what, if anything, will diffuse the present tensions in Belarus. But certainly, tactical wisdom is required from both sides to avoid a fateful conflagration.