Armenia's New Defense Minister Proposes 'Nation-Army' Concept
Publication: Eurasia Daily Monitor Volume: 13 Issue: 174
By: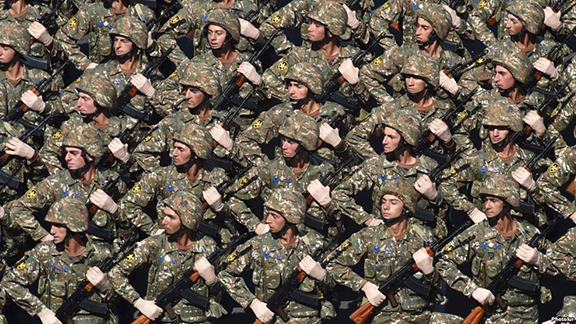 The National Assembly of Armenia affirmed Karen Karapetyan as the country's new prime minister, on September 13. Karapetyan's previous career was predominantly linked in various ways to Russia's natural gas producer Gazprom (with the exception of ten months in 2010–2011, when he served as mayor of Yerevan). He has worked as the chief executive of Gazprom's Armenian subsidiary; and since 2011, he worked in Moscow at a bank owned by Gazprom (Armenpress.am, September 13).
Karapetyan could choose his own candidates for most ministerial posts in the new cabinet. However, the ministers of foreign affairs, defense, and national security, as well as the head of the police were appointed by the president, who kept three of his four appointees at their posts. President Serzh Sargsyan replaced only the previous minister of defense, Seyran Ohanyan, with Vigen Sargsyan (no relation to the sitting head of state), who since 2011 had headed the presidential staff.
Vigen Sargsyan was the last member of the new cabinet to be named; his appointment was officially announced on October 5. In his inaugural speech at the National Assembly, the new defense minister called for building a "nation-army." Given Armenia's regional situation and its existing political challenges, he declared, a large army will remain a reality. Therefore, he continued, "the armed forces should play a greater role in the country's social and economic life." Defense Minister Sargsyan suggested that the entire population should be linked to the army by means of scientific, economic, industrial or other projects, and the army must become "a school and workshop of society." Demobilized soldiers should be much more patriotic, better educated and ready for combat, he concluded (Azatutyun.am, October 5).
Minister Sargsyan further elaborated on the "nation-army" concept during the parliamentary hearing preceding the adoption of the new cabinet's governing program. According to him, the "nation-army" concept requires all branches of the government, as well as political bodies and civil society organizations, to understand the level of their relations with national defense. The "nation-army" concept should become the foundation of state governance and be conveyed to all Armenians at home and in the diaspora. Furthermore, he said that not only would society invest human and material resources into defense, but the army would reciprocally invest in civilian society and become a "workshop for military and patriotic education" (Armenpress.am, October 20). Later, at a gathering at the Ministry of Defense, he declared that even though the Armenian Armed Forces are already quite large (over 51,000 active servicemen and 210,000 former service personnel available for the reserves, according to the 2012 IISS Military Balance) when compared to the country's territory (29,700 square kilometers) and population (3.05 million), the "nation-army" strategy does not mean that the state or society will have to be militarized. "Quite the contrary," he said, "it means that the army would be more democratic [and] fully integrated with society in such spheres as economy, science and education, ecology, and sport"; everything produced by the army will serve society and the state. The head of the defense ministry also claimed that the "nation-army" concept will encourage economic growth due to demand for products commissioned by the army. Besides, he called for anti-corruption measures and made several statements about the army's role in and emotional connection with society (Armtimes.com, October 29).
The "nation-army" idea is not entirely new. But previous proposals along these lines were more limited than Minister Sargsyan's current description of this concept. For example, several years ago, there were calls to end university students' ability to postpone the draft, to introduce universal conscription for women, and to increase the army's role in society because of Armenia's difficult geopolitical situation. After the so-called "four-day war" in April 2016 (see EDM, April 14), discussions about this issue further intensified. Some members of parliament, the president of the Armenian union of IT companies, and other officials also expressed the need to expand the country's domestic industrial production for military purposes (Tert.am, April 29; Aravot.am, May 30; Panorama.am, September 24). One proposal even called for establishing a sperm bank that would keep draftees' sperm in order to "sustain the gene pool," as a large-scale war could be imminent. Although the spokesman of the Ministry of Defense called the idea "interesting" (Armlur.am, May 2), that initiative was ultimately declined by the government (Armlur.am, May 26).
For now, it is difficult to speculate how Defense Minister Sargsyan's "nation-army" concept would actually work in practice. On one hand, this stress on military and patriotic education closely resembles a similar policy approach Russia is now attempting to carry out (see EDM, July 27). However, it is questionable to what extent patriotic rhetoric will be effective in uniting Armenian society considering the highly limited prospects for the country's economic recovery at present. On the other hand, a new "patriotic" agenda could be part of a strategy aimed at some level of asset redistribution without reforming the basic structure of the existing economic system. So far, the government has been unable to compel businesses belonging to oligarchs to pay taxes; but a "nation-army" program that stresses greater links between the military and civilian life might open up more investment in the military industry, perhaps create a few hundred new jobs, as well as allow for the allocation of extra funds to buy more Russian weapons. As the military parade on Armenian Independence Day showed (see EDM, September 26), brandishing new weapons helps boost patriotism, which is quite useful with general elections coming up a half a year from now. The government's actions in the next few months may more fully clarify the true essence of the "nation-army" notion. It remains to be seen whether this concept will have any practical real-world consequences for Armenia's defense and security posture, or if it will be little more than a popular slogan of the new government.