Russia's Image in Armenia Damaged by Fighting in Karabakh
Publication: Eurasia Daily Monitor Volume: 13 Issue: 73
By: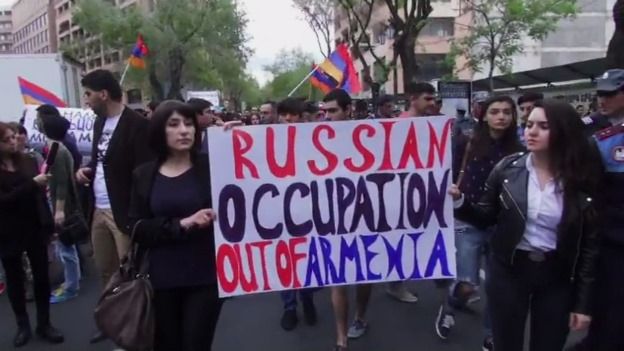 The outbreak of clashes along the line of contact in the separatist region of Karabakh, which began early in the morning on April 2 and lasted until April 5, was the most dangerous since the 1994 ceasefire agreement between Armenia and Azerbaijan. The number of casualties and the unprecedented usage of helicopters, unmanned aerial vehicles (UAV) and TOS-1A thermobaric multiple rocket launchers suggest that the recent years' pattern, with increasingly more serious incidents occurring every few months, has led to the brink of a regional war. The weapons used by Azerbaijan in the recent incident, with the exception of Israeli UAVs, had been supplied by Russia (see EDM, April 12). After an exchange of artillery fire on September 25–26, 2015, the de facto authorities of Karabakh also reported that the Azerbaijani army used mostly Russian weapons: of over a hundred shells fired by the Azerbaijani forces, only 12 were identified as having been shot from a Turkish-made TR-107 rocket launcher system (News.am, September 26, 2015).
The early April fighting occurred along the line of contact in Karabakh, and not at the border between Armenia and Azerbaijan. Therefore, Yerevan did not consider the possibility of officially asking for support from its allies in the Russian-led Collective Security Treaty Organization (CSTO). A Eurasian Economic Union (EEU) intergovernmental council meeting, which had been planned to take place in Yerevan on April 7–8, was rescheduled, upon Kazakhstan's request, and took place in Moscow on April 13. For a Russian analyst, Nezavisimaya Gazeta columnist Yuri Roks provided a rather unorthodox take on the regional consequences of the post-conflict diplomatic maneuverings. In particular, Roks noted that Kazakhstan's demarche, as well as its close partnership with Azerbaijan—the latter a non-member of the EEU and CSTO—might have caused legitimate reservations concerning Armenia's membership in both organizations. And Yerevan might eventually start questioning the grounds for being a member of a military bloc whose other members openly support their partner's adversary, he added (Nezavisimaya Gazeta, April 7).
Russia's role in the recent events is also worth looking at more closely. The April 5 ceasefire agreement was brokered by Russian authorities in Moscow, where the Armenian and Azerbaijani army chiefs of staff met. However, some analysts hold less-sympathetic interpretations of Russia's actions. One such example is the speculative assertion that Azerbaijan's recent offensive could have been encouraged by a "gentlemen's agreement" between Baku and Moscow, whereby Russia implicitly agreed not to interfere as long as Azerbaijan's attacks did not lead Armenia to question the utility of its continued alliance with Russia (see EDM, April 6). Several Armenian have also proposed that Russia de facto approved Azerbaijan's offensive in order for Moscow to maintain or even increase its influence over the two warring parties at the expense of the mediation efforts by the Organization for Security and Cooperation in Europe's (OSCE) Minsk Group. And all this could undermine recent efforts to create an investigation mechanism along the line of contact, including the installation of gunfire-locator systems and sound-ranging equipment to determine the source of attacks, as well as the deployment of additional OSCE monitors (Ekho Kavkaza, April 3; 1in.am, April 7).
The issue of Russian weapon sales to Azerbaijan predictably caused strong disappointment among the Armenian public. Although Russian government representatives (and Russia's Armenian apologists) claim that Moscow considers the issue of parity in its arms deals with both sides, Armenia has yet to receive Smerch BM-30 multiple rocket launchers, TOS-1A thermobaric rocket launchers, or other advanced weapons previously supplied to Azerbaijan (see EDM, April 12). Some Russian sources also admit that parity is not quite the case, despite the discounted prices offered to Armenia, as Azerbaijan's military spending is estimated to be about 20 times larger (Vedomosti.ru, April 3; Kommersant Vlast, April 11). Besides, the weapons Armenia is due to purchase with a $200 million loan allocated by the Russian government in February have yet to be delivered. And during a meeting in Yerevan, on April 7, Prime Minister Hovik Abrahamyan asked his Russian counterpart, Dmitry Medvedev, to accelerate the delivery (Azatutyun.am, April 7). After his visit to the Armenian capital and later trip to Baku, on April 8, Medvedev said that Russia would continue supplying weapons to both Armenia and Azerbaijan. The weapons should only be sold to provide deterrence, he explained, while supplies from other countries would result in a regional imbalance (RIA Novosti, April 9).
Armenian President Serzh Sargsyan's criticism of Russia's arms trade with Azerbaijan was limited to some rather mild remarks made during a meeting with German Chancellor Angela Merkel, in Berlin, on April 6, and in an interview with Deutsche Welle (Deutsche Welle—Russian service, April 7). It may be noted that while Yerevan has not officially protested against Russian arms deals with Baku, a letter of protest was sent to Israel, with particular mention of an IAI Harop UAV used by Azerbaijan (Arka.am, April 11). Such a differentiated approach seems inconsistent, especially considering that Armenian Deputy Defense Minister Davit Tonoyan admitted that Israel also offered to supply arms to Armenia (Azatutyun.am, April 11), so it did not deliberately choose to cooperate only with Azerbaijan. Some Armenian politicians, including members of the ruling Republican Party, noted Russia's negative role. They contended that Russia is partially to blame for the numerous casualties and pointed out that, unlike Russia, the two other mediators—the United States and France—have not been selling weapons to Azerbaijan (Azatutyun.am, April 7). However, the majority of politicians—from the government and the opposition alike—have mostly sought to distract public opinion with repetitions of the mantra about the indispensable strategic partnership with Moscow, often echoing arguments made by Russian officials.
So far, Armenian politicians seem to be trying to contain the growing public discontent with Russia. Though protests have broken out in Yerevan (RFE/RL, April 13). Such an attitude is not really surprising, considering the authorities' long-term connections with Russian political, military and business establishments. But public mistrust toward Russia may increasingly be more difficult to control. The proportion of Armenians openly opposing Russian policies remains small—with the exception of anger at Russia's arms trade with Azerbaijan But any further incidents on the line of contact or along the Armenian-Azerbaijani border—such as the continuing exchange of machine-gun fire that has become habitual in the recent years—is now raising questions about the quality of Armenia's relations with Russia. And all this could result in a stronger alienation of Armenia's pro-Russian politicians from the population.