Beyond Syria and Ukraine: Wagner PMC Expands Its Operations to Africa
Publication: Eurasia Daily Monitor Volume: 15 Issue: 65
By: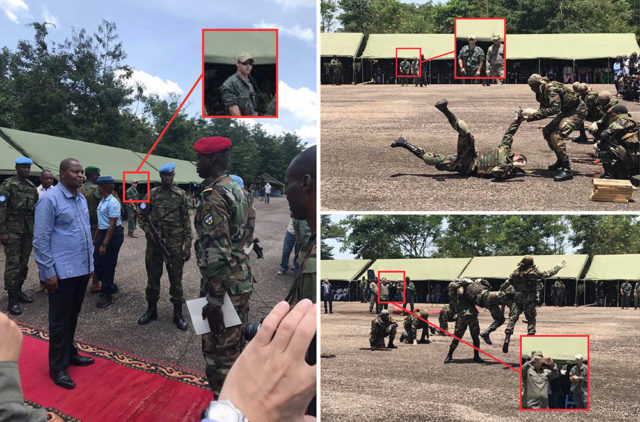 The terrible defeat suffered by forces of the Wagner Group private military company (PMC) at Deir el-Zour (Syria), in early February 2018 (see EDM, February 15, 20, April 19, 23), did not lead to the demise of this increasingly famous Russian PMC. On the contrary, it may be expanding its operational area to the African interior—in particular, the Central African Republic (CAR) and Sudan.
On April 20, the Conflict Intelligence Team (CIT) presented satellite images demonstrating that Wagner may have established a training camp on the territory of the CAR. The images also seemed to show Russian-produced equipment (notably, the Ural-4320 off-road vehicle) that had already been spotted in the Tunisian port of Sfax, allegedly on their way to Syria (Citeam.org, April 20).
Since 2013, the CAR has been torn apart by a violent confrontation between Muslim Séléka rebel militia factions and their Christian opponents, the Anti-balaka. According to the United Nations, this conflict has claimed the lives of at least 6,000 people to date. In early 2018, Moscow voiced its readiness to answer "the request of the CAR authorities" and provide military-technical support to the country. On March 22, the Russian side stated it "has sent 175 military instructors for the purpose of training of local military, and some quantity of arms and munitions" (Rosbalt, March 22). A month later, on April 23, "men of European appearance" were reportedly spotted on images posted to online social networks by the CAR's president, which led some experts to suggest that these individuals were "either Russian soldiers or members of the Wagner PMC" (Vz.ru, April 23, 2018).
According to Andrey Korendiasov, of the Institute for African Studies at the Russian Academy of Sciences, Russia's interest with the CAR is primarily driven by a "strong determination to re-establish peace and prevent the further growth of extremism [in this African state]." The researcher also referred to the fact that the Soviet Union used to maintain excellent political relations with the CAR (diplomatic relations with this country were established in 1960), where "the entire humanitarian sphere of the country was kept afloat thanks to Soviet support" (Riafan.ru, April 10, 2018). This narrative, however, expediently omits a crucial factor: the CAR is rich in diamonds (which constitute the vast bulk of its exports) as well as gold and uranium; the latter deposits remain largely untouched due to the havoc and anarchy the country has been experiencing for the past five years.
Another theater of Wanger's swelling operations in Africa is Sudan. Information on the matter was notably revealed last fall by Igor Strelkov, although his blog post refers to South Sudan, which declared independence from Sudan in 2011. "Wagner is preparing a mission to South Sudan, and now a search for Soviet-era specialists and translators has begun," Strelkov writes in his blog (Strelkov-i-i.livejournal.com, November 27, 2017). Officially, Russia is not involved in any of the inter- or intra-Sudanese conflicts that continue to this day. Though that could certainly change. In 2017, Sudan's President Omar al-Bashir met with Russian President Vladimir Putin and Defense Minster Sergei Shoigu. During the meeting, al-Bashir expressed support for establishing a Russian military base on the Red Sea because of purported "aggressive actions of the United States aiming to split the country [Sudan] into five political entities" (Vesti.ru, November 25, 2017). Several months later, while speaking to domestic media sources, the Sudanese leader boasted about an "existing joint program [with Russia] to develop [Sudan's] armed forces, with the aim to enhance its potential to contain any aggression" (Inosmi.ru, February 10, 2018).
According to a recent investigation carried out by Russian journalist Igor Pushkarev, members of the Wagner Group will soon be transported to Sudan, where their main task will be working as military advisors to the country's presidential armed forces (Gazetavv.com, March 8). This "cooperation" could take place at facilities established by al-Bashir in 2013, under the guise of so-called "training camps," which were conceived as a venue for the local youth summoned by the Sudanese political leadership "to join the jihadi movement" against South Sudan (where a civil war has raged since December 2013) (RIA Novosti, June 9, 2013).
Russia's potential expanding of ties with Sudan has received a mixed reception. The head of the Russian Federation Council (upper chamber of parliament) Committee on Security and Defense, Viktor Bondarev, stated that "Sudan might become one of the key elements in establishing ties between Russia and the Muslim world." However, Viktor Murakhovsky, the editor-in-chief of the military magazine Arsenal Otechestva, expressed doubt that Russia will remain interested in this country. Whereas, prominent Moscow-based expert Aleksandr Golts stated that "there are no objective reasons for the Russian side to send PMC troops… Russian military actions are primarily stipulated by a determination to prove its ability to project force," and a furtive deployment of mercenaries would not fulfill this goal (BBC News—Russian version, December 4, 2017). Indeed, it seems highly dubious that Russia will go through with establishing a major military base in Sudan. For one thing, Moscow lacks the economic means to do so. And second of all, political instability in Sudan might bring to power forces unfriendly to Moscow and thus derail the project—as had occurred repeatedly during the Cold War.
In this regard, it is worthwhile to take a look at an assessment presented by the French expert Didier François, who expressed confidence that Russian "instructors" will be deployed to the Central African Republic, on the border with Sudan, specifically to the "area containing gold, uranium and diamonds." This will allow the Russians to kill two birds with one stone—"securing Russia's economic interests and expanding its military-political presence in East-Central Africa" (Europe1.fr, February 12). Incidentally, a statement presented by the Russian Ministry of Foreign Affairs identified the "exploration of locally based deposits of natural resources" and the "realization of concessions in the mining sector" as key elements that originally enticed Russia to begin cooperating with Sudan (Gazeta.ru, March 22).
The case of Syria, where Wagner is involved in both military operations and energy sector–related missions (see EDM, April 19, 23), points to the fact that the presence of Russian PMC forces in war-torn, highly unstable regions—yet, ones handsomely endowed with natural resources—continues to grow. And Africa may increasingly be one of the main targets.