New 'Hybrid' Plots Revealed in Russian Anti-Western Policy
Publication: Eurasia Daily Monitor Volume: 15 Issue: 25
By: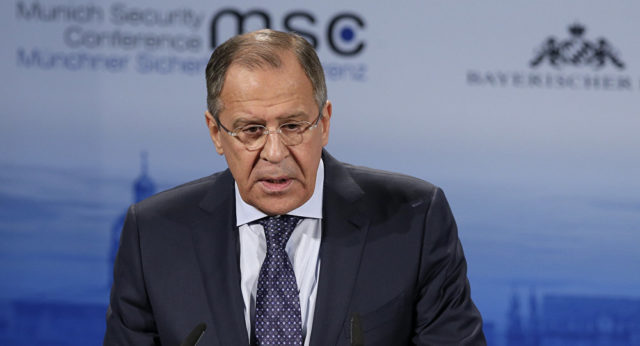 The central theme of the traditional Munich Security Conference last weekend was the current assessment of the Russian threat. The briefs prepared for the high-level participants, including US Secretary of Defense James Mattis and US National Security Advisor H.R. McMaster, had, however, to undergo urgent revisions as at least three new developments in the week preceding the event revealed the growing complexity of this threat. First, the intelligence alliance known as "Five Eyes" (Australia, Canada, New Zealand, the United Kingdom and the United States) put the blame squarely on the Russian military for launching the destructive cyber-attack dubbed "NotPetya" in June 2017 (Newsru.com, February 16). Second, Special Counsel Robert Mueller indicted 13 Russian citizens for interfering in the 2016 US elections as a part of his on-going investigation (Kommersant, February 16). And third, it gradually becomes clear that a major direct clash between Russian and American forces happened in Syria on February 7, when a massive US air and artillery strike destroyed a battalion tactical group comprised of Russian mercenaries (New Times, February 15).
The first two of these revelations fall into the fast-expanding cyber security domain. While operations of Russian "troll factories" like the Internet Research Agency, included in Mueller's indictment, are well documented, the attribution of the destructive and indiscriminate cyber-attack last June to the Russian military is a significant move (RBC.ru, October 17, 2017). A White House statement promised succinctly that the attack "will be met with international consequences," but it is also known that Igor Korobov, the chief of the Russian Main Intelligence Directorate (GRU), who is the responsible party, recently visited Washington for discussions on counter-terrorism matters (Kommersant.ru, February 1). The decision of NATO defense ministers taken at the meeting before the Munich conference to establish a new Cyber Operations Center reflects the need to counter Russian experiments in this domain, where Russia has no technological advantage but feels free to play fast and loose (Gazeta.ru, February 15). Jens Stoltenberg, NATO's Secretary General, mentioned in Munich that countering Russian propaganda by exposing its lies and dirty tricks is a key element in the Alliance's cyber-defense (RBC.ru, February 18).
The third development, while shaped by a conventional clash, still falls into the "hybrid" category, because Moscow can hide behind official denials. It was triggered by an attack by the Syrian government forces on a stronghold of the opposition Syrian Democratic Forces (SDF), where US personnel were present—and Russian field commanders were well aware of that (Ezhednevny Zhurnal, February 13). The urge to capture control of a minor oil plant prevailed over strategic caution, and the results were devastating for the band of Russian mercenaries known as the "Wagner Group" (Nezavisimaya Gazeta, February 16). Rumors in Moscow measured the casualties in the hundreds, and while only a dozen or so are reliably confirmed dead, the most shocking twist in the battle was that the US commanders maintained constant communication with their Russian counterparts over the "de-conflicting channel," but Moscow opted against giving any warning to its mercenaries (Novaya Gazeta, February 17). Russia's Defense Ministry had perhaps expected that the episode would remain obscured by the fog of war, but ironically, the social networks that Moscow is so keen to exploit for its propaganda have exposed its duplicity (Republic.ru, February 12).
The stunning defeat in the Euphrates valley signifies a further mutation of the multi-party Syrian war, where Russia sought to augment its reduced intervention with expanded "hybrid" engagement. The rout of "deniable" mercenaries coincided with the Turkish offensive into the Afrin enclave controlled by Kurdish forces, and Moscow expressed full support for this operation expecting that it would further strain the damaged alliance between Turkey and the United States (Nezavisimaya Gazeta, February 12).
On another front of the messy war, and just three days after the destruction of the "Wagner Group," in response to an Iranian drone incursion in its territory, Israel delivered a devastating airstrike on Syrian and Iranian military bases primarily around Damascus, wiping out nearly half of the Syrian air defense system (Kommersant, February 12). Russian air defense assets at the Khmeimim and Tartus bases did not interfere with the Israeli operation, and Russia's Foreign Ministry merely expressed "grave concern" and called for restraint (MID.ru, February 10). This feeble message cannot hide the reality of Russia washing its hands over the Kurds in Afrin, letting down the al-Assad regime, turning its back on its Iranian allies, and betraying its own "dogs of war."
Israel's Prime Minister Benjamin Netanyahu showed a piece of the Iranian drone at the Munich conference to reinforce his point about readiness to act against Iran, but he did not spell out his concerns of whether and how would Russia help in rebuilding Syrian air defenses (RBC.ru, February 18). Russia's influence across the Middle East has definitely suffered, but Putin can hardly find an option for projecting power in order to restore it, while his personal diplomacy becomes increasingly self-serving and leaves the counterparts, like the King of Jordan Abdullah II, puzzled about what Russia really stands for (RIA-Novosti, February 15). Russia's image in the West has suffered even more as McMaster asserted that the evidence of Russian interference in US elections was "incontrovertible"—and Lavrov's refusal to comment on this "hearsay" did not help (Kommersant, Newsru.com, February 19). The "hybrid" means and methods appeared to be very useful, but presently they have started to backfire badly, and unintended consequences keep piling up.
The apparent need to re-evaluate and rethink the results of Russia's resolve to engage in confrontation with the West dictates certain caution in launching new unconventional offensives. It might also be possible for Moscow to benefit quietly from multiple disagreements and general discord in trans-Atlantic relations that were evident at the Munich conference. What makes such self-restraint less plausible is the introduction of new sanctions and other delayed punishment for past malefaction. Putin is trying to avoid further quarrels, but not responding to affronts amounts in his book to showing weakness, which on the election trail, easy-walk as it is, is entirely prohibited. Events are pushing his hand, and while in international affairs subtle threats often work better than rash moves, domestic politics demands a new show of force.