Caught in Conflict: Ahiska Turks and the Russo-Ukrainian War
Publication: Eurasia Daily Monitor Volume: 19 Issue: 117
By: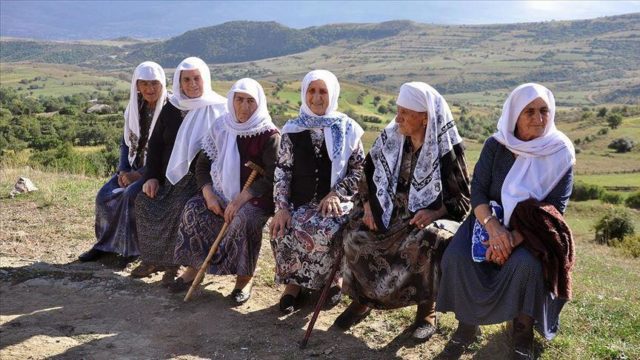 One of the seemingly forgotten but oft-victimized casualties of the Russo-Ukrainian war has been the Ahiska Turk minority residing in Ukraine and Russia alike. The Ahiskas, also known as Meskhetians, are one of the most persecuted minorities in history and were deported en masse by Joseph Stalin in 1944 from present-day Georgia to Uzbekistan. In 1989, they were the victims of pogroms from Uzbek nationalists and relocated throughout the Soviet Union. While in many regions of Russia their stay was tolerable, in southern Krasnodar Krai, the Ahiskas were denied residency rights (and thus access to social services) as well as being subject to periodic violence from Cossack militias (Richard Arnold, Russian Nationalism and Ethnic Violence: Symbolic Violence, Lynching, Pogrom, and Massacre, 2016). The persecution led, once again, to a deportation, this time to the United States under a 2004–2006 visa waiver program initiated by the US Department of State. One of the Ahiskas' new homes became the city of Dayton, Ohio, where an Ahiska Turk cultural center now serves some 10,000 Ahiska refugees. And the war in Ukraine looks set to increase that number greatly.
To begin with, Ahiska Turks in Ukraine have been right in the middle of the fighting. A report from 2015 puts the number of Ahiska Turks in Ukraine at 8,200 (Pakistan Defence, April 22, 2015), and a petition started by the Ahiska Turks in America after the war began claims 11,000 still live there (Change.org, accessed August 1) The greatest number of families before the war lived in Kherson, Mykolaiv, Odessa, Kharkiv, Poltava, Zaporozhe, Kyiv, Sumy and Donetsk regions. The Turks found themselves, therefore, quite literally in the direct line of fire.
Before the war broke out, evidence suggests that the Ahiska Turks felt welcome in Ukraine with few cases of discrimination on the grounds of religion or ethnicity. (See, for example, Olesa Yamenchuk, "In a Race Against War" in Ukrainian Voices: Stories of Ukrainian Diversity, 2020.) The international organization now representing the Ahiska Turks is called Datub, and, in an interview with the Ukrainian leader of Datub, Murat Rasulov, he testified to the experiences of Ahiska Turks during the invasion and occupation. Rasulov was in Kyiv when the war broke out and moved to Kherson when the Russian assault on the capital stopped. He recalled family members telling him of looting by Russian soldiers, but he experienced no additional harassment on account of his ethnicity. Ahiska Turks have also been involved in dissuading people from joining the war, such as the eight elders calling on Russian Muslims not to fight (UNIAN, April 22).
In the Russian Federation, the situation has been quite different. In 2006, an estimated 75,000 Ahiska Turks still lived in Russia, although this number may be higher due to the fact that some Ahiskas were registered as Azerbaijanis or Kurds (Swedlow, "Understanding Post-Soviet Ethnic Discrimination and the Effective Use of Resettlement: The Case of the Ahiska Turks of Krasnodar Kray" California Law Review, 2006). As of 2006, 28,500 Ahiska Turks resided in Rostov Oblast, 7,500 in Stavropol, 5,425 in Krasnodar, 4,000 in Voronezh and 3,100 in Kalmykia (see EDM, November 27, 2013).
In July 2022, this analyst traveled to meet with refugees from Russia, of whom a substantial number now reside in Dayton itself, to hear stories about the treatment of Ahiska Turks in Russia. Refugees described pre-war discrimination as mainly involving bureaucratic obstacles not being moved without a bribe. They discussed situations of discrimination in healthcare, especially for pregnant mothers, in which doctors delivered substandard service to them because they were non-Russians. Problems with law enforcement persisted; crimes against Ahiskas would go unpunished (in every region), and one woman reported that she was afraid to leave her house when her husband was away working in Moscow. In education, Ahiska children were segregated from the rest of the class and discouraged from continuing beyond the 10thgrade. In employment, many Ahiska Turks made their living driving or doing manual labor and sometimes were cheated by employers. All in all, the absence of a homeland republic for Ahiskas in the Russian Federation has created a dangerous situation with no safe spaces.
After the outbreak of the war, however, noticeable changes have occurred in the treatment of the Ahiska Turks and other non-Russians. Some have reported better treatment from the authorities, who have tried to encourage them to join the Russian army. The army is disproportionately constituted of non-Russian ethnic minorities so this makes sense, but the authorities' cavalier attitudes toward the lives of the "meat" means that conscription is unappealing (see EDM, April 19). Others, however, have reported worse treatment with lingering suspicion over the minority's proximity to Turkey, which has been an opponent of the Russian intervention in Ukraine. Many of the refugees expressed concern for their children and youth who might be called into the fighting. It remains to be seen whether the possible revival of Chechen separatism leads to even worse treatment.
Ultimately, the war has sparked a new wave of Ahiska Turk refugees to countries such as the US.  Already overloaded with Syrian refugees, Turkey is not ideally positioned to help. Therefore, more attention is needed in helping this minority find a sustainable refuge.