China's Rapid Economic and Cultural Expansion in Georgia Troubles Some in Tbilisi
Publication: Eurasia Daily Monitor Volume: 18 Issue: 153
By: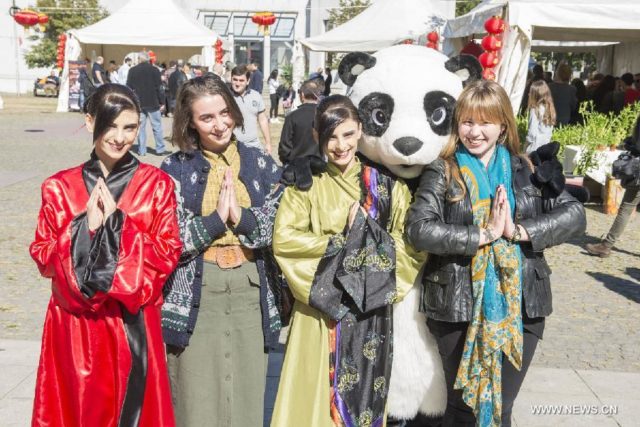 At a time when the efforts of Russia, Turkey and Iran to expand their influence in the South Caucasus have received attention internationally, the ongoing moves by China to solidify its role in Georgia have slid under the radar. Nonetheless, Georgia promises to give Beijing an important bridge to Europe as well as the means to increase its geopolitical influence in the Caucasus more generally. Indeed, Beijing's quiet approach in Georgia may gradually undermine this pivotal South Caucasus state's relationship with the West. Furthermore, Chinese activities there may eventually spill over to building up Beijing's role in resolving the Karabakh conflict and aid in the reopening of long-blocked transportation routes across the region.
Yet as China moves to increase its influence economically, culturally and politically, ever more Georgians are concerned about Beijing's muscular approach. And some of them fear that this development could threaten both Tbilisi's pursuit of membership in key Western institutions and jeopardize its ability to act independently on the international scene. These worries are now strong enough to constitute yet another factor in the political crisis Georgia currently finds itself in: one side is convinced China is providing a level of assistance that no other outside power is prepared to give, while the other argues that precisely because of its assistance, Beijing now represents a threat Tbilisi cannot afford to ignore, however profitable the relationship has been up to now.
China began pursuing a special relationship with Georgia in 1993, offering investments, trade and educational exchanges. The Chinese effort first peaked in 2018 with the establishment of a free trade zone between the two countries and the opening of two Confucius Institutes in Tbilisi. These were accompanied by plans, put on hold by the COVID-19 pandemic, to offer Chinese as a foreign language in some Georgian schools as well as scholarships for Georgian students to study in Chinese universities, a program that has gone ahead despite the coronavirus (see EDM, March 25, 2015, September 21, 2016, November 28, 2016, April 25, 2018).
Chinese trade with and investment in Georgia has grown rapidly, declining during the pandemic year of 2020 but more than recovering since then. Even during the health crisis, China continued to promote itself in Georgia, providing Tbilisi with one million doses of the Chinese vaccine produced by Sinopharm (Regnum, October 2). This year, China has become Georgia's largest trading partner, surpassing Russia and Turkey. The Georgian government has signaled that it hopes this trend will continue, especially because, even more than with Russia and Turkey, trade with China involves the export of goods produced in Georgia and not simply the transit of goods from third countries (Trend.az, August 5, September 22, October 7; Fta.mofcom.gov.cn, January 1, 2018).
China has also invested massively in Georgia, putting some $705 million into the country's economy primarily, but not exclusively, for transportation projects like railways, ports and highways. Each of these projects will help Georgia at least in the short run but fit within Beijing's long-term Belt and Road Initiative (also referred to as the One Belt One Road project) (Mfa.gov.ge, accessed October 7; EurasiaNet, September 23). And Beijing has sought to promote Chinese culture and Chinese political views by organizing visits to China for Georgian journalists and even providing scholarships for some to study at Chinese universities.
This latter effort has had mixed results. Dzhemal Putkaradze, the director of the branch of the Chinese Academy of Social Sciences at the Georgia Technical University, for example, has written a series of puff pieces about China and its positive role in Georgia and the South Caucasus (China Daily, June 18). But so heavy-handed have the Chinese been—not only in demanding virtual extraterritoriality for their own personnel in Georgia but also in promoting the Chinese geo-economic vision without much regard to Georgian interests—that Beijing's efforts in Georgia are beginning to backfire.
A year ago, Tinatin Khidasheli, a former Georgian defense minister, published a report with the Tbilisi-based analytical center Civic IDEA, finding that what the Chinese have been doing is extremely troubling as far as Georgia's national security is concerned. In the study, he and his co-author, Ani Kintsurashvili, argue that Georgia is at risk of becoming economically dependent on China, reduced to a pawn in Beijing's games against the West. The report urges Tbilisi to be cautious lest that happen (EurasiaNet, September 23).
Now, a vastly more critical assessment has appeared, authored by someone the Chinese had sought to recruit via the educational exchange. Gvantsa Chachanidze, currently at the Georgian Foundation for Strategic and International Studies, studied in China in 2018–2019. But her experience there left her with the conviction that China is concerned only with promoting its own interests and that its dealings with Georgia, however welcome they may be in specific cases, represent a dangerous opening. She claims this situation is already occurring in Central Asian countries (see EDM, May 15, 2020 and March 25, 2021). Chachanidze is primarily concerned that Chinese security personnel will be inserted into Georgia and Georgian security compromised (Gfsis.org, 2021).
Chachanidze says that Georgian officials, however much they want Chinese trade and investment, should consider carefully what China has been doing under the cover of economic activity in Central Asia. There, she writes, China is already converting economic influence into geo-strategic control through the use of private military and security companies—something that could happen to Georgia in the future given Beijing's vision of the South Caucasus as one of its main gateways to Europe. If Tbilisi fails to recognize that Beijing's promises of economic help conceal its desire to dominate Georgia for trade and more, Georgia will be the loser. Chachanidze's words are unlikely to be welcome, but they certainly add to the debate about what her country should do next.