China and Georgia Deepen Transit Cooperation
Publication: Eurasia Daily Monitor Volume: 15 Issue: 63
By: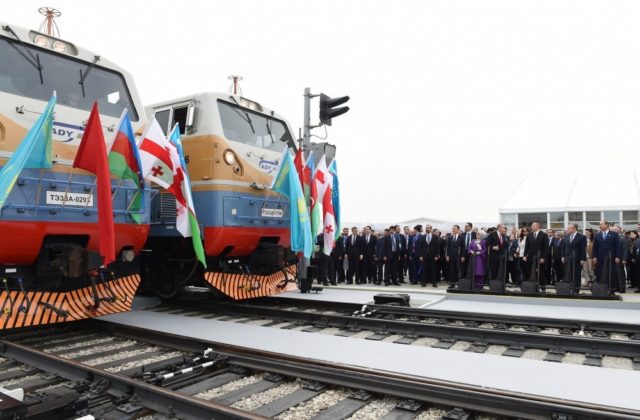 On April 12, Georgia's Economy Minister Dimitry Kumsishvili, along with three other high-level Georgian officials, participated in a joint People's Bank of China–International Monetary Fund conference on China's Belt and Road Initiative (BRI), in Beijing. During the conference, Kumsishvili and Chinese Minister of Transport Li Xiaopeng talked about the Trans-Caspian International Transport Corridor (TITR), after which Kumsishvili announced that China had agreed to help Georgia develop its portion of the TITR—considered the BRI's "middle corridor" (Vestnik Kavkaza, April 13). The development was the result of intensive Georgian-Chinese trade negotiations, which began in earnest slightly more than two years ago (see EDM, September 21, 2016).
The TITR agreement builds upon previous negotiations between China and Georgia on a Free Trade Area (FTA), which began in Tbilisi, Georgia, on February 22, 2016. Emphasizing the rising importance of his country's growing trade with China, Georgia's chief negotiator and the deputy minister of economy and sustainable development, Genadi Arveladze, said at the outset of the discussions, "China has become our fourth-largest trading partner and one of the fastest increasing export destinations for Georgia in 2015" (Xinhua, February 22, 2016) At the time the talks opened, China had become Georgia's second-largest source of imports (Xinhua, December 10, 2015).
Georgia and China subsequently signed the FTA on May 13, 2017, which became operational on January 1 (Agenda.ge, May 13, 2017; see EDM, June 26, 2017). Under the terms of the FTA, Georgia immediately ceased applying tariffs on 96.5 percent of Chinese imports. Moreover, 90.9 percent of Chinese imports from Georgia are exempted from tariffs immediately, and another 3 percent will be exempted from tariffs within the next five years (Xinhua, May 15, 2017).
The more recent TITR deal is strategically significant for both countries. It will allow Georgia to further position itself as a key player in the evolving Eurasian transport network, while providing China with increased opportunities to access European markets via a previously underutilized transport vector. Notably, Georgia was the first country in the region to reach such an agreement with China. Additionally, Georgia has signed FTAs with a number of former Soviet countries, including Ukraine, Belarus, Moldova, Kazakhstan, Kyrgyzstan, Tajikistan, Uzbekistan, Turkmenistan, Azerbaijan and Armenia, as well as a free trade agreement with Turkey and a Deep and Comprehensive Free Trade Area (DCFTA) with the European Union. This gives China significant market entry into the post-Soviet space and beyond (Investingeorgia.org, accessed April 24).
It is evident that the TITR will increase both bilateral and transit trade between the two. According to Georgia's National Statistics Office, in 2016 Georgia's bilateral trade with China increased to $717 million, with Georgian exports rising by 30 percent over 2015 levels to $170 million; while imports decreased by 7 percent the previous year to $547 million (Civil Georgia, May 14, 2017). In 2017, Georgia's bilateral trade with China rose to $939 million, with Georgian exports to China worth $207 million and Chinese imports to Georgia worth $732 million (Civil Georgia, January 22, 2018).
Bilateral transport relations already have a basis for expansion: on December 13, 2015, the first container train from China's east-coast port of Lianyungang arrived in Tbilisi en route to Istanbul (Civil Georgia, December 13, 2015). Twenty-one containers of consumer electronic from South Korea were sent by sea to Lianyungang, where, on November 29, it was offloaded onto a train traveling westward to Kazakhstan; the cargo was then ferried across the Caspian to Azerbaijan and then headed again by rail to Georgia, from where the cargo was shipped by sea to Istanbul. Adding to the allure for China of Georgia as a railway transit hub is the completion of the Baku–Tbilisi–Kars (BTK) railway, which became operational on October 30, 2017. The BTK railroad forms an important overland link between central Eurasia and Europe via Turkey.
The TITR agreement is yet another example of China's use of economic incentives to strengthen its presence in both Europe and, more significantly, Russia's post-Soviet neighborhood. Beijing's low-key approach is an essential element in its largely overlooked broader regional policy—that is, working with any receptive country interested in expanding economic relations and avoiding disputes with contending parties while maintaining an evenhanded approach to the "frozen" conflicts littering Eurasia. As for the future, in February one of China's largest companies, the China Railway International Group, evinced interest in investing in Georgia's Black Sea Anaklia Deep Sea Port project, despite its proximity to Russian-occupied Abkhazia. (Agenda.ge, February 8, 2018).
The changes affecting Eurasian geopolitics and trade have been startlingly fast. Indeed, when President Xi Jinping announced his expansive Silk Road Economic Belt and 21st Century Maritime Silk Road (later to be known as the Belt and Road Initiative, or BRI) in 2013, he did not even mention Georgia. But just five years later, this South Caucasus republic occupies a unique position in Eurasia, along developing transcontinental trade routes, and has negotiated free trade deals with both China and the EU.
Given the immense disparities between the two countries' economies, it is evident that a lopsided patron-client relationship is developing between George and China (see EDM, June 26, 2017). And yet, the former tellingly sees the latter not only as a regional stabilizing factor, but a potential positive influence on its frequently tense relations with Russia. Georgia has two unresolved "frozen" conflicts with its giant northern neighbor, as Moscow-backed rebels and Russian military forces continue to occupy South Ossetia and Abkhazia. However, if Georgia's strategic position leads to its becoming a major Eurasian transit hub for China's BRI, China could become a de facto, if largely understated, guarantor of Georgia's stability. China's geographic distance from the Caucasus will largely preclude it from being perceived by Georgia's neighbors as a security concern in the foreseeable future, although China's close relationship with Russia (see EDM, April 18, 2018) could serve as an ameliorating influence on Moscow's Georgian policies. For Tbilisi, it is an enticing diplomatic and economically profitable prospect, which Moscow is largely powerless to influence for the foreseeable future.