Toward a More Perfect Alliance: Russo-Chinese Ministerials in Moscow
Publication: Eurasia Daily Monitor Volume: 15 Issue: 59
By: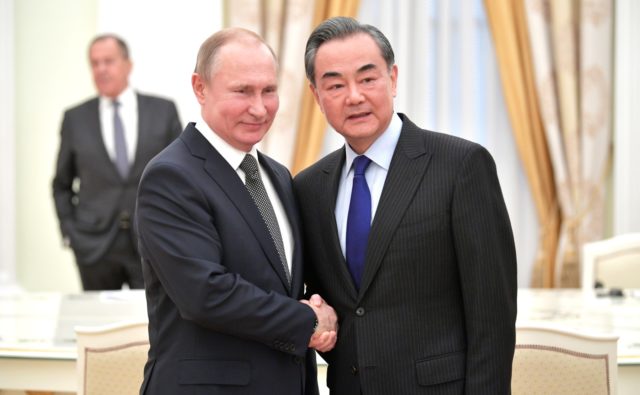 Though most Western scholars do not believe that a real Russo-Chinese alliance actually exists, the arguments of Russian experts and the results of the recent bilateral ministerial meetings of the two countries' foreign and defense ministries (both held on April 5, in Moscow) suggest otherwise. Sergei Karaganov, one of Russia's leading foreign policy authorities and an unofficial spokesperson for the regime, has already said that Russia and China are quasi-allies (Globalaffairs.ru, March 7). And the tangible public results of the aforementioned ministerial meetings also point in this direction. At the very least, they highlight growing policy coordination on international security issues. Nor are such bilateral visits unusual affairs at this point. Indeed, the quantity and scope of inter-governmental exchanges across a broad range of issues increasingly characterizes Sino-Russian relations, as do summits between Presidents Vladimir Putin and Xi Jinping. This process has been deepening and growing for at least a decade.
Both the extent of bilateral collaboration across a series of issues and the critical mass of these relations are becoming ever more evident. In economics, China is Russia's largest trading partner and, since the advent of sanctions, its main source of foreign investment (see EDM, March 29). In return, China has gained ever-greater access to Russia's energy assets that were previously off limits to Beijing. Projects like the "Power of Siberia" natural gas pipeline (Nezavisimaya Gazeta, March 28) are taking shape; this pipeline will apparently be ready to open in 2019. Also visible is enhanced Sino-Russian cooperation in the Arctic (see EDM, April 7, 2017)—again particularly in the energy sector, which, not so long ago, was closed to China. Similar trends can be discerned in foreign affairs and defense policies.
While in Moscow earlier this month, Chinese Foreign Minister Wang Yi said that bilateral relations with Russia were the best they have ever been. He added that Vladimir Putin's leadership will continue to accrue successes and the rejuvenation of Russia, and that Beijing will support "Russia's efforts to safeguard its own rightful and legitimate interests and play a bigger role in international and regional affairs" (Xinhua, April 5). Wang also cited the need for both states to strengthen coordination and communication. In his meetings with Foreign Minister Lavrov and President Putin, Wang cited the need to coordinate on important regional and global issues, help safeguard each other's interests, and support each other in assuming a greater role on the world stage (Fmprc.gov.cn, April 5). Putin, as paraphrased by the Chinese foreign ministry, alluded to their comprehensive strategic partnership, suggesting it is not an act of expedience but came about out of deliberate decisions made by both parties (Fmprc.gov.cn, April 5). Finally, the Russian president reportedly argued that global conditions need the strengthening of both parties if there is to be progress. This coordination was not merely a matter of rhetoric: both sides converged on their approaches to Pyongyang and regarding the questions surrounding the upcoming summit between the leaders of the United States and North Korea (Mirperemen.net, April 5).
China's Defense Minister Wei Fenghe, who also spent time in the Russian capital at the beginning of April, declared that defense cooperation between both states should continue to grow (Mod.gov.cn, April 5). Moreover, he explicitly stated that he visited Moscow to show Chinese support for Russia against the United States and to send Washington a signal to that effect (TASS, April 3). Such signals have been ever more frequent as of late. Illustratively, a couple of weeks later, China announced that it will stage live-fire naval drills off the coast of Taiwan, both to warn Taiwan and show support for Russia (South China Morning Post, April 12). These declarations came on the heels of stagnation in Russo-Japanese relations (see EDM, May 3, 2017) and visible signs of Moscow's progressive shift toward backing Beijing's position with regard to territorial disputes in the South China Sea (CCTV, June 24, 2016).
Experts have long derided the Russo-Chinese relationship as a marriage of convenience and postulated that divergent interests would sooner or later lead to this partnership's dissolution. But many prominent Russian foreign policy observers note that Chinese experts are increasingly calling for a real bilateral "alliance." Likewise, in the past, Putin, Lavrov, and Defense Minister Sergei Shoigu have all used that term to describe the Sino-Russian relationship, which continues to officially be labeled a "comprehensive strategic partnership." But as Lavrov has pointed out in the past, contemporary alliances do not need to be binding (Mid.ru, January 15, 2018); and neither Beijing nor Moscow will likely accept being bound by a traditional alliance. Nevertheless, the evidence of some form of alliance is becoming ever more apparent and overt. Thus, the burden of proof will now arguably shift to those who continue to insist no such alliance will ever come about. To judge from the tone of April's bilateral foreign and defense ministerials, Russian and Chinese officials do not read Western academics and have, in fact, set their course on forging a united anti-Western bloc.
Russian officials and experts habitually raise the threat that if the US does not respond to Russian overtures or agree to enter into negotiations on Moscow's terms, then Russia will have no choice but to formalize an alliance with China—even though that type of close relationship already seems to be well in place. Such threats—"be my friend or interlocutor or else I will threaten you"—typify Russian diplomacy. Countering Russian and Chinese threats will, thus, require something more than academic theorizing.