Russian-Chinese Joint Ventures in Russia's Far East, Arctic
Publication: Eurasia Daily Monitor Volume: 14 Issue: 48
By: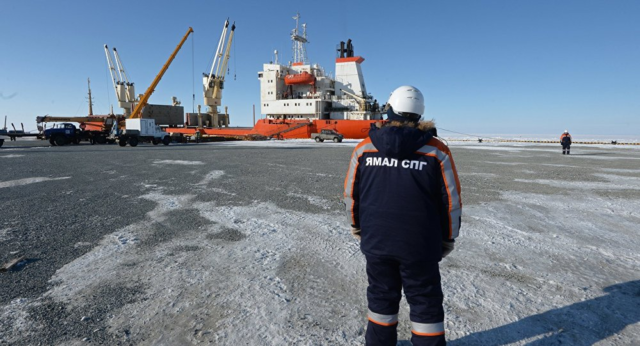 Since 2001, Russian-Chinese relations have been largely grounded in security issues, both military and economic. The former is a shared perception of an increasingly aggressive United States and, in the case of Russia, concerns over the North Atlantic Treaty Organization's (NATO) deployments on the periphery of both countries. In the economic sphere, the defining element is China's rising interest in Russian energy exports. These twin issues will dominate Russian-Chinese relations for the foreseeable future and—given the geographical distances involved—focus increasingly on Russia's Far East and the opening up of the Russian Arctic. Russia's commitment to building up its Arctic infrastructure, as well as China's interest in this pursuit, was illustrated by the arrival, on March 30, of Sovcomflot's $300 million Kristof de Marzheri liquefied natural gas (LNG) tanker at the Kara Sea port of Sabetta, on the Yamal Peninsula (Komsomolskaya Pravda, April 2; see EDM, March 29).
China is heavily invested in the development of Novatek's $27 billion Yamal LNG plant at Sabetta. Last year, Yamal LNG signed agreements, in Beijing, with the Export-Import Bank of China and the Development Bank of China for providing about $11.2 billion for a period of 15 years to build the LNG plant. This liquefied natural gas facility's output will be exported from Sabetta, a port custom-built for that purpose (RBK, April 29 2016).
The deepening relationship between the world's largest country and the world's second-largest economy dates back to July 16, 2001, when Russia and China signed the Treaty for Good Neighborliness, Friendship and Cooperation, the first such agreement between these two neighboring states since 1950. The most important elements of the 2001 Russia-China treaty covered cooperation on border demarcation, coordinated efforts to resist a perceived US drive toward global hegemony, arms sales, technology transfers, energy and raw materials sales, as well as joint efforts to combat the rise of militant Islam in Central Asia (Rossiyskaya Gazeta, March 20, 2009).
In the 15 years since the agreement was signed, significant progress has been made in all areas. During the period 2004–2012, foreign direct investment (FDI) by Chinese companies in Russia increased by a striking 40 times, to reach $4.9 billion (Xinhua, October 22, 2012). And in 2016, bilateral trade between China and Russia reached $69.5 billion, an amount that authorities hope to increase to $200 billion by 2020 (Russian.china.org.cn, February 20, 2017).
An integral element in increasing bilateral trade will be the increased maritime transit of goods and hydrocarbon resources by developing Russia's merchant marine infrastructure. Sovcomflot intends to buy 15 LNG tankers in total to export Yamal natural gas. Given the importance of Asian markets to these energy exports, upgrading Russia's Far East maritime infrastructure has become a high priority for President Vladimir Putin's government. And today, the Yamal LNG development epitomizes a new development opportunity benefiting both countries (see EDM, March 29).
In March 2016, Russia began the total reconstruction of the Zvezda shipyard in Bolshoi Kamen Bay, Primorsky Krai, originally built in the 1950s. It will be the largest civil shipyard in Russia as well as a base for offshore equipment manufacturing and development. The shipyard will produce ships up to 350,000 tons, offshore platform infrastructure, reinforced ice-class vessels and other types of marine equipment. When Zvezda is fully operational, it will reportedly employ 6,500 workers (Dcss.ru, accessed April 7).
The Zvezda facility will complement the Far Eastern Shipbuilding and Ship Repair Center (FESRC), currently the Far Eastern Federal District's main facility for constructing and overhauling seagoing vessels (Dcss.ru, accessed April 7). As with Yamal, Russia is interested in possible Chinese participation. Last August, Russian ambassador to China Andrei Denisov said, "We are proposing to our Chinese colleagues to contribute to the development of our shipbuilding in Russia's Far East. We are interested in attracting Chinese partners. If the Chinese side expresses interest in the reconstruction and modernization of production at the Russian Zvezda shipyard, then we will consider options, whether it would be investments or the purchase of a stake" (Sputnik News, August 8, 2016).
Clouding this rosy picture, however, is the fact that while the Far East is already Russia's least densely populated region, Russians have continued to leave the area in search of more opportunities in other parts of the country. A 2012 poll by the All-Russian Center of Public Opinion found that almost 40 percent of the inhabitants of the Far East and Siberia were considering the possibility of leaving, citing low salaries (44 percent of respondents) and lack of career prospects (36 percent). Of those who wanted to migrate, 57 percent want to move to another Russian city (Vostok-Media, July 13, 2012).
Russian President Vladimir Putin has identified stopping the regional population outflow from the Far East to be a "key" task for the country. On September 1, 2016, he met with Vladivostok high school students on the eve of the 2nd Eastern Economic Forum and told them that his administration intended to retain and attract people to the region through an effective system of training young specialists (Kremlin.ru, September 1, 2016). Later that day, he visited the Zvezda construction site, thus highlighting the project's political importance to the Kremlin.
Chinese interest in security for its energy imports will become an increasingly important factor in its relations with Russia. Moscow, in turn, will likely use that Chinese interest to bolster its Arctic development as well as its infrastructure investments in the Far East, particularly its maritime infrastructure. But whether Putin's administration can convince Eastern Siberia's population to participate in the region's renewal remains to be seen.