Despite Sanctions, Russia Presses Development of Arctic Energy Reserves
Publication: Eurasia Daily Monitor Volume: 14 Issue: 43
By: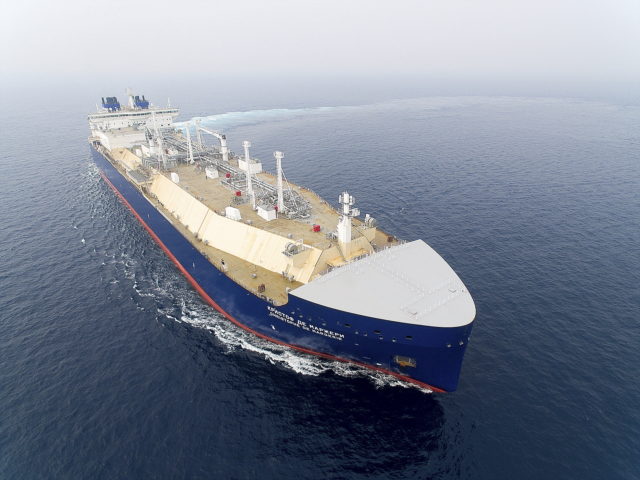 The director of the Russian transport ministry's Department of Maritime and River Transportation, Vitalii Klyuyev, spoke, on March 24, at the "LNG [liquefied natural gas] Bunkering Market as an Alternative" conference, in St. Petersburg. Klyuyev told participants that the world's first LNG tanker specifically constructed for year-round Arctic operations, Sovcomflot's $300 million Kristof de Marzheri, is scheduled to dock within days at the Kara Sea port of Sabetta, on the Yamal peninsula. Sabetta is the site of a massive LNG project owned by Novatek, Russia's largest independent natural gas producer (Tks.ru, March 24).
After the Kristof de Marzheri completes its sea trials along the Northern Sea Route (NSR—the Arctic east­–west maritime passage that hugs Russia's northern coast), Sovcomflot intends to purchase additional tankers for transporting Novatek's LNG exports. LNG tankers cost over three times more than a conventional oil tanker, and the Kristof de Marzheri's Arctic modifications required still more investment. Thus, this vessel's deployment is testament to the Russian government's determination to develop its Arctic onshore and offshore hydrocarbon reserves, despite both the United States and the European Union imposing sanctions two years ago, many of which targeted specific technologies needed for this development.
Given their remoteness and harsh environmental conditions, transport by sea is an attractive option for most of Russia's Arctic hydrocarbon deposits, particularly for LNG exports, which cannot be transported by pipeline. In 2011, the company Gazprom Neft initiated feasibility studies regarding the potential for exporting LNG from the Yamal-Nenets Autonomous Region by sea (Pravda, February 25, 2015). Once the studies proved that maritime LNG exports from Yamal were possible, Sovcomflot commissioned South Korean shipbuilder Daewoo Shipbuilding Marine Engineering (DSME), the fourth largest shipbuilder in the world, to construct the world's first LNG tanker specifically designed to operate in the harsh Arctic conditions. DSME's 172,600-cubic-meter Kristof de Marzheri, an Arc7 ice class vessel according to the Russian Maritime Register of Shipping (RMRS), will be able to navigate in ice fields of up to 6.8 feet (2.1 meters) thick (Korea.net, July 23, 2014).
The Yamal developments underline the Russian government's long-term efforts to develop its Arctic hydrocarbon reserves, which have been negatively impacted by both low global hydrocarbon prices and Western sanctions imposed after Moscow's illegal annexation of Crimea in early 2014.
On September 12, 2014, the United States and the European Union imposed additional sanctions on Russia based on its continued aggression against Ukraine; these forbade EU and US companies from helping Russia extract oil from Arctic, shale or offshore fields. The expanded US sanctions were explicit: "Treasury has also imposed sanctions that prohibit the exportation of goods, services (not including financial services), or technology in support of exploration or production for Russian deepwater, Arctic offshore, or shale projects that have the potential to produce oil, to five Russian energy companies—Gazprom, Gazprom Neft, Lukoil, Surgutneftegas, and Rosneft—involved in these types of projects" (Treasury.gov, September 12, 2014).
While onshore Yamal LNG operations were unaffected by the new Western sanctions, they had an immediate effect on a massive joint Exxon-Rosneft joint drilling venture, the $700 million Universitetskaia-1 offshore well in the Kara Sea. The project's operations were suspended (The Barents Observer, September 30, 2014).
Given the importance of hydrocarbon exports to the Russian economy, however, the government continued development of new oil and gas fields in spite of Western displeasure; Arctic reserves, in particular, have become a high priority. And clearly, foreign sanctions have, at best, only slowed Russia's offshore development. Beyond the commissioning of the Kristof de Marzheri, Minister of Natural Resources Sergei Donskoi announced, on March 27, 2017, that the state oil company Rosneft will, this year, quadruple its spending on offshore shelf exploration to 43 billion rubles ($754 million), four times more than in 2016. Gazprom will also intensify its offshore exploration, increasing its spending in 2017 to 37.8 billion rubles ($663 million). Rosneft now has 53 offshore licenses and Gazprom has 41, the majority of which are in Arctic waters (TASS, March 28).
DSME has a further 14 Arctic-hardened LNG carriers on order, all contracted to serve the Yamal project. In the wake of the Kristof de Marzheri proving its feasibility along the Northern Sea Route (NSR), Sovcomflot announced plans to obtain a fleet of 15 tankers in all for transmitting Novatek's LNG exports (Sovcomflot.ru, accessed March 28).
In conjunction with the development of the NSR, the Russian military is increasing its Arctic presence (see EDM, December 3, 2014; September 21, 2015; November 6, 2015; April 13, 2016; November 1, 2016), in turn eliciting increased interest from other polar countries, particularly North Atlantic Treaty Organization (NATO) members the United States, Canada, Norway, Iceland and Denmark. According to the US Navy Arctic Roadmap 2014–2030, conflicts are possible in the region. And the document outlines tasks to maintain US dominance in the Arctic (Navy.mil, February 2014). For the US, as the Arctic's waters open, the 51-mile wide Bering Strait, where Russian and US territorial waters intersect, will have increased strategic importance as a maritime chokepoint for surface and submarine vessels entering and departing the polar region. For Russia, meanwhile, the Bering Strait has special strategic significance because it allows it to connect its Asian and European naval forces via internal waters. And from an economic standpoint, as the NSR's Pacific entryway, the Bering Strait has the potential to become increasingly important for seaborne commercial trade between Europe and Asia.
Given the importance of energy exports to the Russian economy, its government is committed to massive long-term investment in the sector, as the expansion of Sovcomflot's maritime fleet with cutting-edge LNG tankers proves. Beyond military confrontation, the possibility for economic cooperation with other Arctic nations exists in the form of the eight-nation Arctic Council. On February 7–8 the Arctic Economic Council, established in 2014 under the auspices of the Arctic Council, held its first meeting in St. Petersburg, hosted by Sovcomflot (Sovcomflot.ru, March 2017). It remains to be seen to whether commerce will trump conflict in the Great White North.