Russia's New Arctic Base Continue the Militarization of the High North
Publication: Eurasia Daily Monitor Volume: 12 Issue: 202
By: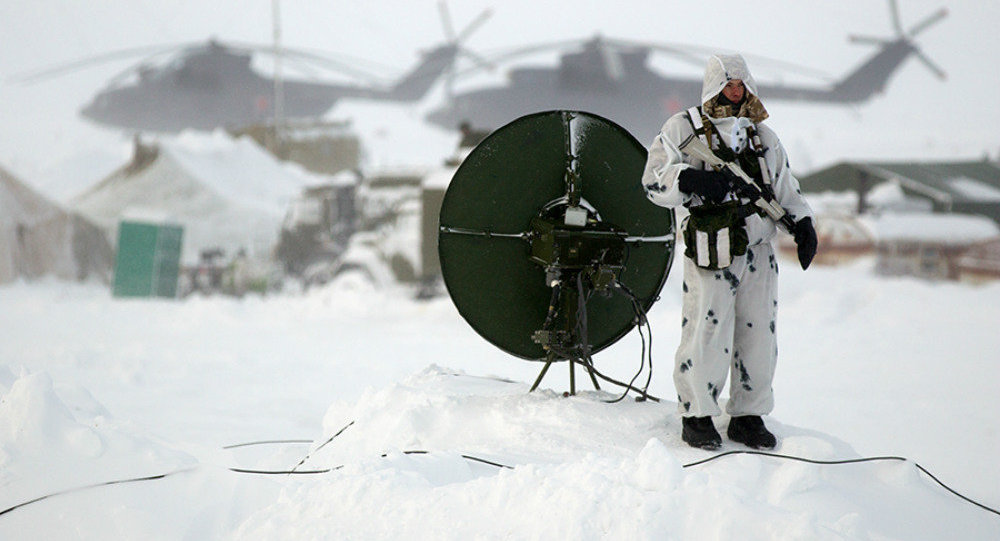 On October 22, Defense Minister Sergei Shoigu announced the creation of a new Russian military base in the Arctic. This base will be located either on the Novosibirsk Islands or on Franz Joseph Land, and it will allow for 150 troops to live continuously on its grounds for at least a year. In addition to this facility, Russia is building a series of other military bases in the Arctic and North Pacific. Shoigu also announced that Moscow will open a slightly smaller base on Wrangel Island; furthermore, there will be bases on Cape Schmidt, the eastern coast of the Chukchi autonomous region and on the Kurile Islands (Interfax, October 23; see EDM, October 28). Besides these new bases, Moscow is also renovating six Soviet-era air bases in the region. This process was foretold, in 2014, by the announcement that Russia would build ten new air bases in the Arctic in 2015, and 50 by 2020 (Sputnik News, January 13, 2015; TASS, August 11, 2014). And these military facilities were also mandated by the 2015 Maritime Doctrine (see EDM, August 11).
The base building and renovation process extends and continues the overall militarization of the Arctic region, which has become an increasingly prominent part of Russia's overall security policy. Notably, Moscow is developing specially optimized weapons for the Arctic, like the Mi-38 utility helicopter (Interfax, October 13). And the Russian military is continuing to conduct Arctic exercises, such as its recent North Fleet air defense exercise in mid-September (TASS, September 17; RIA Novosti, October 9).
But this continuing militarization highlights a certain paradox in Moscow's approach. Clearly, the Arctic military bases and all the other elements of this militarization are intimately connected to the development of Russia's energy infrastructure, inasmuch as an estimated 20 percent of Russia's GDP originates north of the Arctic Circle. Moreover, recent press accounts claim that the Arctic may hold up to 100 billion tons of oil and gas, although exploration is continuing (Sputnik News, October 12). As a result of such optimistic economic development prospects, Moscow's threat assessments concerning the Arctic have steadily become more pronounced and alarmist. Yet, to date, no Western power has even remotely expressed the intention (let alone the desire) or demonstrated the capability to threaten Russia's position in the Arctic. Thus, Russia's defense objectives, tactics and capabilities in the High North are increasingly inspiring unprecedentedly open expressions of mounting concern from Western governments (Regjeringen.no, October 8).
Russian rhetoric about Western threats notwithstanding, much of Russia's military construction in the High North more likely appears designed to counter or deter suspected growing threats from China. This interpretation seems particularly plausible given the location of these bases, including those in the Kuriles. Yet, due to the West's sanctions, Russia is becoming increasingly beholden to China for the investment necessary to sustain the ongoing construction of energy infrastructure in the Arctic (Novatek.ru, September 3).
Nor is China the only Asian partner whose help Moscow is soliciting. Russia has proposed to India a project of joint mining for minerals and energy in the Arctic—one of many such offers already made to the South Asian country (Hindustan Times, December 9, 2014). Similarly, in 2012, Russia and Vietnam agreed to cooperate in exploring for oil in each other's continental shelf (Interfax, November 7, 2012). Yet, given stagnant energy prices and demand, the bulk of this investment is not coming in and projects have been suspended or postponed. Thus, the militarization of the Russian Arctic is occurring while the region's energy production value has yet to justify this massive investment—although a future recovery of energy prices could reverse this situation.
These unreconciled contradictions mean that Russia is carrying out a huge and expensive Arctic military buildup that alienates or raises the suspicions of all its neighbors at the very same time as Moscow is soliciting these neighbors for money to fund regional projects that will be unable to justify such high investment for years to come. Indeed, whatever Russia's motivations may be to do so, the building of a military base on the disputed Kurile Islands—which Tokyo claims territorial sovereignty over—ensures that Japan will not invest in Russian energy projects, whether in the Arctic or elsewhere. Neither has China been entirely forthcoming with the investment capital Russia currently needs or wants. Chinese investment in Russia, as of July 2015, was 25 percent lower than in 2014—and that was before the full impact of China's stock market crash set in (Moscow Times, July 22).
Clearly Russia's Arctic policies, like so many of Moscow's other initiatives, do not fully add up and are not benefitting the country as intended. Building new military bases in the High North may allow Moscow to respond to its fears, but it will not alleviate them. Instead, it clearly creates new and different anxieties, while doing nothing to realize the bright projected potential for exploiting the Arctic's mineral and hydrocarbon riches. Sooner or later something will have to give.