Crimean Drilling Rigs Key to Russia's Energy Policy in Syria and the Eastern Mediterranean
Publication: Eurasia Daily Monitor Volume: 16 Issue: 83
By: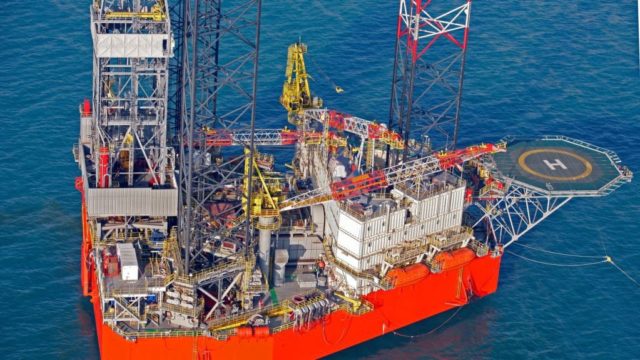 On December 29, 2018, the head of the occupying government in Crimea, Sergey Aksenov, proposed to transport Ukrainian offshore oil and natural gas drilling rigs ("nationalized" by Russia after the Crimean annexation) from the Black Sea to the Syrian coastal shelf (UAWire, December 30, 2018). Though largely dismissed in Ukraine at the time as empty rhetoric, Aksenov's proposal nevertheless provided an important window into Russian energy-sector plans for the wider region.
Russian energy policy in the Levant and Eastern Mediterranean is currently experiencing a dramatic upswing following the dramatic disruptions caused by the so-called Arab Spring. As such, Russian strategy toward the region and collaboration with the regional pro-Moscow regimes is still in the process of recovery. Russian energy companies are rushing to reenter because, while the region experienced mass protests and political spasms in 2011, several enormous hydrocarbon fields ("Leviathan fields") were discovered in the eastern part of the Mediterranean seabed—mainly, the Levantine Basin, shared by Israel, Lebanon, Egypt, Cyprus and Syria. According to the United States Geological Survey, the coastal areas near Israel, Lebanon and Syria harbor 1.7 billion barrels of recoverable oil and 3.416 trillion cubic meters (122 trillion cubic feet) of recoverable gas (Usgs.gov, March 12, 2010). However, the Arab Spring had halted all deliberations regarding the future of these fields.
International excitement about the energy prospects of the Levantine Basin again began building in recent months. On February 2019, representatives from Egypt, Israel, Greece, Cyprus, Jordan, Italy and the Palestinian Authority met in Cairo for the First Eastern Mediterranean Forum to discuss concrete and systematic plans for the East-Med pipeline (Jerusalem Post, February 15, 2019). This gas pipeline specifically promises to help undermine Russia's supply monopoly in Southeastern Europe. Moscow considers both the Forum event and the pipeline project "anti-Russian," particularly since the United States has expressed support (Bloombergquint.com, January 23 2019). Perhaps tellingly, Syria (and Lebanon) did not attend the energy discussions in Cairo.
Prior to the Arab Spring, Russian oil companies (e.g., Tatneft) operating in the Levant were restricted mostly to the Syrian mainland. But in 2013, Russian firm Soyuzneftegaz signed a 25-year, $100 million contract with the Syrian government on the development of offshore drilling in Syria's territorial waters (in an area measuring 2,190 square kilometers) (RT, December 26, 2013). Yet, by 2015, due to the intensification of the Syrian civil war, Soyuzneftegaz pulled out and transferred its exploitation rights to another Russian energy company (Reuters—Russian service, September 29, 2015). When Russian Deputy Prime Minister Dmitry Rogozin visited Syria later that year, he expressed hope that Russian warships might soon be stationed off the Syrian shore, alongside Russian drilling rigs (Vestifinance.ru, November 26, 2015).  Moreover, in 2013, Russia signed a 20-year agreement with Israel for Gazprom to purchase liquefied natural gas (LNG) from the Tamar field and for the Palestinian Autonomy to develop gas fields located on the coastal shelf of the Gaza Strip.  Whereas, in Lebanon, Russia's largest oil producer, state-owned Rosneft, took over operations of the main fuel terminal in the Levant country (Teknoblog.ru, January 25, 2019).
In 2016, the Syrian government promised Moscow that Russian energy companies would be prioritized over other international players. But Damascus has also expressed a willingness to allow firms from "friendly countries" like Iran and China to participate in the exploration of the Syrian shelf (Arabnews.ru, April 29, 2016; Neftegaz.ru, March 30, 2013). As for Western companies, President Bashar al-Assad reportedly asserted that he was not going to allow them to operate on Syrian soil (Neftegaz.ru, December 14, 2018).
Russian-Syrian cooperation in the energy sector has continued to expand over the past three years. In February 2018, Russia's Ministry of Energy signed the "Roadmap of Cooperation in the Energy Sector 2018–2019" with the Syrian Ministry of Oil. The document specifically lays out the gradual implementation of projects in Syria's Mediterranean shelf (Minenergo.gov.ru, October 4, 2018). Russian oil and gas companies began exploration activities last July (RIA Novosti, July 6, 2018).  At the same time, Russia tries to participate in other Mediterranean projects, off the coasts of Lebanon, Egypt and Israel, but together with Western companies like Total and ENI.
Compared to the other regional players, Russia may actually be in the best position to kick off oil and gas production in the Eastern Mediterranean. Notably, almost all the governments in this region are beset by deep quarrels (Turkey with Cyprus, Israel with Lebanon, etc.). Moreover, Russia currently enjoys a complete monopoly over the Syrian energy sector, and Russian companies are ready to start exploration on the Syrian coastal shelf, potentially by utilizing the Crimean hydrocarbon drilling rigs seized back in 2014. A key obstacle may be international sanctions on Syria's energy-producing sectors, introduced in 2011 and 2012. Nevertheless, Russian experts dismiss these restrictions, trusting that sufficient markets will materialize in Asia (Oilcapital.ru, February 3, 2018).
Against the background of the above developments, several key considerations are worth keeping in mind:
First, the East-Med pipeline project undermines Turkish and Russian interests by jeopardizing their plans to be crucial players in the energy sector in Europe, first of all by competing against Gazprom's TurkStream Pipeline that transits Turkish territory.
Second, Moscow's regional energy strategy is multidimensional. Russia is active in Syria, where it currently enjoys a hydrocarbon exploration and extraction monopoly on the Syrian coastal shelf. But it simultaneously seeks to join other, Western-driven energy projects in the Mediterranean Sea.
Third, Russia lacks sufficient numbers of its own (legally unencumbered) offshore drilling rigs, possessing only three, with none of them located nearby or in the Black Sea. As such, the Crimean rigs, seized five years ago from Ukraine, will be necessary to utilize if Russian firms are to exploit the oil and gas found in the Syrian portion of the Mediterranean. But first, Moscow will have to secure Ankara's assent to transport these sanctioned Crimean rigs through the Turkish Straits.
Fourth, whatever oil and gas Russian companies may begin to produce in Syrian waters will be under Western sanctions. Thus, in all likelihood, Syria may initially consume all these extracted energy resources to help restore and develop its post-war economy or to supply the locally based Russian military and naval presence.
Finally, as Russia continues to build up the notion of itself as a regional "powerbroker" and "stakeholder," it may increasingly pressure local players to accepting that without Moscow's involvement (as a gas supplier or otherwise) the East-Med pipeline has no future: the only option is to "let Russia in."