Crucial Week in Putin's Pseudo-War Starts With a Bang, a Feint and a Flop
Publication: Eurasia Daily Monitor Volume: 19 Issue: 22
By: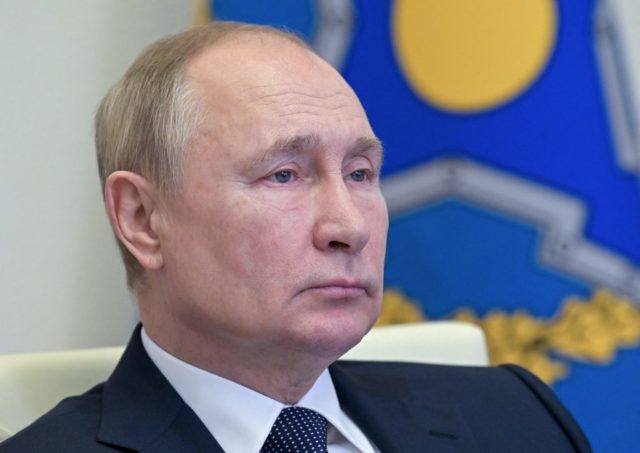 The protracted escalation of the crisis encompassing Europe, from the Eastern Mediterranean to the Arctic but centered on Ukraine and driven entirely by Russia's threats, has reached its inescapable culmination. President Vladimir Putin sought to sustain the military pressure on Kyiv and the West for as long as possible, but his troops could continue invasion-simulation exercises and stay in winter camps for only so long; thus, the last week in February marks the watershed, from which two steep slopes lead either to the eruption of hostilities or to a discharge of tensions. Last Tuesday (February 15), Putin claimed the beginning of a "partial" drawdown of forward echelons, and the Russian mainstream media delivered plenty of curated details about, for instance, Russian soldiers supposedly crossing the Kerch Strait bridge eastward, from Crimea to the North Caucasus. But in fact, the redeployments amounted to final preparations for a massive offensive on Ukraine from every possible land and sea direction (Izvestia, February 16). The spike in tensions peaked on Monday (February 21), with the obviously staged ceremony of discussion and then formal recognition of the so-called Donetsk and Luhansk "people's republics" (Kommersant, February 22).
Adding a new dimension to the protracted demonstration of power was this Saturday's massive exercise of Russian strategic forces, involving launches of land- and sea-based intercontinental missiles as well combat missions performed by long-range bombers (RIA Novosti, February 19). Non-strategic platforms, such as the Iskander short-range ballistic missile, were also involved in this exercise; while MiG-31K aircraft, taking off from the Khmeimim airbase in Syria, demonstrated the launch of the new hypersonic Kh-47M2 Kinzhal missiles (Izvestiya, February 19). Putin monitored the exercise in the Kremlin together with his Belarusian counterpart, President Alyaksandr Lukashenka, with no one else in the situation room but plenty of fancy graphics on the monitors (Kremlin.ru, February 19). Lukashenka expressed great enthusiasm about giving an "asymmetric answer" to any encroachment by the North Atlantic Treaty Organization (NATO) and suggested establishing a base for Iskander missiles in Belarus (Novaya Gazeta, February 19). The joint Russian-Belarusian exercise Allied Resolve 2022 is one of the major means of building military pressure on Ukraine. And the question about withdrawing the 30,000 or so Russian troops (tired, frustrated and drunk, according to some reports) after the completion of these war games on Belarusian soil (ominously postponed from last Sunday) remains open (see EDM, February 16; RFE/RL, February 19).
The pretext for canceling the scheduled return of battalion groups to their barracks in eastern Siberia is found in the sharp increase in artillery exchanges in the Donbas war zone since last Thursday, which Russian propaganda presents as evidence of a long-prepared offensive by the Ukrainian army against the Moscow-backed separatists (Lenta.ru, February 19). The puppet leaders of the so-called republics announced the evacuation of civilians and the mobilization of all capable combatants, while Russian prosecutors have begun to investigate an alleged Ukrainian artillery shelling in Rostov-on-Don region (Republic.ru, Meduza, February 19). The poor organization of the Donbas evacuation shows that the war-planners in Moscow added this feint at the last moment, probably in response to the preventive exposure of their "false flag operations" by the United States' intelligence services (Znak.com, February 19). Russian provocations were barely camouflaged, but they sufficed to support Putin's decisive move—the deployment of Russian troops into the Donbas war zone, constituting a blatant violation of Ukrainian sovereignty, though potentially signifying a step back from a larger re-invasion (Znak.com, February 22).
Ukrainian President Volodymyr Zelenskyy, addressing the Munich Security Conference on February 19, asserted that his country would show maximum restraint in responding to armed provocations and expressed readiness to meet with Putin and make use of all available de-escalation formats (Kommersant, February 19). He condemned Russia's aggression in the strongest terms. But in fact, the Minsk agreements, which Ukraine had to sign at a moment of grave peril in 2015, have now been blatantly broken by Moscow, granting Kyiv the moral high ground and stronger support from the West (Moscow Echo, February 22). Putin opted to put an end to the dialogue with French President Emmanuel Macron, who strained to show understanding of the Kremlin's fake grievances; and the Russian leader was irritated with German Chancellor Olaf Scholz for rejecting Moscow's accusations of "genocide" in Donbas (Novaya Gazeta, February 22).
Putin's irritation informs the substance and style of Russian diplomacy today, marked by exceeding aggressiveness and asperity. So the absence of a Russian delegation in Munich was entirely expected (Izvestia, February 17). Many participants in this high-level meeting expressed hopes for a "diplomatic solution" to the military crisis. Yet Putin's decision on whether or not to launch a new large-scale invasion can probably only be altered by a convincing demonstration of NATO resolve, not by another phone call from a nervous Western leader (The Insider, February 14). The opinions of Russia's top brass and other siloviki are the only ones that matter for the fateful decision-making in the Kremlin, but their voices have been rather muted in the public space, except for some unexpected anti-war demarches (Ezhednevny Zhurnal, February 15). Continuing discussions between US Defense Secretary Lloyd Austin and Russian Defense Minister Sergei Shoigu are likely to be more impactful than the meeting between Lavrov and Secretary of State Antony Blinken, scheduled for February 24 but presently complicated by new US sanctions (Rossiyskaya Gazeta, February 18; RBC, February 22).
Two deeply held convictions have shaped Putin's management of the high-risk crisis: that the West is disunited and corrupt, and that Ukraine is an "artificial" state certain to break under pressure (Republic.ru, February 17). Both have been proven wrong: US leadership has ensured an outwardly firm common stance by NATO and the European Union (the latter is set to play a key role in imposing new sanctions), and Zelenskyy has shown remarkable courage and refused to succumb (Moscow Echo, February 19). Putin will try to test Western resolve, seeking to ensure a new summit with Biden. Yet his brinksmanship has been repeatedly upset by Washington's consistent early releases of sensitive intelligence data, which have denied Moscow the habitual advantage of surprise and put it on the defensive in the high-volume information war (Russiancouncil.ru, February 16; RIA Novosti, February 21).
The momentum of war-making has gained such inertia that Putin may miss the last possible moment to back off and find himself compelled to follow the script closely resembling Joseph Stalin's design for the Winter War against Finland in 1939 (New Times, February 20). That aggression turned out to be far more costly than expected and only partly successful, despite the huge numerical superiority. However, the Kremlin presently appears too absorbed with past victories to learn hard lessons from setbacks. Manipulating a pseudo-war may seem like an easy way to boost Putin's international profile and capture the attention of anxious Western leaders, but attempting to stabilize the crisis by taking control over the warzone could easily backfire. The war that Russia does not need and cannot afford is still preventable, but Putin is afraid to compromise.