Domestic Effects of Belarus's 'Partial Blockade'
Publication: Eurasia Daily Monitor Volume: 20 Issue: 19
By: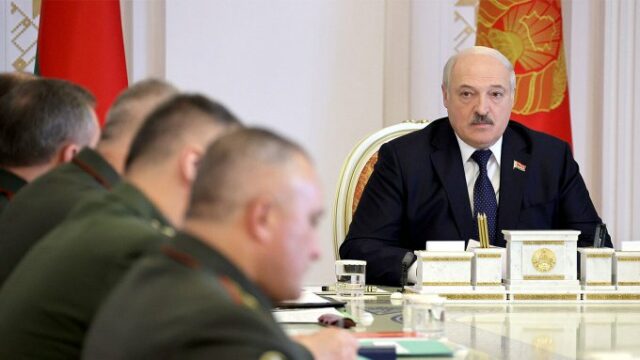 Numerous Russian media outlets (e.g., RBC, January 22) echoed the content of a recent US media report, according to which rare earth metals necessary for the production of microchips, electronics and armor-piercing ammunition are still being delivered to the European Union from China by rail. Moreover, in the first nine months of 2022, the volume of rail deliveries of these materials via Russia and Belarus increased to 36,000 tons, which is twice as much as the volume for all of 2021. Similar openings have occurred with Minsk's one-sided lifting of a domestic ban on EU truck operators (Belta, October 7); visa-free visits from Poland, Lithuania and Latvia (see EDM, January 5); and still available coach lines connecting Minsk and Grodno with Vilnius, Warsaw and Bialystok. However, these rare earth deliveries represent the only big-time breach of Belarus's blockade by all of its neighbors except Russia.
According to recent analysis by Sergei Bogdan, Denis Melyantsov and Yauheni Preiherman (Minsk Dialogue, January 24), other elements of this partial blockade include border walls erected by Lithuania and Poland; mining the southern border from the Ukrainian side; and restrictions on media and nongovernmental organizations' activities in the regions of Poland bordering Belarus. As a result, "asylum seekers crossing this border find themselves in an unclear legal situation." The authors of this analysis suggest that the increased Russian military presence in Belarus derives in part from Minsk's own reluctance to partake in Moscow's war effort. They also stipulate that the "transformation of Belarus into a military-strategic extension of the Russian Federation" comes across to Belarus's neighbors as an outcome less disagreeable than Minsk's "situational neutrality"—its own preferred mode of existence. The authors acknowledge that this mode "would constrain the actions of the parties: it would not allow Russia to use the territory and airspace of Belarus. … And from the perspective of the Kremlin's opponents, it would create for Russia a kind of a 'window on the world' … whereas under the current situation Belarus is an extra burden for Moscow. … However convincing in the short term, these calculations may in the end may prove fatal for Belarusian statehood."
In fact, some elements of this proverbial "window on the world" are still present. Muscovites frequent Minsk in part because, while there, they can open a Visa or Mastercard account and even buy Zara clothing, not to mention take advantage of cheaper and higher-quality public catering. A Moskvich Mag author, who shared these insights, also mentioned that, currently, in Minsk, almost half of all cars tote Russian license plates (Moskvich Mag, January 23).
This "partial blockade" boosts Russo-Centrism as one of two versions of Belarusian identity and collective memory at the expense of the "Westernizing" version (see EDM, January 26, 2022). This effect is being achieved through both affirmative and negative means. A recent example of the former is the set of theses adopted by a seminar on Belarusian history jointly organized by multiple official entities, from the presidential administration to the Belarusian exarchate of the Russian Orthodox Church. The theses include a condemnation of Polish colonialism that Belarusians experienced within Rzeczpospolita from 1569 until the partitions of Poland in 1772–1795 and even later; a statement that, within the Russian Empire, on the contrary, Belarusians enjoyed the status of a branch of the tripartite ethnicity formative for Russia as a whole; a description of the 1918 Belarusian People's Republic as an abortive attempt at statehood deprived of popular support; and a description of the collapse of the Soviet Union as a "major geopolitical catastrophe, carried out against the will of the Belarusian people" (Zviazda, January 25).
Championing Russo-Centrism through negative means is even more vivid than the affirmative approach. As the opposition in Belarus has been almost entirely pro-Western, the adoption of a new law about political parties by the House of Representatives of the Belarusian National Assembly is destined to undermine most opposition-minded affiliations. According to this new statute, the minimum threshold of membership in an official political party was raised to 5,000 persons, a high threshold for Belarus. Furthermore, party structures must be represented in all oblasts, in no less than one-third of all major cities and in no less than in one-third of Minsk city districts. Spreading propaganda of extremist ideas by parties is forbidden, which broadly defined under "extremism" makes it almost impossible to register an opposition party (Svaboda, January 25).
Moreover, the law enforcement machine continues to apprehend people for actions that normally would not be considered indiscretions. Thus, in Grodno, Anton Yankowski, an artisan who produced the board game "Rebels" devoted to the anti-Russian 1863 uprising, was arrested (Svaboda, January 25). And in Minsk, law enforcement apprehended Yulia Gritskevich, a local associate of a Russian television company that produces popular soap operas. Gritkevich stands accused of authoring comments against Russians and Belarusian law enforcement on social networks (Nasha Niva, January 25). Gennadz Viniarsky, a prolific publisher, was ordered to close his publishing house (Facebook.com/svaboda, January 26).
Given the scale of emigration from Belarus after the August 2020 presidential elections, President Alyaksandr Lukashenka initiated the creation of a commission headed by the prosecutor general that will consider individual requests of those willing to verify whether expatriates will be persecuted upon their return (Zviazda, January 24). A certain number of recent émigrés, including some information technology specialists, have already returned (Zerkalo, January 14). But some were indeed prosecuted upon return, and others had to publicly repent. As such, the popular émigré pundit Artyom Shraibman (Zerkalo, January 24) and leader of the Belarus Solidarity Foundation Andrei Stryzhak (Svaboda, January 13) advise fellow émigrés to use caution while mulling a return home.
While political commentators quite often focus on the external effects of developments at home, such as punitive sanctions in response to repressions, the reverse is present too. As a country squeezed between two powerhouses, Russia and the EU, and susceptible to influence from both, Belarus is undergoing a lopsided transformation in part due to minimized ties with the West and maximized connections to Russia. Only time will tell whether this process will reach the point of no return, or if the pendulum will swing the other way.