Contrasting Messages Emanating From Belarus
Publication: Eurasia Daily Monitor Volume: 20 Issue: 3
By: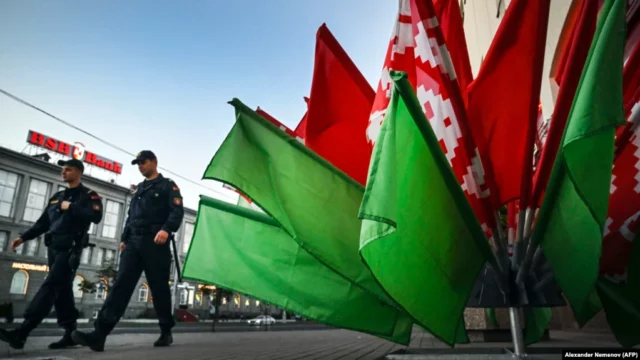 According to human rights watchdog Viasna, as of December 31, 2022, almost 1,450 political prisoners remain locked away in Belarus (Viasna, December 31, 2022). On December 14, 2022, the Belarusian parliament approved the draft of a law that would allow the president to deprive Belarusians residing outside the country of citizenship if their "extremist" activity is confirmed by a court in absentia (Sputnik.by, December 14, 2022). Additionally, on December 16, the Prosecutor General's Office brought criminal charges against the leaders of the opposition-in-exile. Svetlana Tikhanovskaya is accused of treason, and Pavel Latushko is accused of abuse of power and taking a bribe (ONT, December 16, 2022).
Two weeks earlier, on December 1, 2022, the cases against five leading associates of the legendary Tut.by media outlet were brought to court (Zerkalo, December 1, 2022). This news and analysis outlet, privately owned by the late Yury Zisser, had consistently exceeded every Belarusian state-run news outlet in terms of number of visitors. The portal was blocked in May 2021 in the wake of its coverage of the protest movement that followed the official release of the August 2020 election outcome, and 14 associates were accused of various misdeeds, including tax evasion and promoting extremism (Bbc.com/russian, May 18, 2021). Nine of them pleaded guilty, repaid the alleged debt to the state treasury and filed a petition for release from criminal liability (Malanka.media, December 13, 2022).
Finally, the three perpetrators of the rail-track war against transporting Russian military equipment and munitions through Belarus (see EDM, April 6, 2022) received prison terms ranging from 21 to 23 years (Zerkalo, December 28, 2022).
Should the overall situation in Belarus be evaluated as irredeemably hopeless then? It depends on who you ask: The overwhelming majority of those responding to such questions are impacted by a sense of belonging to one of the two societal divisions at loggerheads with one another (see EDM, December 14, 2022).
What is more, the "Westernizers" (i.e., the opposition) do not seem to view Russo-centric—but still firmly insisting on independent statehood—Belarusians as their rightful competitors in the fight for Belarus's soul. Recently, a curious debate occurred on the site of Radio Svaboda. Valer Karbalevich lamented that, on the one hand, the cream of the crop of the Belarusian nation has left the country, whereas those who have stayed are on course to becoming a Russian province (Svaboda, December 23, 2022). To this, Karbalevich's colleague Siarhei Navumchik replied that the share of "nationally conscious" Belarusians is low, and it is certainly not higher among émigrés than among those who stayed put (Svaboda, December 24, 2022).
After the December 2022 Nobel Peace Prize award ceremony in Oslo, Norway—with one of the awardees being Ales Bialiatski, the currently jailed leader of Viasna (whose trial started on January 5 in Minsk)—Dmitry Gurnevich of Radio Svaboda shared his "controversial thoughts" on the situation, one being that "Belarusians are [sadly enough] not interested in Bialiatski's award." Too few Belarusians watched the speech of Bialiatski's wife, who received the award for her husband. "Complain as much as you want about the world at large that does not evince curiosity about the fate of Belarus, but it will not get curious unless, and until, Belarusians themselves become interested in Belarusian heroes," concluded Gurnevich (Svaboda, December 12, 2022).
Gurnevich's and Navumchik's observations may grow even more cynical, if appended by the results of the third survey of Belarusians conducted by the Belarus Change Tracker, a structure whose members are reputable opposition-minded analysts, now all in exile. According to their November 2022 online survey, based on a sample of 999 Belarusian urbanites, 61.7 percent trust the Belarusian government, up from 53.9 and 53.7 percent in May and August 2022, respectively (Friedrich-Ebert-Stiftung, December 1, 2022). The analysts concede that such an upward swing may be attributed to "the fear factor" but add that "it is difficult to ignore the trend of growing support for the authorities" (Zerkalo, December 16, 2022).
It seems that the members of the Westernizing opposition are doomed to be perpetually perplexed by such survey-based findings until they stop perceiving the part of Belarusian society not sharing their outlook as an aberration.
But if that portion of society is every bit as Belarusian as the opposition, are any assertive messages emanating from this group? First, from January to September 2022, Belarus's GDP was 4.7-percent lower compared with the same period in 2021—a decline more modest than predicted on the basis of tough Western sanctions (PrimePress, December 16, 2022). Second, the appointment of Sergei Aleinik as the new Belarusian foreign minister shows that the improvement of Minsk's relations with the West is still on the agenda (Svaboda, December 13, 2022). Indeed, Aleinik's experience as an ambassador in London and his work in Switzerland and the Vatican support this observation. Third, President Alyaksandr Lukashenka extended visa-free travel for citizens of Latvia, Lithuania and Poland for 2023. Since April 22, 2022, 370,000 people from these countries have taken advantage of this opportunity—70 percent coming from Lithuania alone (Belta.by, December 21, 2022). Fourth, Lukashenka's response to former German Chancellor Angela Merkel's remark that the Mink agreements were signed merely to buy time for Ukraine differs from that of Russian President Vladimir Putin. Whereas Putin described Merkel's remark as proof of a long-suspected deception of Russia by the West (Kremlin.ru, December 9, 2022), Lukashenka expressed certainty that Merkel was conscientious back then (in 2015) but is now preaching to the choir of Ukraine's Western supporters (YouTube, December 9, 2022). Fifth, no grave prediction—from the Belarusian army entering the war to Belarus's Anschluss—has materialized in conjunction with Putin's December 19 visit to Minsk, his first visit to the Belarusian capital in three years. What was discussed between the two leaders pertained largely to the economy. In particular, the price of natural gas for Belarus was agreed upon for 2023–2025; Lukashenka did not name the price (Myfin.by, December 20), but the current rate, $128.50 per 1,000 cubic meters, is seven times lower than the price on the London Stock Exchange (Smartpress, December 27).
Western foreign policymakers had better heed messages from both societal divisions of Belarus, not just one or the other. Besides, as the former Belarusian diplomat Pavel Matsukevich has demonstrated, in Belarus, political prisoners are only released when Western politicians open up a dialogue with official Minsk (NewBelarus, December 29).