Belarus: Societal Divisions and Exiled Opposition
Publication: Eurasia Daily Monitor Volume: 19 Issue: 186
By: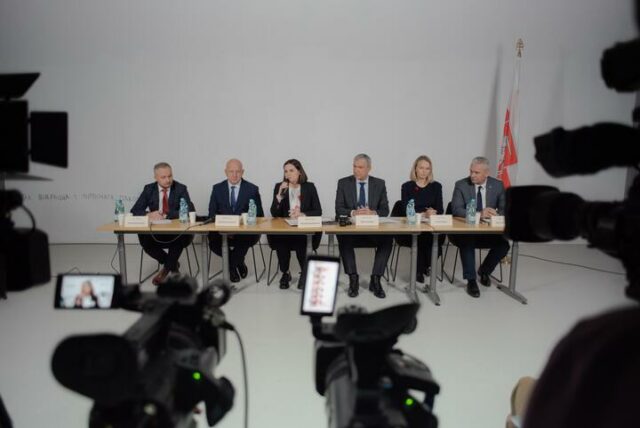 Alexander Klaskovsky, one of the longest-serving opposition-minded journalists in Belarus, recently leveled criticism against Svetlana Tikhanovskaya's so-called "United Transitional Cabinet," a self-proclaimed government-in-exile. The three major targets of Klaskovsky's criticism are the cabinet's insistence that Belarus is a country occupied by Russia, their rhetorical emphasis on the forcible removal of "the regime" and appeals to Western governments to boost sanctions against Minsk. In Klaskovsky's opinion, the new opposition that took shape in 2020 should not embrace ideas that are detached from reality, lest it be marginalized as was the former opposition.
Klaskovsky's main argument against attempts to convince the West that Belarus is occupied is that this idea is hard to sell. "Approximately 10,000 Russians from among the newly mobilized, who are currently being schooled at Belarusian military training grounds, are incapable of controlling the territory of our country. … If Belarus is currently occupied, it is primarily by its own regime," reasons Klaskovsky. "The label of foreign occupation is clearly convenient for the opposition leaders" because it allows them to claim legitimacy, "but it is an attempt to fit reality into a schema [not the other way around]." As for sanctions, they only boost Belarus's dependency on Russia, and more rhetoric about forceful regime change only leads to official Minsk tightening the screws even more (Zerkalo, December 6).
Indeed, on December 7, the Belarusian parliament amended two laws, one regarding extremist activities in general and the other regarding treason by representatives in executive power, with capital punishment introduced for both of these respective crimes (Belta, December 7). Earlier, a bill was discussed that, if adopted, would allow the authorities to convict Belarusians who left the country in absentia of extremist activity and to seize their residence and property (Zerkalo, September 6).
Some of Klaskovsky's arguments are being boosted by the course of current events and other experts' opinions. Thus, contrary to the repeated statements of Tikhanovskaya's deputy Valery Kovalevsky that [President Alyaksandr] "Lukashenka is unacceptable to the West and his words are worthless", official Minsk effectively remains the West's primary point of contact (Svaboda, December 2). Thus, the new package of sanctions prepared by the European Union applies only to Russia and not Belarus. That way, as Alexander Morozov—expert at The International Strategic Action Network for Security—believes, the EU can create a loophole for Lukashenka, which he could use to escape being pulled deeper into Russia's war effort (Svaboda, December 8).
Additionally, former Belarusian diplomat Pavel Slunkin believes that, in exchange for the release of a number of political prisoners, "some Belarusian officials can be excluded from the sanctions lists. And Belarusian banks may be reconnected to SWIFT." The problem, according to Slunkin, is that Lukashenka's interests extend beyond that. His major goals are to have Belarusian refined oil products allowed back into Europe, which could also open the door for Belarusian potash to be exported again through seaports on the Baltic. Moreover, Slunkin adds, "even if Lukashenka does not make concessions, the West may come to an agreement with him just because it may need Belarusian potash fertilizers" (Svaboda, December 5). One might add that the realization of such goals would make the leash that the Kremlin seemingly keeps Lukashenka on longer, with a bit more slack.
That the new opposition repeats the mistakes of its predecessors may be attributed to causes more profound than just miscalculation and shortsightedness. Both the former and new opposition claim to represent the entire Belarusian national community in its fight with the Lukashenka regime. But that is hardly possible, as Belarusians remain divided. They are split on two grounds: on attitudes toward Lukashenka (in favor or against) and on identity and collective memory (Russo-centric/Neo-Soviet or "Westernizing"). In times of political tranquility, as in 2013–2020, these patterns of division are not quite congruent simply because, by far, not all Russo-centric Belarusians support Lukashenka. However, during times of crisis, these patterns tend to converge. For example, from October 2021 to May 2022, trust in the Belarusian government jumped from 38 to 48 percent (EDM, July 6). Apparently, quite a few Belarusians came to appreciate that they are neither mobilized like the Russians nor bombed like the Ukrainians.
The newly released results of the August-September 2022 online survey of 1,279 Belarusian urbanites, presented at the Minsk Forum in Berlin, furnished yet more confirmation of deep societal divisions (Svaboda, December 3). To begin with, the survey illustrated the breakdown of those surveyed into Sviadomyya, the traditional code name for Belarusian Westernizers (14 percent); Soviet (29 percent); Neutral or Fluid (39 percent); Indifferent (13 percent); and Russified (4 percent). While the choice of group labels is debatable in the extreme as the difference between "Russified" and "Soviet" would only become clear if one delves deeply into the 59-page survey report, the differentiation itself is undeniable (Belarusian National Identity in 2022, accessed December 14). Forty-nine percent of Belarusians believe they are part of a three-prong East Slavic nation (Russians, Ukrainians and Belarusians), whereas 47 percent believe Belarusians are a separate people. Almost 45 percent support integration with Russia, whereas 36 percent do not. Geopolitical priorities are revealed in answers to the question, "Who do you support in the Russian-Ukrainian war": 41 percent refuse to take a side, 39 percent support Russia and 20 percent support Ukraine. The pro-Russian position is embraced by a 77-percent majority of government supporters. Among the opponents of official Minsk, Ukraine is supported by 66 percent. However, the segments leaning to integration with Russia are consolidated in their support of Russia's war effort, while the pro-Ukrainian segments more often prefer the neutral non-aligned status of Belarus.
It is obvious that, with its declared political priorities, the Vilnius-based government-in-exile can hardly be a messenger for a community with worldviews this diverse and contrasting. The fact that Lukashenka himself has had a hard time performing in that role is no consolation. Meanwhile, some earlier appeals to mollify the tone of the opposition-government dialogue—when some semblance of that dialogue could still be expected—only gain credence in hindsight (see EDM, April 22, 2020). With this in mind, Western foreign policymakers would be best advised to do their homework on Belarus and set achievable goals with this domestic reality in mind.