Divining Belarus's Future Amidst International and Domestic Unrest
Publication: Eurasia Daily Monitor Volume: 19 Issue: 48
By: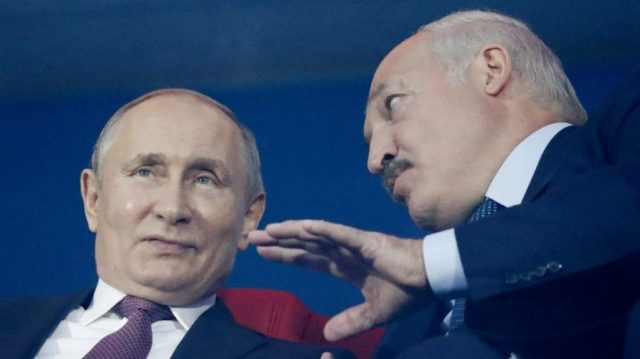 How long will Belarus remain a pariah in the eyes of its neighbors? According to Yury Drakakhrust of Radio Liberty, this depends on whether the Belarusian army enters the Russo-Ukrainian war and, above all, on that conflict's outcome. If Russia emerges weakened from this war, then even without change at the helm of power in Minsk, a prompt resumption of Belarusian ties with the West cannot be excluded. Attempts by the Belarusian government to disown the war were largely impossible at its start and remain equally unrealistic today, Drakakhrust underscores: doing so now would result in Russian paratroopers swiftly arriving to occupy President Alyaksandr Lukashenka's residence. Drakakhrust does not believe Ukraine's recent request to completely seal off the Polish-Belarusian border to prevent the inflow of Western goods to Russia is realistic either, as the border in question is not just Poland's but the European Union's at large (Gazeta.by, March 31).
In turn, Pavel Matsukevich, formerly Belarus's chargé d'affaires in Switzerland and now one of the most active opposition-minded analysts, predicts that with his powerful political survival instinct, Lukashenka will remain at the helm of power into the foreseeable future, regardless of the Belarusian economy's potential slump resulting from sanctions. Like Drakahrust, Matsukevich believes that as soon as Russian President Vladimir Putin shows signs of weakness, Lukashenka will resume his multi-vector foreign policy (Svaboda.org, March 31). Matsukevich also does not think that Minsk's attempt to defy geography by reorienting its international trade ties from Europe to Asia is going to succeed. In 2021, the top six importers of Belarusian merchandise were Russia ($16.3 billion), Ukraine ($5.4 billion), the Netherlands ($2.2 billion), Poland ($2.0 billion), Germany ($1.6 billion) and Lithuania ($1.3 billion). Exports to Ukraine alone exceeded Belarusian trade flows to all Asian destinations combined. As for sources of foreign investment into Belarus in 2021, Cyprus, Austria, Germany, Lithuania, Switzerland and Poland all figured prominently. Changing this structure abruptly is an uphill battle, Matsukevich asserts, although Belarus's non-merchandize offerings did, in fact, "defy geography" considering the prominent role of the United States as a destination for those exports—particularly, information technologies (IT) (New Belarus, April 1).
As Drakakhrust's and Matsukevich's observations suggest, a return to a more balanced foreign policy is nearly inevitable for Belarus. Likewise, the country is likely to resume policies designed to encourage national consolidation—particularly active from 2014 to 2020—because a profound societal split on interdependent issues of national memory and identity is unhealthy and unsustainable for a nation state. That consolidation trend was interrupted by the aftermath of the August 2020 elections and later precluded by the Russian war in Ukraine (YouTube, April 1).
Meanwhile, behind the altogether calm façade of Minsk and other Belarusian cities, turbulence is underway, and it partially bears an imprint of the aforementioned societal split. The most vociferous and articulate Belarusian Westernizers are either in jail or out of the country. Still, on April 3, Minsk reopened its borders for entrance and exit (Probusiness.io, April 1). Although the authorities framed this action as enabled by the end of the COVID-19-related restrictions, one cannot rule out that the government will now "encourage" the further outflow of remaining Belarusian cultural Westernizers.
Turbulence also reveals itself in domestic attitudes toward the war. In late March, Vladimir Medinsky, who heads the Russian negotiating team in the ongoing peace talks with Ukraine, reported on the Ukrainian wish list of the conditions for ending the war but did not say a word about Moscow's conditions (RBC, March 29). In response, Belarusian supporters of Russia's war reacted feverishly. For instance, Mikhail Malash, an avowed Russian World (Russkiy Mir) champion, confessed the next morning that he had to console quite a few people, assuring them that "negotiations with a junta is a performance for fools and pacifists" (Facebook.com/michael.malasch.5, March 30). Piotr Petrovsky, a philosopher and the publisher of the online magazine Northern Eurasia, suggested that Medinsky's report smacked of Russia's capitulation and declared that "there are only two known cases of denazification: Germany and Japan; no other effective cases have ever been revealed" (Facebook.com/piotra.piatrouski, March 29).
An even more tangible aspect of unrest bubbling under the surface in Belarus is the so-called "rail track war." The first sabotage took place on March 25, the date that the Belarusian opposition marks as Freedom Day. Specifically, perpetrators set fire to two electrical relay cabinets on the railway section between Borisov and Novosada (Minsk Oblast). Two more similar cabinets were ignited on the night of March 27–28, between the Osipovichi and Vereitsy stations in Mogilev Oblast. The incidents were officially announced by the Ministry of Emergencies (Svaboda.org, March 28). By March 31, the authorities apprehended around 30 railroad associates (Railway.Supply, March 31).
In Ukraine itself, two Belarusian (i.e., consisting of opposition-minded Belarusians) platoons reportedly fight on the Ukrainian side. One is named after Konstantin Kalinovsky, one of the leaders of the Polish 1863 uprising against Tsarist Russia on Belarusian lands (Belarus's opposition pointedly refers to this uprising as Polish and Belarusian). The other Belarusian platoon, reportedly taking shape now, bears the name of Pahonia, Belarus's official coat of arms from 1992 to 1995, which hearkens back to the history of the Grand Duchy of Lithuania (Euroradio, March 30).
At the same time, eight leading associates of the Belvnesheconom Bank, a subsidiary of a major Russian bank bearing the same name albeit without "Bel," were apprehended in Belarus, including the financial institution's chairperson, Vasily Matyushevsky, who, from 2014 to 2018 served as deputy prime minister. Matyushevsky was ultimately released, after questioning (Smartpress, March 30). Additionally, some 25–50 trauma doctors, mostly heads of hospital departments from across the country, were arrested. They are under investigation for allegedly receiving bribes related to German-made prostheses (Komsomolskaya Pravda, March 29).
Some prominent prisoners were recently freed—for example, Andżelika Borys, the chairperson of the unrecognized Belarusian Union of Poles (Sputnik.by, March 25), as well as three former associates of the independent media outlet Tut.by (Smartpress, March 17). Just as the rationale for apprehensions is not always clear, neither are the government's specific motives for setting these individuals free at this time. Although they may indicate some behind-the-scenes discussions with Warsaw.
In summary, the lingering war next door and domestic turbulence dynamics make predicting Belarus's future more difficult than at any time in the past.