In Southern Ukraine, Russian Occupation Policy Takes Shape (Part One)
Publication: Eurasia Daily Monitor Volume: 19 Issue: 49
By: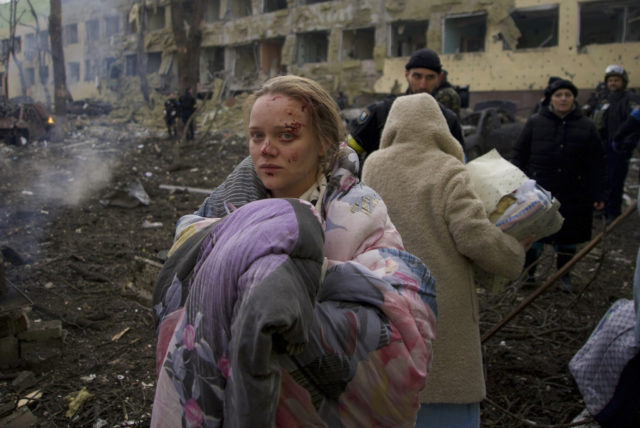 Russian forces invaded southern Ukraine on February 24, 2022, from two convergent directions, Crimea and Donetsk, both already occupied since 2014 (see EDM, April 6). Russia's second invasion resulted, by mid-March 2022, in the capture of Ukraine's entire Kherson province, a considerable part of the Zaporyzhzhia province, and the littoral portion of the Donetsk province, cumulatively forming a compact area of occupation along Ukraine's Azov Sea littoral and extending deep inland (see EDM, March 17).
At present, Russian and proxy forces are advancing farther inland to seize those parts of Ukraine's Donetsk province that are still beyond the "Donetsk People's Republic's" (DPR) control. Russian and "DPR" forces have practically seized Mariupol in the south and are pressing to advance westward of Donetsk city.
Russia's emerging occupation policy differentiates between newly occupied territories in the Donetsk province on the one hand and those in the Kherson and Zaporyzhzhia (and potentially other Ukrainian provinces, if captured) on the other hand. Russia has begun removing the legitimate Ukrainian authorities from the Kherson and Zaporyzhzhia provinces, but it has not yet decided what to do with those territories eventually. The new conquests in the Donetsk province, however, are to be annexed to the "DPR," in accordance with Russia's policy of recognizing this "independent state" within the administrative boundaries of Ukraine's pre-2014 Donetsk province (see EDM, February 22, 24).
The "DPR" encompassed only about one third of Ukraine's pre-2014 Donetsk province until February 24, 2022; and currently, it aims to capture the remainder. On April 1, "DPR" leader Denis Pushilin issued a "decree" (ukaz) whereby Ukrainian state-owned assets, mobile and immobile, in areas cleared of Ukrainian control shall be "entered into the registry of 'DPR'-owned assets," i.e. transferred into "DPR" ownership. Similarly, the assets of municipalities in the newly seized territory (including transportation and energy infrastructure, public buildings, schools and hospitals) shall be transferred into the management of "DPR"-designated authorities. Pushilin's ukaz went into effect on the date of its issuance (Donetskoye Agentstvo Novostei, April 1).
With "DPR"-flagged and Russian forces controlling most of the city of Mariupol, the conquerors announced on April 4 that a meeting of local citizens "unanimously" proposed Kostiantyn Ivashchenko to be mayor of Mariupol (Donetskoye Agentstvo Novostei, April 4).  Participants in the same meeting voted to endorse the result of the "referendum" in 2014 that had for the first time proclaimed "DPR's" independence. On April 6, Pushilin appointed Ivashchenko and tasked him to organize a new municipal administration (Interfax, Donetskoye Agentstvo Novostei, April 6).
Ivashchenko, native to Mariupol, was until recently the CEO of Azovmash, one of Ukraine's largest builders of heavy vehicles. Ivashchenko was politically affiliated with the Party of Regions during Viktor Yanukovych's presidency until 2014; after that with Nash Krai (a movement of Russified local politicians in southern parts of Ukraine), and then with the overtly pro-Russia party Nashi (which promotes Ukraine's neutrality, "federalization," and privileges for the Russian language). In 2019, Ivashchenko was elected to Mariupol's municipal council on the list of the Opposition Platform–For Life, the party headed at the national level by Viktor Medvedchuk, Russian President Vladimir Putin's closest ally in Ukraine (Interfax, April 5).
Mariupol's legitimate local authorities, now evicted, had proven to be unwaveringly loyal to Ukraine. This city has long been a political fief of Rinat Akhmetov, the owner of the two steel plants (Azovstal and Iliych) and other key assets in the city and seaport of Mariupol. In 2014, the Akhmetov-controlled municipal council along with the management of the steel plants and their workforce prevented a full takeover of Mariupol by "DPR" forces, until the Azov Battalion arrived and defeated those hostile militant formations in battle (see EDM [1] [2], September 8, 2014). In 2015, and again in 2019, Vadym Boychenko, a former director of Akhmetov's steel concern, won election as mayor at the head of "Boychenko's List," with Akhmetov's support. Municipal authorities played a major role, along with the military, in defending Mariupol until its destruction by Russian forces.
The procedure of appointing Ivashchenko by Pushilin's decree is meant to underscore that Mariupol and surrounding territory, up to the boundary of the Zaporyzhzhia province, is being annexed directly to the "DPR," not officially to the Russian Federation. Nevertheless, Russia is actually the occupying power.
Interviewed on Russian state media, Pushilin has announced a reconstruction program for Mariupol with Russian funding.  As a first step, the "DPR" intends to open "employment centers" (with workers to be compensated in rubles) and to attempt to restart the city's industrial plants, under the guidance of corresponding Russian government ministries (Russian TV Channel One, Rossiya 24 TV, April 5).