In Southern Ukraine, Russian Occupation Policy Takes Shape (Part Two)
Publication: Eurasia Daily Monitor Volume: 19 Issue: 52
By: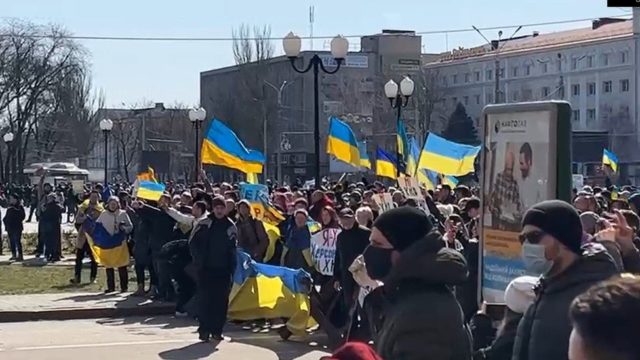 Russia's 2022 re-invasion of Ukraine resulted, by mid-March, in the capture of Ukraine's entire Kherson province, a considerable part of the Zaporyzhzhia province, and the littoral portion of the Donetsk province. Russia has decided to separate this latter portion from Ukraine and attach it to the pseudo-independent "Donetsk People's Republic" (DPR); but it has not yet decided what to do with the newly occupied territories in Ukraine's Kherson and Zaporyzhzhia provinces (see Part One in EDM, April 7).
All those territories and the Crimean peninsula cumulatively form a compact area of Russian occupation along Ukraine's Azov Sea and Black Sea coasts that extends deep inland. These conquests go a long way toward fulfilling Russian President Vladimir Putin's vision of seizing Ukraine's "Prichernomorie" ("Black Sea Coastal Lands") for Russia in one form or another, as a new iteration of his "Novorossiya" ("New Russia") project (see EDM, January 14, 2020). The Novorossiya/Prichernomorie vision also encompasses Ukraine's Mykolayiv and Odesa provinces (Odesa forms historically its epicenter), but they remain currently under Ukrainian control.
The Russian-Ukrainian front line currently runs along the administrative boundary of the Kherson province and across the Zaporyzhzhia province. That front line has remained stable from mid-March to date. Behind the front line, Russia's occupation policy is beginning to take shape on the local level. Policy seems to be made by Russian occupation authorities on the ground, without any public evidence of central directives from Moscow.
This ad hoc approach cannot be surprising since Moscow itself has yet to decide how long it wants to occupy or control these territories and in what form, whether to expand them further or trade them back to Ukraine with some "special status" as part of a political settlement (unless Ukraine retakes its territories with adequate Western support). Reflecting this temporary uncertainty and, possibly, vague guidance, the Russian media refers to the occupied Zaporyzhzhia and Kherson provinces interchangeably as "controlled territories" or "liberated territories," and to the remainder of Zaporyzhzhia province as "uncontrolled territory" or "Ukrainian territory."
Apart from those uncertainties, and even more consequentially, occupation authorities are hampered by the population's unwillingness to collaborate with them. The Ukrainian population's cold-shoulder response to the Russian invasion is perhaps the most striking feature of these events in the Kherson and Zaporyzhzhia provinces. Nowhere have local residents greeted the Russian troops with bread and salt (a local tradition), flowers, pro-Russia slogans, or any form of welcome. Although the central propaganda out of Moscow portrays this invasion as liberation, Russian authorities on the ground have not yet managed to collect enough locals to stage pro-Russia, pro-Novorossiya or any kind of shows of approving the invasion. The phenomenon of collaboration seems, thus far, confined to local adherents of Viktor Medvedchuk's now-defunct Opposition Platform–For Life bloc and carpetbaggers from Russia.
While most of the population seems indifferent, apathetic, cautious or downright fearful toward the conquerors, a small but vocal minority manifests loyalty toward Ukraine during these initial weeks of occupation. Local media outlets are not free to report the pro-Ukraine, anti-occupation protests, but some protesters communicate with news agencies in Kyiv.
The main directions of Russia's occupation policies in the Kherson and Zaporyzhzhia provinces at this initial stage include:
– Substituting Russian National Guard (Rosgvardia) and Ministry of Interior (MVD) troops for Russian army troops, so as to free up the latter for fighting at the front;
– Re-subordinating local Ukrainian police units to Russian occupation authorities;
– Preparing a re-Russification of school curricula;
– Removing officials loyal to Ukraine from local administrations;
– Taking control of local media outlets and connecting this occupied territory to Russia's central television channels; and
– Setting the stage for replacing the Ukrainian Hryvnia with the Russian Ruble.
These Russian actions proceed unevenly across this occupied territory, their scope and pace varying from locality to locality at this early stage.
The substitution of Rosgvardia for Russian army troops has been completed during the second half of March. According to Rosgvardia Colonel Aleksandr Denisov, his occupation troops include those with experience in Syria for mop-up combat operations and the filtration and interrogation of prisoners and refugees. Here in southern Ukraine, "Our enemies are non-humans [nelyudi]" and a "quintessence of fascism… The liberated territories shall be de-nazified and demilitarized" (Rossiya Segodnya, March 26).
In at least two cities, Melitopol (Zaporyzhzhia province) and Kakhovka/Nova Kakhovka (Kherson province), occupation authorities have initiated units of "people's militia" or "military police" to replace the legal Ukrainian police (TV Zvezda, March 20; RT, March 27; Ukrinform, April 1, 5, 6, 8).
Russia's Ministry of Education and the United Russia party of power have held a joint conference about re-russifying Ukraine's school curricula in the newly "liberated" territory. Russia's Education Minister Sergei Kravtsov told the conference, "The Ukrainians have created a fake history on orders from the West," they "re-wrote the history that speaks of the unity of the Russian and Ukrainian peoples." According to the Duma's [lower chamber of the Russian parliament] education committee chair, Olga Kazakova, and other conferees, Ukrainian textbooks are "extremist" and must "be demilitarized […] because they have been written on NATO's [North Atlantic Treaty Organization] recommendations"; "they teach children about NATO's military tactics." Andrei Turchak, the secretary of United Russia's General Council, told the conference that Ukrainian education "teaches hatred toward Russia, toward the Russian identity, toward everything Russian." Turchak called for "the shortest possible transition period toward Russian education methods and standards" in the newly "liberated" territories (TASS, March 29, 30).
In several towns of the Kherson and Zaporyzhzhia provinces, occupation authorities have notified school directors to prepare to switch from Ukrainian to Russian language of instruction and from Ukraine's to the Russian Federation's curricula. Some school directors, notably in Melitopol, have resigned in protest. Occupation authorities offer to pay ruble-denominated bonuses to teachers who would comply (Ukrinform, March 28, 31, April 9).