In Southern Ukraine, Russian Occupation Policy Takes Shape (Part Three)
Publication: Eurasia Daily Monitor Volume: 19 Issue: 53
By: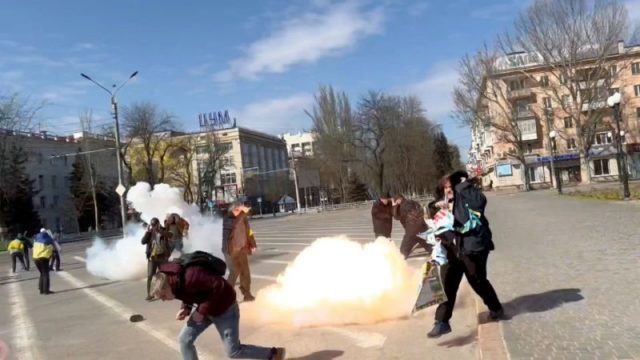 Removing officials loyal to Ukraine from local administrations and replacing them with nominees of the occupation authorities is a high priority of Russia's occupation policy in southern Ukraine (see Part Two in EDM, April 12).
The incumbent mayors and municipal councils in the Kherson and Zaporyzhzhia provinces were elected in 2020 as part of Ukraine's country-wide local elections that year, with the support of Ukraine-wide parties (first and foremost the pro-presidential Servant of the People party) or local party lists. These elected office holders are loyal to Ukraine in their overwhelming majority and have refused any political cooperation with the Russian occupation authorities. The latter, therefore, seek to replace the legitimately elected bodies with unrepresentative collaborators.
Russian authorities have forced out the mayors and other local officials in a number of towns, including Kherson, Kakhovka, and Henichesk (all in Kherson province) as well as Melitopol, Berdyansk, and Enerhodar (all in Zaporyzhzhia province). The newly installed "acting mayors" are, for the most part, affiliated with pro-Russia fringe parties. Thus, the new "acting mayors" of Kakhovka (a location that commands the mainland Ukraine–Crimea water canal), Enerhodar (site of the Zaporyzhzhia nuclear power plant), and Melitopol (major land and water transport intersection) are all affiliated with the Opposition Platform–For Life (OP-ZZh, Viktor Medvedchuk's now-defunct party), while the pseudo-mayor of Henichesk (key location on the Perekop Isthmus) represents an obscure "Socialist Left." In the city of Kherson (administrative center of the eponymous province), a former mayoral candidate from OP-ZZh now leads a "salvation committee for peace and order," sitting in offices of the provincial and municipal authorities under Russian protection (Zvezda TV, March 20, 27; Ukrinform, April 7–9; Chesno.org, accessed April 13;
Occupation authorities have brutally abducted dozens of mayors and other local office-holders, holding them incommunicado. Some have been intimidated into moving to Ukrainian-controlled territory upon their release; while others are still being held under arrest.
Anti-occupation, pro-Ukraine rallies have taken place in the squares and streets of Kherson City, Melitopol and other towns with some regularity during the first weeks of the occupation. Those actions were well attended and high-spirited. Russian occupation troops broke up those rallies using tear gas and stun grenades. The protests have declined in terms of frequency and attendance in the last two weeks, except in Kherson City, where protest rallies persist every Sunday.
Russia's supporters have occasionally attempted to hold rallies for a putative "Kherson People's Republic." Those actions have fizzled out for lack of supporters. The occupation authorities have not openly encouraged such attempts thus far. Kyiv, however, does not discount this risk. President Volodymyr Zelenskyy, in his latest video-address, encouraged the population of Kherson to oppose any "people's republic" there (President.gov.ua, April 12).
Russian occupying authorities on the Crimean peninsula (illegally annexed by Russia in February–March 2014) display ambitions to broaden their influence into the nearby Kherson and Zaporyzhzhia provinces. Crimean authorities apparently seek both their own aggrandizement and a vanguard role for metropolitan Russia's expansion. Crimean "parliamentary" chairperson Vladimir Konstantinov and Sergei Tsekov, a "senator" from Crimea in Russia's Federation Council (upper chamber of parliament), have both offered to delegate Crimean administrative officials, managers and experts to take over the vacant posts in those "liberated" territories from which Ukrainian officials have been forced out. Tsekov and Konstantinov both advocate for setting up Russian military-civilian administrations to replace the Ukrainian civilian administrations in the "liberated" Kherson and Zaporyzhzhia provinces (TASS, March 25, 26).
Georgi Muradov, Crimea's "permanent representative to the president of Russia" and, concurrently, Crimean "deputy prime minister," envisages establishing "the closest economic cooperation" between Crimea and the "liberated" Kherson and Zaporyzhzhia provinces "after Russia will have completed this special military operation." Muradov argues that all three territories used to be unified in Imperial Russia's Tauria guberniya (TASS, April 6).
Such visions prejudice the outcome of Russia's war, evidently assuming that the conflict will result in Ukraine's breakup. This anticipation is fully in line with the Kremlin's declared war aims at the outset of its "special military operation" (see EDM, February 22, 24, 25).
The Russian occupation is clearly unwelcome to the local population. The current balance of moods within local society will, however, likely change in Russia's favor, if the occupation continues indefinitely and the prospect of Ukraine's return fades away.