'Accomplice' No More? How the War in Ukraine Stokes Anxieties in Belarus
Publication: Eurasia Daily Monitor Volume: 19 Issue: 52
By: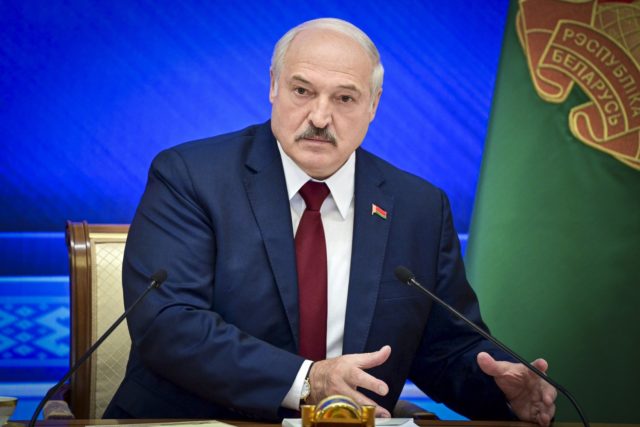 Both directly and indirectly, Russia's ongoing "special military operation" in Ukraine (launched by the Kremlin on February 24) triggers anxieties across the border in Belarus. Thus, on March 30, the authorities apprehended a group of perpetrators of the so-called rail-track war (see EDM, April 6), aiming at the disruption of Russian military supply lines in Belarus. According to one source, there are two of them, a 27- and a 28-year-old, both from the city of Bobruisk, Mogilev Oblast (Belta, April 6). According to another source, three suspects were arrested on March 30, and one more, a 40-year-old man from around Minsk, was detained on April 1 (ONT, April 6).
Prospects for the Belarusian economy are yet another cause for concern domestically. Since 2005, when the High-Tech Park (HTP) was founded in Minsk, one important growth engine of that economy has been the information technology (IT) sector. However, since the summer of 2020, in the wake of the falsified presidential election and crackdown on the subsequent mass protests, many IT specialists and the HTP's entire roster of resident companies have abandoned Belarus. Some IT firms have been developing outside the HTP nucleus. One such example is Wargaming, a company of Belarusian origin but currently headquartered in Nicosia, Cyprus; it is one of the world's largest publishers and developers of computer games. Wargaming's development centers have been located in Minsk and multiple cities worldwide. On March 31, the firm finally decided to close its Minsk office due to sanctions. Specifically, it transferred its offices in Belarus and Russia to the Russian Company Lesta Studio, which is also developing computer games but "on a different ideological platform." In anticipation of this closure, dozens of Belarusian IT specialists have already relocated to some of Wargaming's European offices. No fewer than half of Belarusian Wargaming personnel will likely leave Minsk as a result (Zerkalo, April 4). On April 4, President Alyaksandr Lukashenka announced he is preparing a meeting devoted to the prospects of IT in Belarus (Sputnik.by, April 4).
Some war-related anxieties have a pronounced geopolitical aspect. After the initial large-scale Russian offensive in Ukraine stalled and the slight possibility of a breakthrough in Russian-Ukrainian negotiations emerged, Lukashenka suggested that no post-war settlement would be possible without Belarus, so Minsk must take part in the peace negotiations. In the Belarusian president's speech at an April 7 National Security Council meeting, a peculiar turn of phrase could not help but catch everybody's attention. Specifically, he insisted on Minsk's participation not so much because "the West declared Belarus an accomplice of the aggressor without evidence and without reason," but simply because the war is taking place just "behind the fence" (YouTube, April 7). First of all, he openly used the term "war" just as frequently as "military operation," which the Kremlin insists on. But second of all, in his remarks, Lukashenka conspicuously took issue with the word "accomplice" (as applied to Belarus) not with the word "aggressor" (as applied to Russia).
The opposition-minded analyst Pavel Matsukevich, who formerly served as Belarusian chargé d'affaires to Switzerland, notably validates Lukashenka's expressed concerns. According to Matsukevich, "[I]f Belarus does not become part of the global package deal on Ukraine, the core of which would be neutral and non-nuclear status in exchange for international guarantees, the Belarusian issue will remain entirely dependent on Russia's will" (Gazeta.by, April 8).
Interestingly enough, in an April 5 interview, Ukrainian President Volodymy Zelenskyy indeed suggested that because every leader, no matter how authoritarian he is, is destined to take public opinion in his country into account, "we see that Lukashenka takes some steps to avoid full participation in this war" (T.me/OP_UA, April 5).
Perhaps still short of "full participation," but during the same April 7 National Security Council meeting, Lukashenka disclosed Belarus's own special military operation inside northern Ukraine. Its goal was to "liberate" about 100 Belarusian tractor trailer drivers who, for days, were denied exit by the Ukrainian side. The Belarusian military managed to bring those drivers back (probably with their vehicles). And for that, Lukashenka asked the Belarusian KGB head to nominate all the participants of the operation for awards (President.gov.by, April 7).
If anything, the anxieties of the Belarusian supporters of the war are even more palpable than the head of state's. Thus, Piotr Petrovsky, a philosopher, whose opinion matches and sometimes even predates what is subsequently articulated by the Belarusian leadership, published two sets of bulleted statements related to the conduct of the war and to Belarus's potential role in the post-war settlement. The first set subjects Russia to sharp criticism because, according to Petrovsky, Russia is losing the information war, especially its psychological facet. In particular, the explanation of the military operation's legitimacy has failed. Moreover, Ukraine is succeeding in downgrading Russia from an aggressor-state to a criminal state. If nothing is done to fight back, public support for this war will undergo erosion, according to Petrovsky (Facebook.com/piotra.piatrouski, April 5). The second set is an ambitious wish list of Belarus's demands to be made during the peace negotiations—provided Russia's war "runs into an obstacle in the face of separate talks with Zelenskyy." These demands include the retention of Belarus's transit via Ukraine, the lifting of Ukrainian and Western sanctions, and extradition of all Belarusian citizens whom Minsk calls criminals (Piatrouski/Facebook, April 7). Though specified in a post online, such criticisms and such demands betray utmost anxieties not only on the side of Belarusian "Eurasianists" like Petrovsky but most probably on the side of Belarusian officialdom at large.
Yury Tsarik of the Belarusian Center for Strategic and Foreign Policy Studies, which he co-chairs with analyst Arseny Sivitsky, frames these anxieties in an acutely different way: "Today, on the 42nd day of the war, it is clear that Russia has suffered an operational defeat in Ukraine, it abandoned its original plans, and is economically weakened… Now Belarus has an opportunity […] to define its position more clearly and […] try to distance itself from Russian aggression. Further support for it does not make any sense for Minsk" (Svaboda.org, April 7).
The fact that Tsarik stays in Minsk implies that he and his center enjoy the protection of somebody close to the helm of power. That adds an air of gravitas to his opinion. In other words, the chances of Belarus distancing itself from Russia appear to be greater than zero.